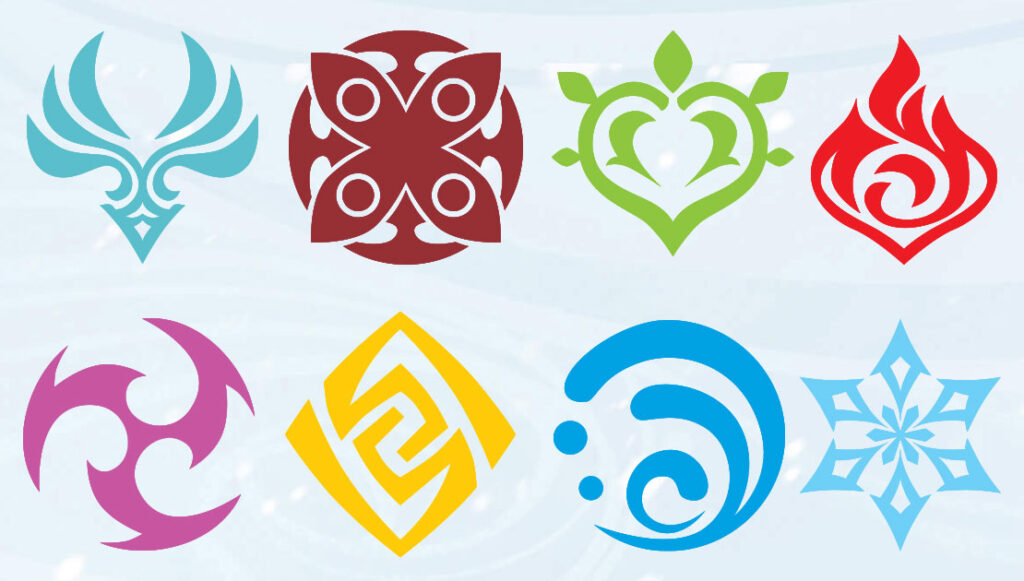 Advertisement
Advertisement
Hello, again travelers! It's our second quiz about Genshin Impact. If you haven't seen the first one, quickly check it out! We would like to introduce Teyvat's regions, their rulers, and the elements. In the end, you will be able to check what kind of element you would be using and in what region you would live if you were one of the characters. Let's head into the story.
In Teyvat, the fantastical world of Genshin Impact, live seven nations in seven completely distinct regions. Every one of them uses a different element. Each of these seven parts of the world has its own rules. Each has its own ideal. Life in each of them is entirely separate. The atmosphere and level of freedom in them are closely related to the person of the ruler. Their nature, experience, and personality influence the life of the residents. Of course, you will meet different people during your journey through Teyvat. Those who are thoroughly devoted to their god and those who fight the system with utterly different values.
The first element we get to know on our journey is Anemo. It is the representation of wind, the element that represents the city of Freedom – Mondstadt. City-state worships Anemo Archon – Barbatos. He is not really present because of his refusal to directly govern people. He values freedom as the most important thing. It is also the whole idea of the nation. He only intervenes in his people's lives when their freedom is threatened. He is a genuinely carefree soul. He loves to play music and drink. People in Mondstadt really adore him. Later on, we meet Venti, the bard, who turns out to be the true Archon.
The trademarks of Mondstadt are dandelions, flight, and wine. There is even famous regional alcohol called Dandelion Wine that even foreigners cherish. Also, what's unique for Mondstadt is fashion. Precisely – one little addon – two colors gloves that some characters wear.
The region is guarded by the Knights of Favonius that also creates government. Mondstadt is mainly inspired by German and Northern European cultures. Architecture in this region is modeled on German medieval buildings. Even its name in German means 'Moon city', and other characters are named after other words like Klee or Fischl.
The next element that we get to know during the gameplay is Geo. It represents Liyue – the City of Contracts. The Geo Archon is called Morax, also known as Rex Lapis. He is the God of Contracts, but he recognizes that every situation is different, and justice may vary in ways. He is slow in adapting to changes, but he accepts them as an unchangeable fate. He believes that Liyue doesn't need him anymore, so he fakes his own death. In fact, he is disguised in the human body and known by the name 'Zhongli'. He finally decides to live on the sidelines without interfering with the lives of his people.
The city of Liyue is inspired by China and its culture. Its name literally means "Glazed Moon" in Chinese. The city is fully modeled on Chinese culture. Architecture, fashion, and the names are taken from it as well. Liyue is governed by Liyue Qixing – a group of eight people. One of the most influential is the Tianquan, Ningguang. Liyue's military force is called the Millelith, who also serve as peacekeepers. The ones who protect Liyue are the adepti as well. They are magical beings usually hidden from society.
Liyue has rocky and mountainous terrains but some regions built terraced rice fields. The c is essentially known for its unique cuisine. It is a combination of the Li style, which focuses on bold, rich flavors, and Yue style – light seafood.
When your story in Teyvat proceeds, you get to the last available region, as for now, of course. It is called Inazuma, it's represented by Raiden Shogun – the Electro Archon. She is also the head of the government – Inazuma Shogunate. She spreads the terror in this country which is why its territories are isolated from the world. Raiden's idea is eternity. She's sure that changes are the enemy of eternity, so she ruthlessly punishes anyone who opposes this concept. She also enacted the related Vision Hunt Decree. She says that Visions should be in the hands of divinity. Inhabitants live in fear of taking their property away from them and fear for their own existence and even life. They do a lot of conspiracy.
The atmosphere throughout the country is tense, and the air feels thick. Actually, it's literally because the air is saturated with electricity. There are storms and lightning strikes in many places, and some areas are surrounded by an electric barrier. Everything in the country is in shades of purple-blue. All the elements related to Inazuma are inspired by Japanese culture.
We will learn more about the rest of the regions – Sumeru, Fontaine, Natlan, and Snezhnaya in the future. For now, we know that they represent the elements in order: Dendro, Hydro, Pyro, and Cryo.
Would you like to find out which element suits you best? Make our quiz composed of carefully selected questions to show you what matches your personality. Don't wait and delve even deeper into the story of Genshin Impact characters by imagining yourself as one of them.
We are sorry that this post was not useful for you!
Let us improve this post!
Tell us how we can improve this post?