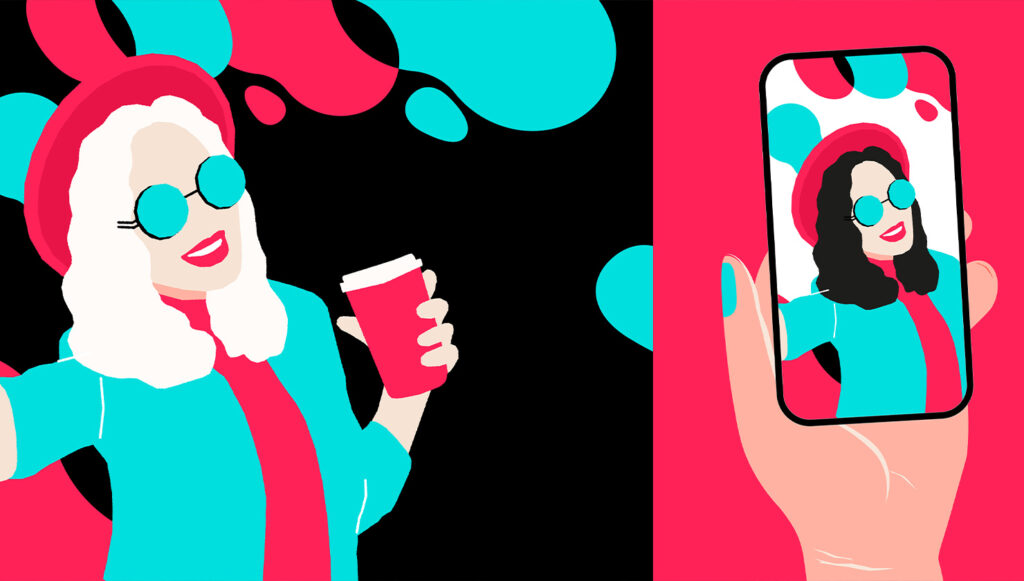 Advertisement
Advertisement
Hey everyone! Are you a TikTok user? Do you follow viral videos? We hope so! Today we have prepared a quiz on this topic for you! What kind of viral TikTok are you? Answer twenty questions and see for yourself!
A variety of trends have risen within TikTok, including memes, lip-synced songs, and comedy videos. Duets, a feature that allows users to add their own video to an existing video with the original content's audio, have sparked many of these trends.
Trends are shown on TikTok's explore page or the page with the search logo. The page enlists the trending hashtags and challenges among the app. Some include #posechallenge, #filterswitch, #dontjudgemechallenge, #homedecor, #hitormiss, #bottlecapchallenge and more. In June 2019, the company introduced the hashtag #EduTok which received 37 billion views. Following this development, the company initiated partnerships with edtech startups to create educational content on the platform.
The app has spawned numerous viral trends, Internet celebrities, and music trends around the world. Many stars got their start on musical.ly, which merged with TikTok on 2 August 2018. These users include Loren Gray, Baby Ariel, Kristen Hancher, Zach King, Lisa and Lena, Jacob Sartorius, and many others. Loren Gray remained the most-followed individual on TikTok until Charli D'Amelio surpassed her on 25 March 2020. Gray's was the first TikTok account to reach 40 million followers on the platform. She was surpassed with 41.3 million followers. D'Amelio was the first to ever reach 50, 60, and 70 million followers. Until now Charli D'Amelio remains the most-followed individual on the platform. Other creators rose to fame after the platform merged with musical.ly on 2 August 2018.
One notable TikTok trend is the "hit or miss" meme, which began from a snippet of iLOVEFRiDAY's song "Mia Khalifa." The song has been used in over four million TikTok videos and helped introduce the app to a larger Western audience. TikTok also played a major part in making "Old Town Road" by Lil Nas X one of the biggest songs of 2019 and the longest-running number-one song in the history of the US Billboard Hot 100.
TikTok has allowed many music artists to gain a wider audience, often including foreign fans. For example, despite never having toured in Asia, the band Fitz and the Tantrums developed a large following in South Korea following the widespread popularity of their 2016 song "HandClap" on the platform. "Any Song" by R&B and rap artist Zico became number one on the Korean music charts due to the popularity of the #anysongchallenge, where users dance to the choreography of "Any Song." The platform has also launched many songs that failed to garner initial commercial success into sleeper hits, particularly during the COVID-19 pandemic. However, the platform has received some criticism for not paying royalties to artists whose music is used on their platform. In 2020, more than 176 different songs surpassed 1 billion video views on TikTok.
In June 2020, TikTok users and K-pop fans "claimed to have registered potentially hundreds of thousands of tickets" for President Trump's campaign rally in Tulsa through communication on TikTok, contributing to "rows of empty seats" at the event. Later, in October 2020, an organization called TikTok for Biden was created to support then-presidential candidate Joe Biden. After the election, the organization was renamed Gen-Z for Change.
TikTok has banned Holocaust denial, but other conspiracy theories have become popular on the platform, such as Pizzagate and QAnon (two conspiracy theories popular among the U.S. alt-right) whose hashtags reached almost 80 million views and 50 million views respectively by June 2020. The platform has also been used to spread misinformation about the COVID-19 pandemic, such as clips from Plandemic. TikTok removed some of these videos and has generally added links to accurate COVID-19 information on videos with tags related to the pandemic.
On 10 August 2020, Emily Jacobssen wrote and sang "Ode To Remy," a song praising the protagonist from Pixar's 2007 computer-animated film named Ratatouille. The song rose to popularity when musician Daniel Mertzlufft composed a backing track to the song. In response, began creating a "crowdsourced" project called Ratatouille The Musical. Since Mertzlufft's video, many new elements including costume design, additional songs, and a playbill have been created. On 1 January 2021, a full one-hour virtual presentation of Ratatouille the Musical premiered on the TodayTix. It starred Titus Burgess as Remy, Wayne Brady as Django, Adam Lambert as Emile, Chamberlin as Gusteau, Andrew Barth Feldman as Linguini, Ashley Park as Colette, Priscilla Lopez as Mabel, Mary Testa as Skinner, and André De Shields as Ego.
Several food trends have emerged on the platform, such as Dalgona coffee.
Another TikTok usage that corresponds with engagement and bonds people in society is the use of "challenges." These could be on any related topic such as dances or cooking certain meals. People see other people doing something that is trending and then it continues to spread until it is a viral trend that connects people from all over.
Which viral TikTok is your favorite? Which of them would you be? Answer twenty questions and see for yourself now!
How many questions are there?
What can you get as a result?
M to the B by Bella Poarch, Jamie32bish's dancing to Nelly Furtado's 'Say It Right', Billie Eilish Time Warp, Zach King's Harry Potter illusion, Peeling a banana by Khaby Lame
We are sorry that this post was not useful for you!
Let us improve this post!
Tell us how we can improve this post?