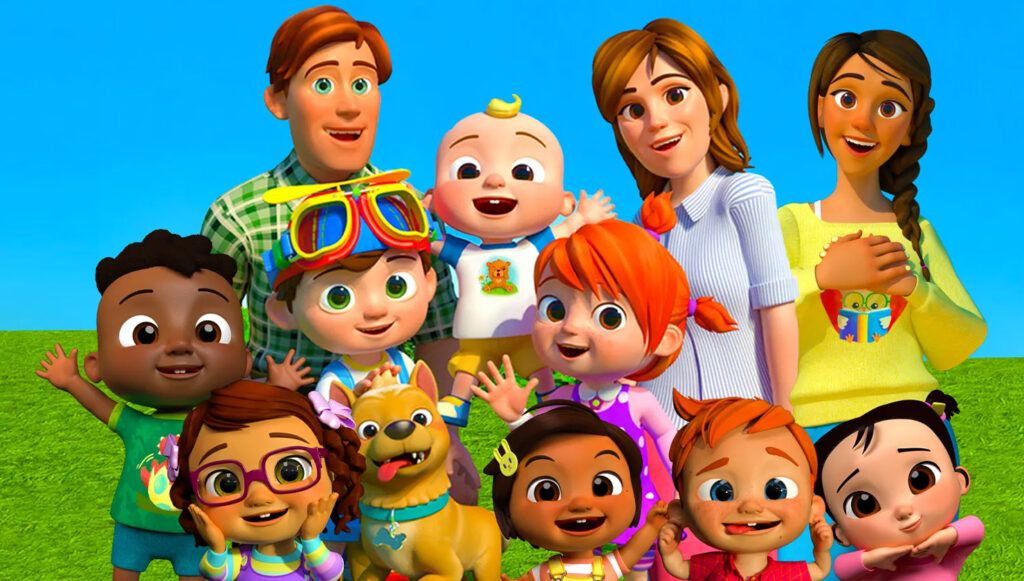 Advertisement
Advertisement
Hello everyone! Do you like CoComelon? If so, you will be sure to take this quiz with pleasure. By answering the questions, you will find out what character you resemble. And if you don't know what CoComelon is, be sure to read on.
So, what is that? CoComelon is an American YouTube channel and streaming media show acquired by the British company Moonbug Entertainment and maintained by the American company Treasure Studio. Cocomelon specializes in 3D animation videos of both traditional nursery rhymes and their own original children's songs. In July 2021, they were the most-viewed YouTube channel in the United States and the second most-viewed channel in the world. They are also the most-subscribed children's channel and the second most-subscribed channel on the platform.
Cocomelon's videos include babies, adults, and animals who interact with each other. Children can see them in every day, frequent situations. The lyrics appear at the bottom of the screen in the same way on all displays. In 2020, Treasure Studio added Cocomelon content to Netflix, Roku, and Hulu. The company also delivers music through popular streaming services. YouTube content consists of standalone music videos, compilations, and livestreams.
Cocomelon was created on YouTube in 2006. Its purpose was to provide free education and entertainment to Cocomelon's founder's children. His name is Jay Jeon. Then the channel was known as "checkgate". It uploaded two versions of the alphabet song to YouTube on their first day. Their third video was uploaded 9 months later. Most videos on the channel taught the alphabet. Videos were about two minutes long. In 2013, Treasure Studio began the ABC Kid TV era. They introduced a new intro and logo to start a fresh look to expand their brand. They wanted to broaden their actions to a larger audience, so they began by remastering older videos. It was like a transition from alphabet videos to nursery rhymes. Also, the videos became longer.
In a matter of a few years, the channel introduced computer animation, with their first 3D character being used in Twinkle Twinkle Little Star on April 8, 2016. The video featured a 3D flying star. Towards the end of 2016, 3D animation video uploads became more frequent and longer, with some videos using motion capture technology.
In Summer 2018, the company finally became the Cocomelon we know today. They introduced a new intro and outro to all their videos. They also added the present-day logo of a watermelon stylized to resemble a traditional box TV while retaining the ladybug as part of the opening and closing sequences. Due to the wide success and recognition of the films, the company decided to expand its activities even further. In late 2020, Cocomelon added content in Spanish and Portuguese. Early in 2021, they also added Mandarin Chinese, German, and Arabic.
Cocomelon reached 1 million subscribers after nine years on YouTube on May 16, 2016. Half a month later, the channel gained one billion total views. The following two years continued to grow nearly 400,000 subscribers per month to ten million subscribers. Eventually, Cocomelon reached seven billion total views. They started increasing rapidly with the release of "Yes Yes" Bedtime Song, a video in which TomTom has to use stuffed animals to get JJ to prepare for bed, which was released in July 2017. Cocomelon had the second-largest YouTube channel subscriptions gain in 2019. In 2018, YouTube's algorithm recommended Cocomelon's video "Bath Song + More Nursery Rhymes & Kids Songs" 650 times, making it the most recommended video. On December 12, 2020, Cocomelon became the third YouTube channel to get 100 million subscribers. Cocomelon's videos also achieved popularity outside YouTube; in September 2020, Netflix ranked Cocomelon as its third most popular show. It was ranked #1 on Reelgood's list of Netflix shows for 2020, ahead of The Office and The Queen's Gambit.
Cocomelon currently airs on Universal Kids since June 21, 2021, and Cartoon Network's Cartoonito block since January 31, 2022. On March 29, 2021, Cocomelon premiered on SAB TV in Pakistan. On April 4, 2021, Cocomelon also premiered on Cartoonito in the United Kingdom.
The main character in the series is JJ. He is about 2 years old and lives with his mom, dad, brother, and sister. His siblings are TomTom and YoYo. In Cocomelon, JJ and his siblings go on fun, relatable adventures – they go to nursery, play, explore and learn. The episodes also feature children: Cody, Cece, Nina, Bella, and Nico. Ms Appleberry is a pre-school teacher.
Do you like Cocomelon? Have you wondered which of the characters resembles you the most? Right now, you have the chance to check it out. We have prepared a quiz with twenty questions. After answering all of them, you will find out which of the characters you are most similar to. Don't wait and see for yourself now! Have fun!
How many questions are there?
Which character can you get?
JJ, TomTom, YoYo, Bella, Nico or Cody
We are sorry that this post was not useful for you!
Let us improve this post!
Tell us how we can improve this post?