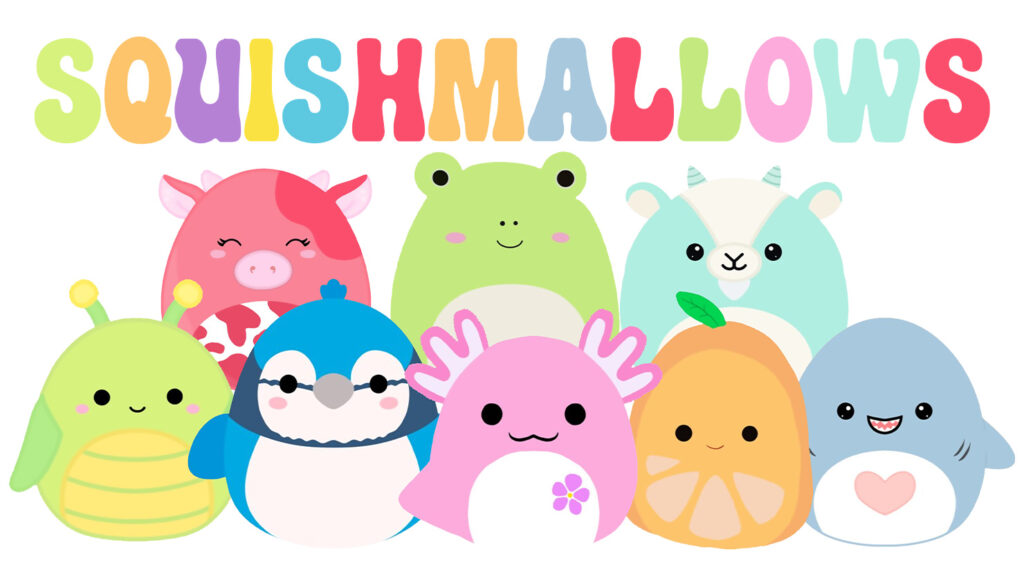 Advertisement
Advertisement
Are you in the mood to cuddle a soft, squishy toy? Then the Squishmallows will be great for you! Everyone has a squishmallow that matches their personality. Which Squishmallow are you? Discover your match made in fluffy heaven with our quiz.
Are you a fan of Woody? Find out what Toy Story character are you.
What is a Squishmallow?
What is a Squishmallow? It is a brand of soft-material plush toys that come in sizes ranging from 2-inch tinies to 24-inch cuddly pals. It was developed by the Kelly Toys company in 2017.
Jonathan Kelly
Jonathan Kelly, the inventor, was inspired by the range of lovely plush toys he saw in Japan on his visit. To make a "cute, cuddly, kawaii" plushie resembling Japanese toys, Kelly and his team toiled away.
Learn more about the beautiful country of Japan!
Squishmallows popularity
During the Covid-19 pandemic, Squishmallows became extremely popular on social media sites like TikTok. Each one has a distinctive quality and a name on the hangtag.
Squishmallow Rarity Scale
Did you hear about the Squishmallow Rarity Scale? There is a finite supply of these unique squishes. The rare tag on a toy means there are only seventy-five thousands of these Squishmallows in the world. Which Squishmallow is the rarest? Here is the compilation of some of the world's rarest Squishmallows.
Find out how high is your IQ.
Fania
An owl-like creature with the collector number 773 is called Fania the Purple Owl. She is a purple Squishie who enjoys reading bedtime stories, fairytales, and tales about princesses, evil witches, and other things. Fania will be a wonderful nighttime friend if you enjoy listening to stories before bed.
Fania is the only owl among Squishmallows who has closed eyes. The only owl who looks like her is the pink owl Bri, but she has opened eyes and a plain cloth crown (Fania has a pink one).
Dakota
Dragons can be scary, but Dakota the Dragon is too cute to be frightening! She's the pastry chef who enjoys making dragon pies. If you stick around long enough, Dakota might invite you to her pastry shop. The 2021 model comes with a few upgrades: the fabric has a shimmery double-heart embroidery.
Willy the Wolf is the Squishie who isn't scared of thunderstorms. You can cuddle him when you feel afraid during a storm. Willy wants to be a weatherman. He also enjoys collecting bowties, especially weather prints. Willy is a purebred wolf, while his counterpart Wade is a two-toned brown werewolf.
Ben
Ben the Deal Dino is a dinosaur with the collector number 69. He belongs to the Rare Giant edition. Ben will be a fitting companion for every bookworm. He's a walking encyclopedia with knowledge on any topic imaginable.
Ben has a friend in the Valentine Squad named Anna who is pink and has two embroidered XOs and a pink heart on her tummy.
Lucille
Lucille the Seal loves water and going on a dive. Lucille always finds interesting new creatures and gems during her journeys. She has an amazing rock collection!
Philippe the Frog is known to be full of love message carriers. Because he's a member of the Valentine squad, Philippe has pink cheek patches in the shape of hearts. Him and Marco the Hedgehog like to play Hopscotch together.
Avery the Mallard is a duck Squishmallow. He has a bright green mallard head, tan tummy, brown body, black eyes, and yellow beak. Avery is a rugby player. You can practice throws with him and share popsicles after the game.
Santino the Platypus is, of course, a platypus. Do you like blueberry pancakes? You are very lucky, then. This cute platypus makes amazing blueberry pancakes! His dad taught him the tastiest recipe. He loves to play soccer with his friends and would like to become a professional goalie one day.
Jack the Black Cat
Jack the Black Cat belongs to the anniversary Select Series. He's one of the rarest plushies. Jack has white closed eyes, white whiskers, and a pink mouth. He's a reliable friend who is always ready to defend his buddies and lend you a hand when you need it.
Chanel
Chanel is a Squishmallow that is named after the well-known perfume. She's a fancy kind of cinnamon roll who loves being sweet and generous. Chanel is a pastry chef who, in her free time, volunteers at the local food pantry and teaches cake baking and decorating classes.
Belana the Cow is a part of the Easter Squad. Belana is creative and interested in art. She has a brother Ronnie, and the two are a great duo, with Ronnie making furniture and Belana painting it.
Sheldon the Blue Seahorse desired to be a Jellyfish but ended up becoming a Seahorse. If you ever wanted to be someone else, you might find a suitable companion in Sheldon.
So, which Squishmallow are you?
To find your extremely cute character match, simply answer a few questions! Have fun!
How much does the rarest Squishmallow cost?
Santino the Platypus is one of the rarest Squishmallows, often reaching the price of 1500$.
What Squishmallows can you get on the test?
Dexter the Dragon, Esmeralda the Rainbow Unicorn, Archie the Axolotl, Wendy the Frog, Jack the Black Cat, Caedyn the Cow, Ben the Dinosaur
Which Squishmallow has anxiety?
Stacy the Squid is the blue Squishmallow who is a little shy and nervous. She likes to be by herself and enjoys reading books. Stacy is quiet at first, but very friendly when you get to know her.
Which Squishmallow likes to play soccer?
Marco the Hedgehog is a pink Squishmallow who enjoys soccer and other games, such as Marco Polo. He likes playing with his friends.
We are sorry that this post was not useful for you!
Let us improve this post!
Tell us how we can improve this post?