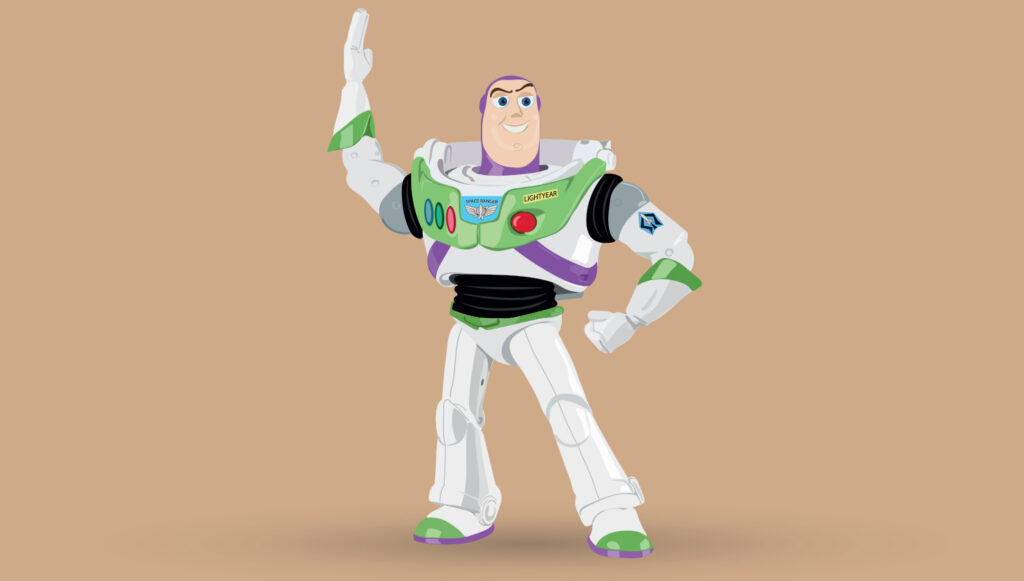 Advertisement
Advertisement
Hello! Have you watched Toy Story? Which character from this series resembles you the most? Today's quiz will help you settle this point. Answer twenty questions and find out who you would be in the Toy Story universe!
Toy Story is an American media franchise that started in 1995 with the release of the animated feature film of the same name, produced by Pixar Animation Studios and released by Walt Disney Pictures. It is the first computer-animated franchise. The franchise is based on the anthropomorphic concept that all toys, unknown to humans, are secretly alive and the films focus on a diverse group of toys that feature a classic cowboy doll named Sheriff Woody and a modern spaceman action figure named Buzz Lightyear, principally voiced by Tom Hanks and Tim Allen. The group unexpectedly embarks on adventures that challenge and change them.
Toy Story, the first film in the franchise, was released on November 22, 1995. It was the first feature-length film created entirely by CGI and was directed by John Lasseter. The plot involves Andy (voiced by John Morris), an imaginative young boy, getting a new Buzz Lightyear (Tim Allen) action figure for his birthday, causing Sheriff Woody (Tom Hanks), a vintage cowboy doll, to think that he has been replaced as Andy's favorite toy. In competing for Andy's attention, Woody accidentally knocks Buzz out of a window, leading the other toys to believe he tried to murder Buzz. Determined to set things right, Woody tries to save Buzz and both must escape from the house of the next-door neighbor Sid Phillips (voiced by Erik von Detten), who likes to torture and destroy toys. In addition to Hanks and Allen, the film featured the voices of Jim Varney, Don Rickles, John Ratzenberger, Wallace Shawn, and Annie Potts. The film was critically and financially successful, grossing over $373 million worldwide. The film was later re-released in Disney Digital 3-D as part of a double feature, along with Toy Story 2, for a two-week run, which was later extended due to its financial success.
Toy Story 2, the second film in the franchise, was released on November 24, 1999. Lasseter reprised his role as director. The plot involves Woody getting stolen by a greedy toy collector named Al McWhiggin (voiced by Wayne Knight). Buzz and several of Andy's toys set off to attempt to free Woody, who meanwhile has discovered his origins as a historic television star. In addition to the returning cast, Toy Story 2 included voice acting from Joan Cusack, Kelsey Grammer, Estelle Harris, and Jodi Benson. Toy Story 2 was not originally intended for release in theaters, but as a direct-to-video sequel to the original Toy Story, with a 60-minute running time. However, Disney's executives were impressed by the high quality of the in-work imagery for the sequel and were also pressured by the main characters' voice actors Hanks and Allen, so they decided to convert Toy Story 2 into a theatrical film. It turned out to be an even greater success than the original Toy Story, grossing over $497 million worldwide. The film was re-released in Disney Digital 3-D as part of a double feature, along with Toy Story, on October 2, 2009.
Toy Story 3, the third film in the franchise, was released on June 18, 2010, nearly 11 years after Toy Story 2. The plot focuses on the toys being accidentally dropped off at a daycare center while their owner, Andy, is getting ready to go to college. The toys discover that all of the toys are ruled by Lotso (voiced by Ned Beatty), a sinister teddy bear, while Woody finds potential hope for a new home in the hands of Bonnie, a toddler that takes great care of her toys. Blake Clark replaced Varney after Varney's death in 2000, while other new cast members included Michael Keaton, Timothy Dalton, Jeff Garlin, Kristen Schaal, and Bonnie Hunt. It was the first Toy Story film not to be directed by Lasseter (although he remained involved in the film as executive producer), but by Lee Unkrich, who edited the first two films and co-directed the second. It was Pixar's highest-grossing film of all time both domestically, surpassing Finding Nemo, until it was surpassed by Finding Dory in 2016 and worldwide, also surpassing Finding Nemo, until it was surpassed by Incredibles 2 in 2018. Toy Story 3 grossed more than the first and second films combined, making it the first animated film to have crossed the $1 billion mark. In August 2010, it surpassed Shrek 2, becoming the highest-grossing animated film of all time until it was surpassed by Frozen, another Disney production, in March 2014. Toy Story 3 was released on DVD and Blu-ray on November 2, 2010.
Toy Story 4, the fourth feature film in the franchise, was released on June 21, 2019. Taking place not long after Toy Story 3, the story involves Woody, Buzz, and the other toys living well with their new owner Bonnie. On her first day of kindergarten, Bonnie creates a toy spork, named Forky (voiced by Tony Hale), out of garbage. Woody, having been neglected by Bonnie lately, personally takes it upon himself to keep Forky out of harm's way. During a road trip with Bonnie's family, Woody, to his delight encounters his old friend and former fellow toy Bo Peep (Annie Potts), who he had been separated from in the interim period between Toy Story 2 and Toy Story 3 and has to deal with fears of becoming a "lost toy".
Which Toy Story character would you be? Answer twenty questions in our quiz and see for yourself now!
How many questions are there?
What can you get as a result?
Sheriff Woody, Buzz Lightyear, Bo Peep, Mr. Potato Head, Slinky Dog
We are sorry that this post was not useful for you!
Let us improve this post!
Tell us how we can improve this post?