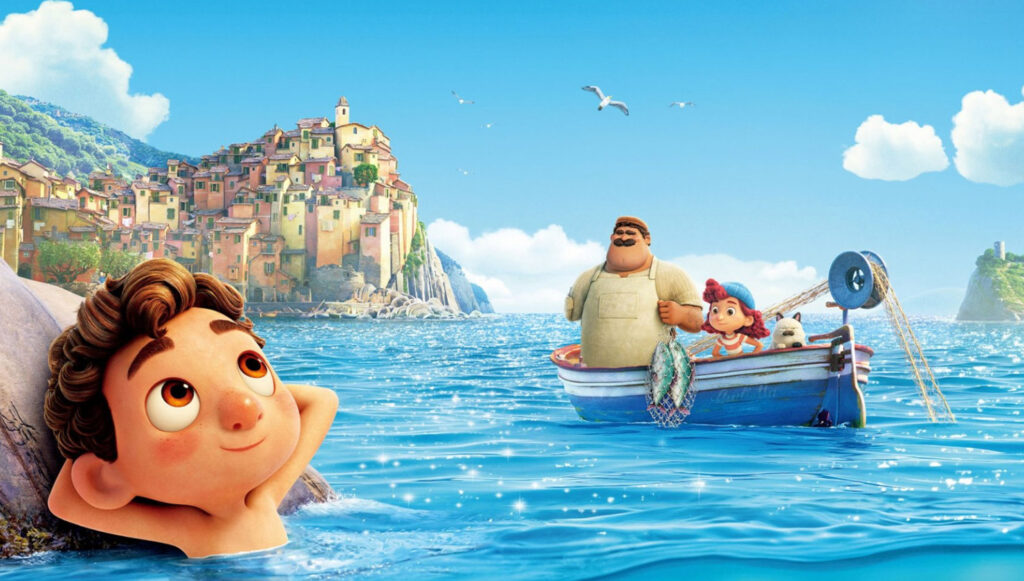 Advertisement
Advertisement
Hello everyone! This time we are taking you on a fantastic adventure in the world of Luca. The plot takes place in my favorite country- sunny Italy! I love all the delicious dishes- pasta, pizza, risotto. Also the beautiful weather. Can it be any better? If you have not watched Luca from Disney yet, it is high time to do so. It is an engaging story about dreams, family, and friendship. It is a great animated movie to watch, no matter if you are an adult or child. It is a kind of Disney movie that seems to be in the 90s. That is because of the values that it presents and the breathtaking story. It is a perfect idea to spend a cold afternoon. The animation will take you back in time to 1959 to remind you of the feeling of endless summer from your childhood. It can also teach you that it is never too late to start something new or dream about the impossible.
The premiere of this movie took place at the Aquarium of Geona on the 13th of July in 2021. If you have seen this movie, you know it was a brilliant idea. The main themes of Luca are sea monsters and life between ground and sea.
Now, let's check if you remember the plot!
The two main characters are Luca and Alberto. They are both sea monsters that change into people while they leave the sea. At first, Luca only dreams of tasting the life of people and follows Alberto in his first steps on the ground. Of course, they interpret wrongly most things and laws. It reminds me of "My Little Mermaid." Ariel also got most of the things wrong because of how Scuttle described them to her. It is a nice throwback while watching Luca.
"Luca" movie takes place in Porto Rosso. When Luca and Alberto move to that city, they meet Giulia. She came there from a bigger city to visit her dad. She is involved in a bicycle competition, and she signs up for this as a team with Luca and Alberto. We can say she is their guide because she shows them the real aspects of humans' life. They are very engaged in practicing to win because the prize is Vespa, which is the biggest dream of Luca. It all looks pretty funny because they have so many first times, such as riding a bicycle, cooking, or eating pasta. Their most serious opponent is Ercole Visconti that always wins. The young boys stay at Giulia's home. They help Massimo (Giulia's father) with fishing and practice for the competition. They get better every day, but everything gets complicated. People from the city are scared of sea monsters. Citizens try to find and hunt them. Also, Luca's parents are afraid that their son is in danger. After some time, they decide to get out of the water and find him.
Luca's priorities change during the movie. The more time he spends with Giulia, the more he is fascinated by science. He is interested in space and stars. Finally, they win the competition, and they get their Vespa. As in many animations, we have a happy ending. We find out that people and monsters can be friends and can live together. Anyway, Luca seems to be sad because, after time spent in the city, he wishes he was able to attend school. What was very unexpected, was that Alberto changed the Vespa to a train ticket for Luca. It gave him a chance to go to Genoa with Giulia to start studying. That shows how important is friendship. By the way, it is not the only scene that made me cry. This movie is full of heart-touching moments, as well as interesting facts.
For example, the sea monsters were inspired by sculptures from Italy. Also, did you notice that the pet's names are all names of Rome emperors? That is amazing how many small details are hidden in the plot.
Personally, my favorite things in the movie are the remade slogans, like "Santa mozzarella!" or "Silenzio, Bruno."
I think now you have reminded yourself about the nice atmosphere of the movie. So, it is nothing more to do than to solve our quiz! Let's check which character from Luca you are. Are you curious as Luca, friendly as Alberto, confident as Ercole, or maybe, brave as Giulia? I already know my results! In 10 minutes from now, you will not have any doubts! These 20 questions will analyze your choices to show you if you match the personality of your favorite Luca character. Just pay attention to answer everything correctly. Do not waste more time! After all, do not forget to share your results with friends! Good luck and I hope you will have fun!
How many questions are there in the quiz?
There are 20 questions in this quiz
What character can you be from the Luca movie?
Giulia, Ercole, Luca, Alberto
We are sorry that this post was not useful for you!
Let us improve this post!
Tell us how we can improve this post?