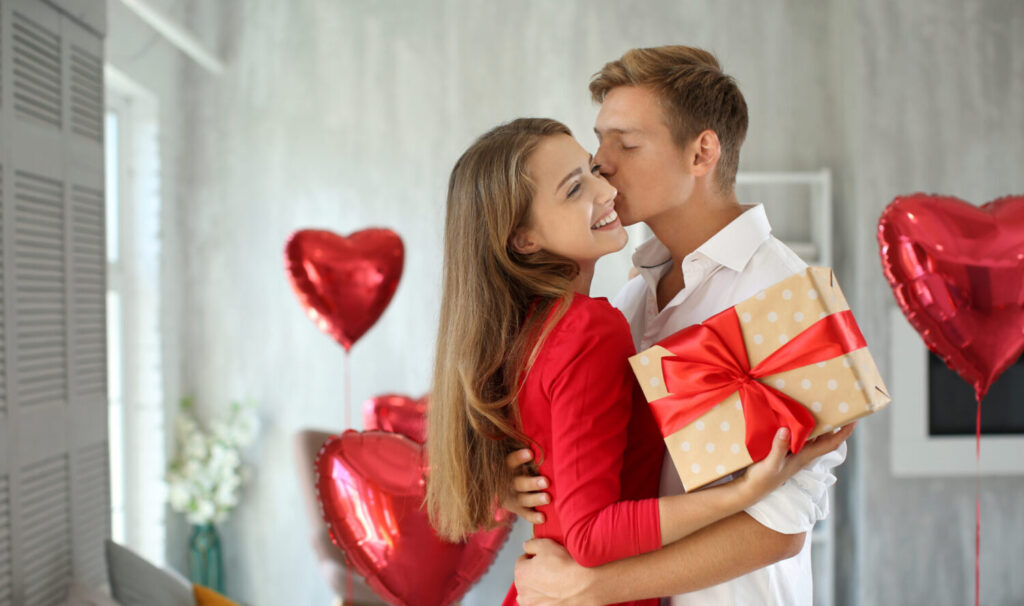 Advertisement
Advertisement
14th of February- the most romantic date of the year. Are you expecting to get a lovely gift from your partner but have no idea what to buy for the love of your life? The holiday is coming, and it is high time to find out what your partner is waiting to get! Shops offer multiple products with hearts and kisses, but not everyone is a romantic soul. On the other hand, what if the person is expecting a big teddy bear?! So many ideas, so little time. After solving this quiz, you will not have any doubts.
There can be various possibilities to bring a smile to your partner's face, and your true love will be happy about anything they receive. Anyway, it is worth putting some effort and finding a way to make the day special.
The choice can depend on personality or interests but can be a symbol of your inside joke too. It is not always about spending a lot of money, actually what counts the most is to perform how much you know about that person and how much you love them.
Saint Valentine's day is said to be a day of love, which only was a Christian feast formerly, which was established by Pope Gelasius in 496 to celebrate the anniversary of the death of Saint Valentine of Rome. Since it was centuries ago, there were different scenarios of what Saint Valentine's day achieved. The most popular one is that he was fighting for the possibility of getting married. It used to be trusted, that single men were better solider, so they could not get married to the love of their life. Most people think that Saint Valentine of Rome was a priest and performed a marriage for young people in secret. When they discovered it, he was put to death by the emperor- Claudius II. Other stories say that it was not Saint Valentine of Rome but Saint Valentine of Terni. Other ones suggest that the story was not even about the romantic aspect, but about him giving help to Christians to escape prisons. Later around the 1300s, thanks to folk traditions, it officially became a commercial feast known in many countries, such as England and France. Now it is a holiday all over the world. At that date, people celebrate their love and relationships. There are many legends or stories connected with that date. Also, the number of traditions around the world makes a great impression.
Different countries celebrate the feast of love in many ways.
French, for example, spread their love by preparing or buying love cards since it is trusted, that the first Valentine's Day card was sent in their country in 1415. There is also a village called: "Valentine" which is decorated each year with love cards, flowers, and hearts. It is also quite common to go out for dinner and buy flowers on that date in France. They also had a unique tradition called "loterie d'amour" which was kind of a love lottery, during which people were finding their other half.
France may compete for the prize of the most romantic country, but the ones that are "Valentine's Day freaks" for sure are Americans. Everyone has probably seen (at least once!) the very famous movie "Valentine's Day" or "I hate Valentine's Day" Being in the United States of America during that time is exactly like watching them- you meet hearts and roses at every corner. Another exotic thing is that they not only prepare the love cards for their second half. Children also give them to their friends at school and teachers. Americans never forget about love cards, but they also spend enormous amounts of their salaries on expensive gifts, such as jewelry or dinner dates at some fancy restaurants.
Not many people learned that the first Valentine's Day poem titled: "Parlament of Foules" was written in the United Kingdom by Geoffrey Chaucer. In the UK, Valentine's day can be celebrated in various ways. For example, in Wales (which celebrates it on a different day), flowers are an attractive choice, but another typical gift can be a self-made cake or another hand-made gift. In the past, in the United Kingdom, kids used to wear clothes belonging to their parents and act adults and were singing popular love songs when going from door to door of their neighbors.
The Valentine's Day celebration looks different in Bulgaria. Its citizens have two feasts on the same date. According to their history, the 14th of February is a day of Saint Trifon, which is recognized by drinking wine. These days, the old tradition meets commercial Valentine's Day, and couples usually combine both feasts. They give each other small romantic gifts and spend a romantic evening with wine.
As we can see, celebration varies depending on the country and its part. No matter what is going to be the gift, that is very important to be with our loved ones in that time, or at least show them how much we appreciate them in our lives.
What Perfect Gift for Valentine's Day?
So many ideas, so little time. After solving this quiz, you will not have any doubts.
How many questions are there in the quiz?
There are 20 questions in this quiz.
We are sorry that this post was not useful for you!
Let us improve this post!
Tell us how we can improve this post?