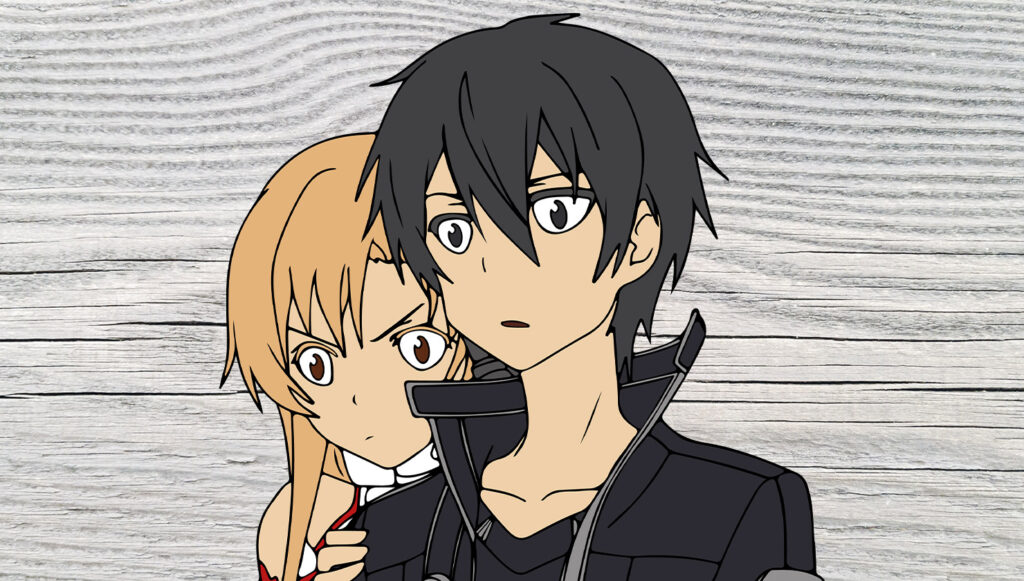 Advertisement
Advertisement
Hello, fellow otakus! Do you like Sword Art Online? If so, you will like today's quiz. Do you remember what happened in the first season and what characters were there? Have you ever watched this anime? Whatever the case, let me introduce you to everything from the beginning.
Sword Art Online is a Japanese series of illustrated novels by Reki Kawahara. Based on the novels, manga, anime, and computer games were created. The light novel series was published by ASCII Media Works, and the first volume was released on April 10, 2009. The anime was based on the novel and produced by A-1 Pictures studio. It was broadcast by Tokyo MX and MBS TV stations. The first series was broadcast between July 7 and December 22, 2012, while the second series was between July 5 and December 20, 2014. On February 18, 2017, the premiere of the feature film Sword Art Online: Ordinal Scale. The third series was divided into two parts – Sword Art Online: Alicization and Sword Art Online: Alicization – World of Underworld. According to Oricon, Sword Art Online was the top-selling light novel series of 2012, with eight volumes figuring among the top-selling light novels.
Sword Art Online has received widespread commercial success, with the light novels having over 26 million copies sold worldwide. The light novel series had good reviews, mainly on later arcs. Other series like Progressive were praised since the beginning. The anime series has received mixed to positive reviews, with praise for its animation, musical score, and exploration of the psychological aspects of virtual reality.
The light novel series spans several virtual reality worlds, beginning with the game Sword Art Online (SAO), set in a world known as Aincrad. Each world is built on a game engine called the World Seed, which was initially developed specifically for SAO by Akihiko Kayaba. It was later duplicated for Alfheim Online (ALO) and later willed to Kirito, who had it leaked online with the successful intention of reviving the virtual reality industry.
The main character of the series is a 14-year-old boy named Kazuto Kirigaya, a computer game enthusiast. He uses the nickname Kirito derived from his first and last name. Kirito has short dark hair and black eyes and tends to dress in black. The first two volumes of the novel describe his two-year adventure in MMORPG. It takes place in a virtual reality called Sword Art Online. He was trapped in the game world as one of 10,000 players. To be able to return to the real world, it had to be completed. Over time, he meets new friends and his love there.
Reki Kawahara wrote the first volume in 2001 as a competition entry for the 2002 ASCII Media Works Dengeki Game Novel Prize. However, he refrained from submitting it because he had exceeded the page limit. Instead, he published it as a web novel under the pseudonym Fumio Kunori. Over time, he added three main arcs and several short stories that were later adapted into light novels. In 2008, he participated in the competition again by writing Accel World. This time, he won the Grand Prize. Aside from Accel World, he was requested to get his earlier work, Sword Art Online, published by ASCII Media Works. He agreed and withdrew his web novel versions.
For the protagonist Kirito, Kawahara was asked if Kirito's personality and character were based on his own. He answered that he usually does not put aspects of himself into his characters. He said there is one similar thing between them, and it is forming parties. Both of them cannot do that, and they end up playing solo. He also noted that the female characters in the story were not based on anyone he knew in the real world. He stated: "I don't usually make a character, setting, or anything before I start writing. As I write the story, the girls become what they are now. So, somehow, I don't know exactly, but somehow my subliminal idea or some hidden emotion creates the characters to be strong and capable.". He added that he wrote the series to demonstrate that he views online gaming, not as a social ill or escape from real life. He decided to show games in a more positive light in his light novels. Kawahara also noted that the character of Asuna might have been created a little too perfectly.
What character from SAO resembles you the most? Have you ever wondered about this? If so, you don't have to do it anymore. Today you can just solve this quiz. All you have to do is answer twenty questions, and you will get the answer to that question immediately. We hope you will enjoy doing this quiz. Have fun!
How many questions does this quiz contain?
Which character can you get as a result?
Asuna, Kirito, Lisbeth, Klein or Silica
We are sorry that this post was not useful for you!
Let us improve this post!
Tell us how we can improve this post?