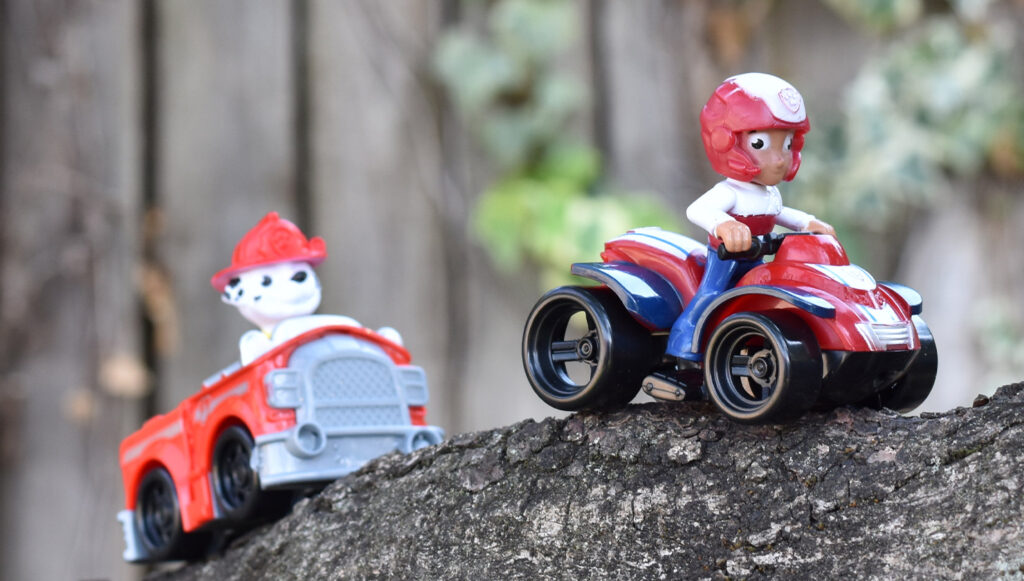 Advertisement
Advertisement
Hi there! Do you know PAW Patrol? It is a Canadian computer-animated children's television series. This series focuses on action, adventure, and comedy. It was created by Keith Chapman and developed by Scott Kraft. The production companies that are involved are Guru Studio and Spin Master Entertainment. The distributors are Elevation Pictures in Canada and ViacomCBS Domestic Media Networks in the U.S. It is aired on TVOKids and Nickelodeon since August 12, 2013.
Spin Master has developed the show into a media franchise and released an ongoing line of toys based on it. PAW Patrol toy sales have generated millions of dollars in revenue for the corporation. The show, and its associated products, have received a variety of awards and nominations.
On February 19, 2020, the series was renewed for an eighth season containing 26 half-hour episodes. A year later, the series came back again and the ninth season started to air. A theatrical feature film titled PAW Patrol: The Movie was released on August 20, 2021, with a sequel, PAW Patrol: The Mighty Movie, scheduled to premiere theatrically on October 13, 2023. An untitled spin-off series focusing on one of the main six pups is in development with a release date of 2023. Paw Patrol episodes are usually 11 minutes long. At this point, there are 9 seasons with over 200 episodes.
The series focuses on a young boy named Ryder. He leads a crew of search and rescue dogs that call themselves the PAW Patrol. They work together on missions to protect the shoreside community of Adventure Bay and surrounding areas. Each dog has a specific set of skills based on emergency services professions. They all live in doghouses that transform into customized vehicles for their missions. They are also equipped with special hi-tech backpacks containing tools relating to the pups' jobs. The series describes the adventures of Chase the Sheepdog, Marshall Dalmatian, Rubble the Bulldog, Rocky mongrel, Zuma the Labrador, Skye cockapoo. Together with Ryder, they set out to save people in need and face threats. Sometimes a Siberian husky named Everest, a chihuahua Tracker, golden retrievers Tuck and Ella, and a Bernese mountain dog Rex help them.
Each episode of PAW Patrol follows a similar pattern and features recurring topics. Dogs are going about their everyday lives, often playing with dog toys or engaging in activities at the local playground. Ryder receives a call for help or witnesses a problem himself. His most frequent caller is an accident-prone marine biologist named Cap'n Turbot. Ryder always alerts the dogs via their blinking pet tags. The team members report to their base and enter its elevator. When they reach the top floor, they arrange themselves in a line. Chase announces that the team is ready for action as Ryder tells the pups what has happened. He chooses a few dogs to help solve the problem that has emerged. They ride a slide down to their vehicles and complete their mission. After the completed duty, Ryder always says his catchphrase: "Whenever you're in trouble, just yelp for help!".
The first of the Paw Patrol puppies is Chase. He is a German shepherd puppy and the 2nd member of the PAW Patrol. He is a police and traffic cop and a super-spy police dog. His primary purpose is to keep things in line and warn traffic when an emergency happens. His secondary target is to track missing animals or people using his spy gear. One of his comrades is Marshal, a clumsy but big-hearted Dalmatian. He serves as the firedog and medic and drives a firetruck that transforms into an ambulance. His friend, Skye, is the graceful, cute, and smart Cockapoo. She has the skills of a pilot and serves as the aviator and an air rescue dog of the team. She drives a helicopter with a harness in the back. Her next comrade is Rocky, who is a recycling pup. He is a mixed breed male. It is unknown what his true breeds are. His primary purpose is to use recycled items to fix broken objects such as water towers and soccer goals. After him, comes Rubble, who is a male English Bulldog pup. His primary purpose is to help with construction-related work, such as fixing train tracks and carrying supplies to fix damaged buildings. The last puppy is Zuma. He is a male Chocolate Labrador pup and the water rescuer of the PAW Patrol. His primary assignment is to rescue sea animals and people from underwater emergencies.
Each member of PAW Patrol is different and has diverse tasks. After all, they are one big group of friends, and they respect each other. Which dog do you resemble the most? Have you thought about it? Take this quiz by answering twenty questions and see for yourself. Have fun and see you soon!
How many questions are in this quiz?
Which PAW Patrol pup can you be?
Chase, Marshall, Skye, Rocky, Rubble or Zuma
We are sorry that this post was not useful for you!
Let us improve this post!
Tell us how we can improve this post?