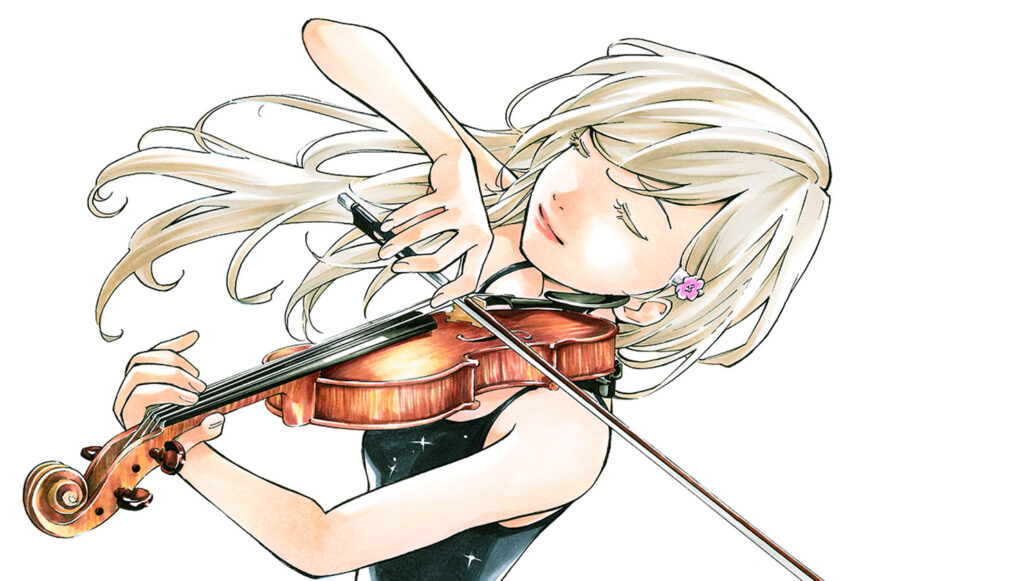 Advertisement
Advertisement
Hey everyone! Have you watched Your Lie in April? Which of the characters resembles you the most? Today's quiz can help you find the answer to that question. All you have to do is answer the twenty questions we have prepared for you.
Your Lie in April is a Japanese romantic drama manga series that was written and illustrated by Naoshi Arakawa and has been adapted into an anime television series and multiple stage productions. The manga was serialized in Kodansha's shōnen manga (manga aimed at teenage boys) magazine Monthly Shōnen Magazine from April 2011 to May 2015. The story follows a young pianist named Kо̄sei Arima, who loses the ability to hear the piano after his mother's death, and his experiences after he meets violinist Kaori Miyazono.
The manga series originated from a one-shot comic that Arakawa entered in competition; he based the series on it and drew inspiration from similar works, such as Beck and Nodame Cantabile. A-1 Pictures adapted Your Lie in April into an anime television series that was aired on Fuji TV's Noitamina block from October 2014 to March 2015, and an original video animation (OVA) episode was released in May 2015. A live-action film adaptation of the same name was released in September 2016. The series has also been adapted into a stage play, a light novel, and a musical that is set to premiere in May 2022.
Your Lie in April received mixed reviews; several critics praised its plot and characters but criticized the artwork. Critics largely acclaimed the anime adaptation for its plot, animation, and soundtrack.
Fourteen-year-old piano prodigy Kōsei Arima becomes famous after winning several music competitions. When his mother Saki suddenly dies, Kōsei has a mental breakdown while performing at a piano recital; this results in him becoming unable to hear the sound of his piano, even though his hearing is otherwise unaffected.
Two years later, Kōsei has not touched the piano and views the world in monochrome. He does not focus on excelling in any activities and often spends time with his friends Tsubaki Sawabe and Ryōta Watari. Kōsei meets Kaori Miyazono, an audacious, free-spirited, fourteen-year-old violinist whose playing style reflects her manic personality. Kaori helps Kōsei return to playing the piano and shows him his playing style can be free and groundbreaking. As Kaori continues to uplift Kōsei's spirits, he quickly realizes he loves her, although she seems to be interested in Ryōta.
During a performance, Kaori, who is anemic and needs routine testing, collapses and is hospitalized. She invites Kōsei to play with her at a gala but she does not arrive. Her health deteriorates and she becomes dejected. Kōsei plays a duet with a friend, which motivates Kaori to attempt a risky and potentially deadly surgery so she may play with Kosei once more. While playing in the finals of the Eastern Japan Piano Competition, Kōsei sees Kaori's spirit accompanying him and realizes she has died during the surgery.
At her funeral, Kaori's parents give Kōsei a letter from Kaori that reveals she was aware of her impending death and became more free-spirited, both as a person and in her music, so she would not take her regrets to Heaven. She also says she had been in love with Kōsei since watching him perform at a concert when she was five. This inspired her to play the violin so she could play with him one day. Kaori fabricated her feelings towards Ryōta so she could get closer to Kōsei without hurting Tsubaki, who also had affection for Kōsei. Tsubaki comforts Kōsei and tells him she will be by his side. Kaori also leaves behind a picture of herself as a child, coming back from the concert that inspired her, with Kōsei in the background. Kōsei later frames this picture.
Around the time of the release of the manga's third volume, Aniplex producer Shunsuke Saitō offered Kensuke Tateishi at Kodansha an opportunity to produce an anime adaptation of the series for television.] The original offer was for an eleven-episode series but Tateishi rejected the offer because it would not have been a complete adaptation. Saitō changed his offer to 22 episodes, which Tateishi accepted. Saitō offered the role of director to Kyōhei Ishiguro because he had worked with Ishiguro on the seventh episode of Wandering Son and left a strong impression on him.
Because Ishiguro wanted the anime series to appeal to people who did not normally watch anime, he chose the bands Goose House and Wacci to perform the opening and ending themes respectively. Ishiguro wanted to use a song that had a "colorful melody" to match the animation's theme and chose the band Coalamode to perform the theme.
Ishiguro used real locations to represent some of the series' settings. Arakawa had visited several locations along the Seibu Line, such as Ōizumi-Gakuen Station, so he showed scenes of the manga to operators of the Seibu Railway Company and officials at the Nerima Ward Office, who helped Isiguro choose appropriate locations.
Which character from Your Lie in April resembles you most in personality? Who would be your alter ego in this universe? Take our quiz by answering twenty questions and see for yourself!
How many questions are there?
What can you get as a result?
Kaori Miyazono, Kousei Arima, Tsubaki Sawabe, Ryota Watari
We are sorry that this post was not useful for you!
Let us improve this post!
Tell us how we can improve this post?