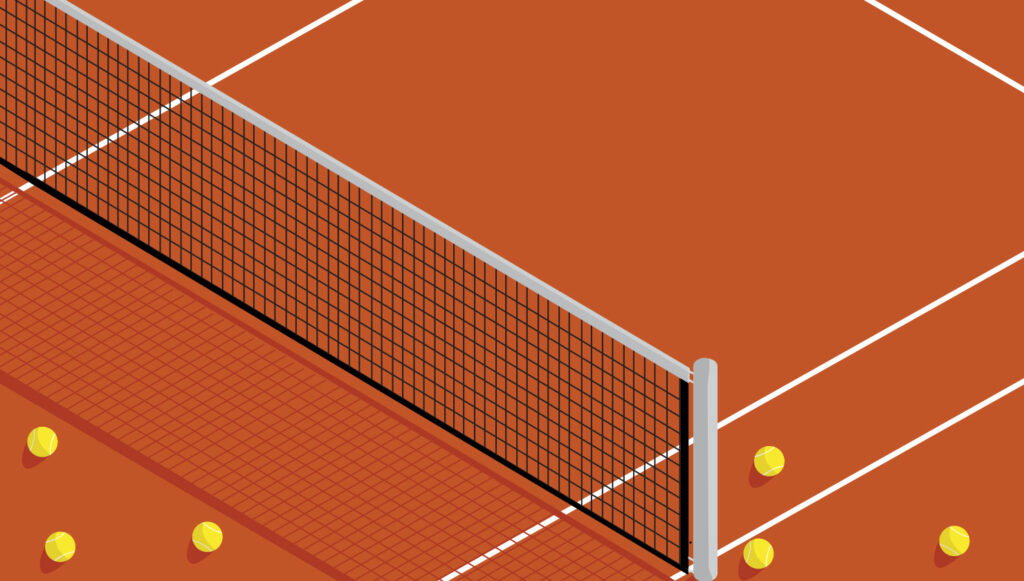 Advertisement
Advertisement
Are you a fan of tennis? How much do you know about this great sport? Try your hand at our tennis trivia quiz and see how high your score will be! You better be ready for the backhand.
The Origins Of Tennis
We can trace back the origin of tennis to a very ancient sport, the jeu de paume – a French handball game from the 12th-13th century. The development of this medieval icon game can be ascribed to its early use of bare hands, much like the 16th century, which saw the development of the racket and the unique scoring system. The French term "tenez!" was required to be said to your opponent at the point where you intended to serve, and this is how tennis got its name. Will you remember that fact for your tennis trivia quiz?
How well-versed in Premier League facts are you?
Lawn Tennis
This ancient sport is known as real tennis in the United Kingdom. It is worth noting that in the United Kingdom, tennis is still formally known as lawn tennis, even though it can now be played on a variety of surfaces. The term "lawn tennis" refers to when it was played on grass courts by Victorian ladies and gentlemen. Tennis was invented and codified in the 1870s in England, and it quickly overtook croquet in popular appeal. The first Wimbledon tournament did not take place until 1877.
Welsh Major Walter Clopton Wingfield, the author of A Portable Court of Playing Tennis, the crucial work in terms of codifying lawn tennis, was the one to introduce the use of rubber balls. It could be used on grass. After grass came clay, hardwood flooring, and then – much later – the "hard" courts with concrete or acrylic surfaces.
Only the most faithful Real Madrid fans will score a perfect result!
Women And Tennis
The women were present at 1884's Wimbledon. At the time, ladies played in long-sleeved dresses, corsets, and hats. This was Charlotte Cooper's attire during her first Wimbledon win in the year 1895. Remember that lady for this tennis trivia quiz!
Charlotte Cooper
Charlotte was one of the great women's tennis champions in the late 19th century. She won five Wimbledon singles titles and was the Olympic champion in 1900. In contrast to her competitors who were still underhand, Cooper was one of the first female players to perform a serve by throwing the ball up before hitting it. She was equally distinctive as an attacker in that she was always taking advantage of any scoring opportunity.
Now it's the time for FC Barcelona fans to shine!
Tennis was becoming increasingly popular around the world in 1913. As a result, the national tennis associations decided to band together and harmonize their structures. In Paris, 12 countries were represented at an international conference. Tennis remained on the Olympic program until 1924 when it was dropped. It was due to a disagreement between the increasingly powerful International Tennis Federation, which was defending its objectives, and the International Olympic Committee, which blatantly refused to compromise.
Now it's the time to prove how big of a Barcelona fan are you!
The Golden Slam
Tennis returned to the Olympic Games in 1968 in Mexico City, but only as a demonstration sport; and again in 1984 in Los Angeles, when Steffi Graf, a 15-year-old German player, won. Steffi Graf won the women's singles title the same year she won the four majors. She was the first to finish the "Golden Slam" in a full season. Are you all set for this tennis trivia quiz?
Nowadays tennis is a popular sport that is enjoyed and played by millions of people in clubs and on public courts. At that time, both professionals and amateurs were permitted to compete in major championships in the 1970s.
Achieving a golden Grand Slam, even if over a career rather than a single year, has become a particularly prized achievement for the top players. America's Andre Agassi, the 1996 Olympic champion in Atlanta, Spain's Rafael Nadal, the 2008 Olympic gold medalist in Beijing, and America's Serena Williams, the 2012 Olympic women's singles champion in London, have all done it. Serena Williams has four Olympic gold medals with her sister Venus, while her older sister has gone one better, taking silver in the mixed doubles in Rio in 2016. This made her the tennis player with by far the most Olympic medals, which is five. Tennis is continuing to write some great pages in Sports history, and there will be more spectacular contests to come!
If you're a true Real Madrid fan, you won't have any issues.
How excited are you about the quiz? Take the tennis trivia quiz and find out how good is your tennis knowledge! Good luck, friend!
How high can you score at this quiz?
20 points is the highest score.
How hard is this tennis trivia quiz?
It's not extremely hard, but it can get challenging! Are you ready?
Who invented tennis?
Major Walter Clopton Wingfield is often recognized as the inventor of modern tennis.
Why is it called "love" in tennis?
The zero figure is similar to an egg, a zero score is commonly referred to as a duck or goose egg. In French, the word for egg is l'oeuf, pronounced similarly to the English "love".
We are sorry that this post was not useful for you!
Let us improve this post!
Tell us how we can improve this post?