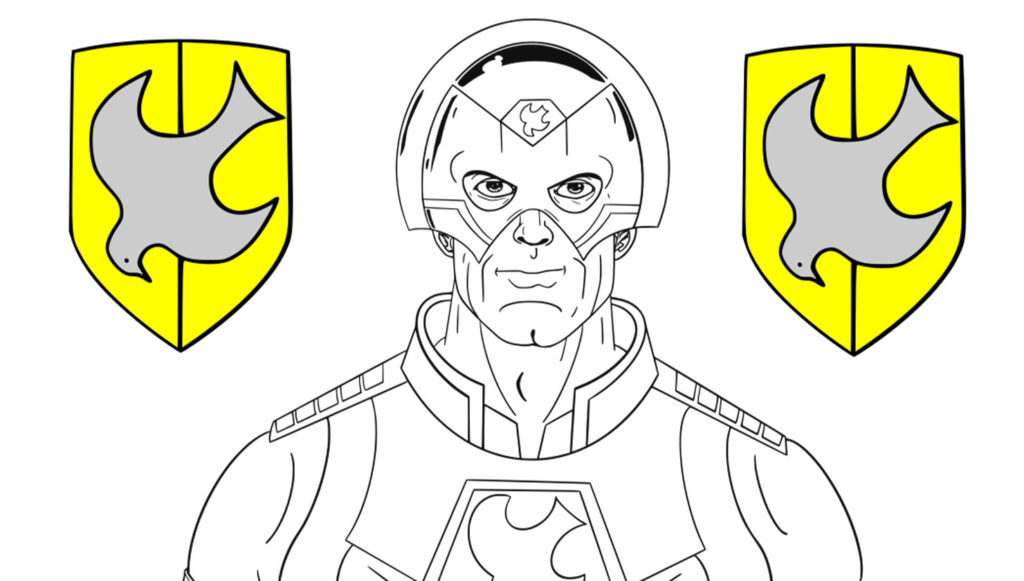 Advertisement
Advertisement
Hi there everyone! Have you heard about Peacemaker? You surely have! This is a spin-off of the extremely popular The Suicide Squad. It is an American superhero action series based on a character with the same nickname from DC Comics' comics. This show is a part of the DC Extended Universe, and it premiered on January 13, 2022, on HBO Max. The main role in the series was played by the well-known John Cena. The other roles were starring: Steve Agee, Danielle Brooks, Robert Patrick, Jennifer Holland, Freddie Stroma, and Chukwudi Iwuji. Cena, Agee, and Holland have previously appeared in The Suicide Squad. At this point, the show is over. At this point, the show is over. The last, 8th episode, was released on February 17.
Who exactly is Peacemaker? Christopher Smith is a violent vigilante who is ready to pay any price to achieve peace. It doesn't matter to him how many people he has to kill. He wears a funny uniform consisting of a red and navy blue top, white pants, and an unusually shaped metal helmet. There is an emblem on it, which shows a white dove on a yellow background. It is also visible on his chest and on the equipment that he uses. Peacemaker has a pet that he adopted during his career. It is an eagle named Eagly that has become his best companion. In 2017 he was arrested by ARGUS for all the crimes he had committed, and then he was sentenced to 30 years in prison. Peacemaker was part of the second Task Force X strike team sent on a mission to Corto Maltese. After this action, Smith was taken to an American hospital to recover. There, his awakening was awaited by John Economos and Emilia Harcourt. They wanted to recruit him to Project Butterfly.
After the hero escapes from the hospital, Clemson Murn calls him and gives him a chance to work for him. Thanks to this, he would not have to go back to prison. Peacemaker accepted this offer and joined the team that consisted of Clemson Murn, Emilia Harcourt, John Economos, and Leota Adebayo. Murn explains to Smith that his target would be individuals threatening American society, also known as butterflies.
Two other people in costumes also appear on the show. Who is this? The first is Vigilante. It is Adrian Chase who is an enthusiastic and sadistic restaurant busboy. He is a fan of Peacemaker and joins him to get closer to him and make new friends. He believes he and Smith are the best of friends. Vigilante did not trust Task Force X at first, so he followed them as they prepared for the mission. He claims that, like his idol, he enjoys killing but uses this gift to deal with bad people. He murdered the Goff family without hesitation. He is not very intelligent, but he wants to do everything to help others and make friends. He has some mental problems because he does not show human feelings. He says that it would not be a problem to accidentally kill an innocent person. He cannot empathize with other people's emotions, often unable to react according to their situation.
The second character in the costume is Chris's father. He is also known as the White Dragon, a supervillain, and a bigoted and cruel father. He was also the leader of a white supremacist organization known as the Aryan Empire. August took care of Chris' pet Eagly when he was imprisoned. Chris has sympathy for his father no matter what kind of person he is. But August doesn't really love his son. He finds him pathetic and has no sympathy for him at all. He is a racist who hates Jews or Communists. At some point, he decides to kill his son. However, he fails because it is his son who shoots first. This situation shows that Peacemaker is not a heartless killer who does not care about human lives. It seems that he still has heart. He suffers a lot after the death of his father. He cannot come to terms with what he has done. Also, in the mission aimed at the Goff family, you can see that killing others is not that easy for Smith.
This series has a lot of controversial content, but it also provokes really profound conclusions. Does the end justify the means? Can you pursue peace by killing bad people? Should it be our responsibility to administer justice? What to do to bring about peace if killing is not an option? Is it a good deed to kill your father, who is mankind's enemy? These are really tough questions, and a series of what feels like a comedy contributes to their creation.
Who do you resemble from the Peacemaker series? By answering the twenty questions we have prepared, you can find the answer to this question. We hope you had a good time watching Peacemaker and that you will enjoy this quiz as well.
How many questions are there in this quiz?
Who from Peacemaker can you be?
Christopher Smith, John Economos, Leota Adebayo, Emilia Harcourt or Adrian Chase
We are sorry that this post was not useful for you!
Let us improve this post!
Tell us how we can improve this post?