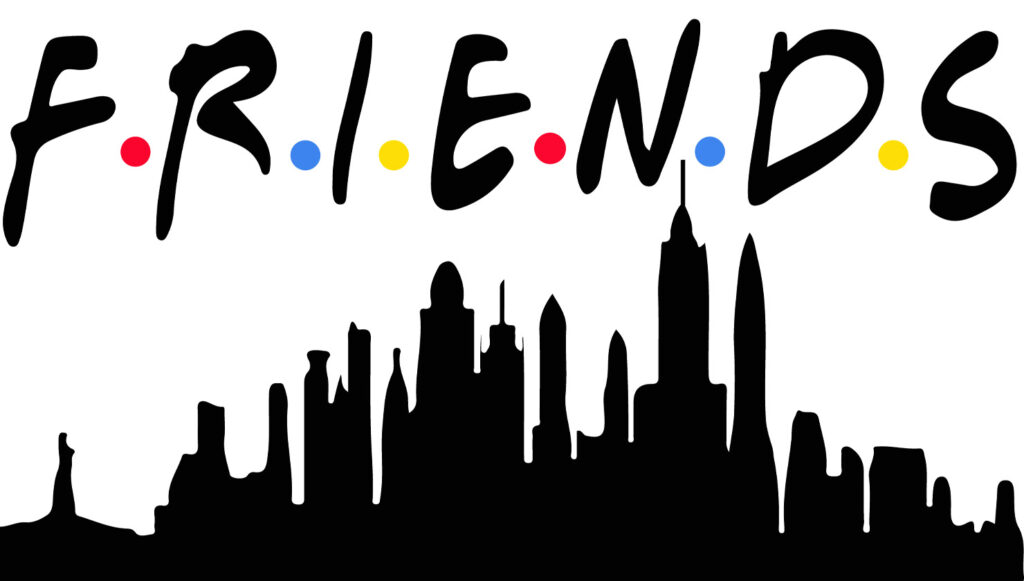 Advertisement
Advertisement
Today we will talk about Friends! Even if you haven't watched a single episode of this unbelievably popular series, you surely know these black letters separated by yellow, red, and blue dots. It was impossible not to see this logo! What is this famous sitcom about?
Friends is an American comedy series about a group of friends living in Manhattan, New York, broadcast by the American television station NBC in 1994–2004. It has been shown in over 100 countries. It turned out to be very successful. For ten years of production, it has received 6 Emmy Awards, including Best Comedy Series, a Golden Globe, two Film Actors' Association awards, 56 other awards, and 152 nominations. The last episode was watched by over 51 million viewers! On May 27, 2021, the premiere of the special episode of Friends: Reunion took place. The series was created in 1993 by Marta Kauffman and David Crane. Sometime later, Kevin S. Bright, producer of Warner Bros. joined the production. The name of the show has undergone many changes. Initially, it was going to be called Across the Hall, Six of One, Once Upon a Time in the West Village, Insomnia Café, Friends Like Us. Finally, on September 22, 1994, it debuted with the name we know today. A total of 236 episodes and 4 special episodes were created, which fit into 10 seasons. After the series ended, a spin-off was made that tells the story of one of the Friends. His name was Joey. It did not gain much popularity, and the viewership of the episodes decreased with each successive one. The first was watched by almost nineteen million people, and the last only four million. Forty-six episodes were shot, but only thirty-eight aired. The last one was released on May 15, 2006.
There are six main characters in the series. The first one, Rachel Green, is a beautiful young woman with blue eyes and a slim figure. At the beginning of the series, the girl seems spoiled and often thinks of herself. However, she tries to be a good friend. Rachel becomes less selfish as the series continues. Despite her reputation, she is known to be caring and caring. One of Rachel's closest friends is Monica Geller. Rachel is played by Jennifer Aniston.
Rachel's friend is the next main character in the series. Monica works in the culinary industry. She changed jobs several times, but her last job is a chef at the Javu restaurant. She is obsessed with cleaning and the condition of her apartment. She loves cleaning, describing it as her "Disneyland". She is also a very competitive person. Monica happens to be a bossy person, sometimes even with her friends. Her character was played by Courteney Cox.
Another of the main characters is Phoebe Buffay. She is known for her boho style and playing guitar at Central Perk. Phoebe was introduced to be the weird one among friends. Not much is said about her family history, aside from the fact that her mother committed suicide and has a twin sister. She is an eccentric masseuse, singer, and guitarist. She was played by Lisa Kudrow.
The first male lead is Joey Tribbiani. He is an actor who became famous for his role as Dr. Drake Ramoray in the soap opera Days of Our Lives. Joey is generally a good-natured, charming, and well-meaning person, but not so bright. He can't take any criticism of his acting. He is a simple man and loves women, food, the basketball team, and friends. Even though he is usually simple-minded, he can be surprisingly intelligent at times. Joey is generally easygoing and pleasant. He is portrayed by Matt LeBlanc.
Another male character is Chandler Bing. He is notable for his sarcastic and witty sense of humor. He is an employee of a company that analyzes and processes statistical data for international corporations. His profession is often joked about on the show, as none of his other friends could tell what exactly Chandler was up to. He works in advertising at the end of the series. He is Ross Geller's best friend. He is the wealthiest of Friends because he saved money for many years. Chandler tends to pass as needy and usually makes a poor first impression. He is played by Matthew Perry.
The last main character is Ross Geller. This is Monika's older brother. He worked as a paleontologist at the Museum of Prehistory and later became a lecturer at New York University. He has been in love with Rachel since high school. Ross was portrayed by David Schwimmer. He's best known for his nerdy personality and very awkward sense of humor. He is intelligent, polite, caring, and kind. He is also often clumsy, oversensitive, and socially awkward. Sometimes he is arrogant because he is the only friend to have a doctorate.
If you like Friends, be sure to take this quiz! You can see who you resemble from this series! All you have to do is answer twenty questions, and you will see the result immediately. Hope you guys have fun. Good luck!
How many questions does this quiz have?
There are 20 questions in this quiz.
Which character from Friends can you get?
Rachel Green, Monica Geller, Phoebe Buffay, Joey Tribbiani, Chandler Bing or Ross Geller
We are sorry that this post was not useful for you!
Let us improve this post!
Tell us how we can improve this post?