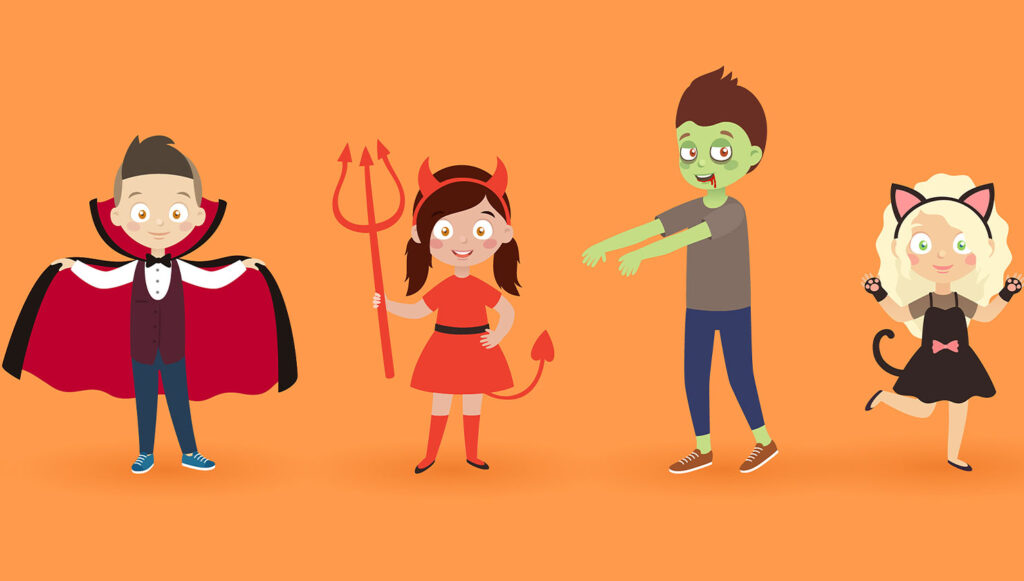 Advertisement
Advertisement
Hello everyone! How are you doing today? Do you already know who you will be for this year's Halloween? If you still can't make up your mind, we have great news for you! In today's Halloween quiz, you will learn which one of the four costume ideas best matches your mood. Answer 20 questions and
So who should you be for Halloween 2022? Take our test and discover if you should be Doctor Strange, Variant Loki, Harley Quinn, or one of the characters from Scooby-Doo squad. Have fun!
How much do you know about Halloween? Test your spooky knowledge in our Halloween Trivia quiz!
Halloween In 2022
We had it rough in 2021 because of COVID-19, but now that the pandemic has settled, we can once again enjoy our favorite holidays like in the old times. According to the estimations, Halloween in 2022 is going to come back stronger than ever. It is expected that consumers will spend as much as $10.6 billion in 2022. The average amount that Americans plan to spend on candies, costumes and decorations is $100. The number of people who declare participation in Halloween traditions is also higher than last year. In 2021, 65% of Americans enjoyed the spooky season, while in 2022, the predicted percentage is 69%.
There is no better time for horror quizzes than Halloween season. Take this test and find out which character from Stranger Things you are!
Our Costume Ideas
Characters which we have chosen as this year's costume ideas are loved by many and continue to rise in popularity. Thanks to new movies and tv series they are featured in, more and more people start noticing their charm. Each of them has a long history in the media and it seems they are not going to fall from grace anytime soon. To spark your imagination, read about the characters below!
Doctor Strange
Doctor Stephen Vincent Strange was a successful neurosurgeon whose career ended after a tragic car accident. With his hands severely crippled, Strange was longer capable of performing surgeries and had to find other ways to help people. The solutions to his dilemma were arcane arts and magic of the Multiverse. After Strange reached Kamar-Taj, he diligently studied under Ancient One and became a master in record time. As a powerful mage, Doctor Strange faces interdimensional and mystical threats.
Doctor Strange has an interesting personality. He is a genius and gains new knowledge very quickly, but he also is very stubborn and impatient. Because he bears a heavy burden of protecting the Earth from mystical dangers, he tends to ignore smaller threats to humanity.
The most recent movie Doctor Strange was featured in – Doctor Strange In The Multiverse Of Madness – is still a hot topic which makes the brilliant mage a great choice for a Halloween costume in 2022.
Harley Quinn
Harley Quinn, also known as Dr. Harleen Frances Quinzel, is one of the villains in the DC Universe. She usually served as a comic relief in Batman comics and animated series, but with the most recent television series, she takes the role of a full-fledged villain.
Harley Quinn loves causing ruckus and being in the center of attention. She likes violence and partying. But despite being among Gotham's sociopaths and lunatics, Harley Quin is a sensitive person and wants to be loved.
Harley Quinn is known to wear a few iconic costumes. The most famous one was worn by Margot Robbie in American supervillain movie Suicide Squad which conquered movie theaters in 2016. The original one – red and black jester costume – and the most recent from animated comedy Harley Quin, are also great choices for Halloween in 2022.
Scooby-Doo Squad
Thanks to the new Scooby-Doo movie released in October – Trick or Treat Scooby-Doo! – our favorite mystery busters are once again in the spotlight. Scooby, Shaggy, Velma, and Fred are all great choices for this year's Halloween costumes. You can choose your favorite character or go all out and make the whole team with your friends!
Scooby-Doo is a famous tv show which first aired in 1969. The franchise consists of many movies, tv series, comics, and games. It features teenagers Daphne Blake, Fred Jones, Shaggy Rogers, Velma Dinkley, and their talking dog Scooby. They solve scary mysteries involving various supernatural beings, monsters, and strange creatures which, in the end, turn out to be people in a costume.
The hallmark of the Scooby-Doo franchise is The Mystery Machine – a colorful van often driven by Fred Jones, and our beloved talking Great Dane, Scooby.
Variant Loki
Loki Laufeyson is a son of frost giant Laufey. He was abandoned after his birth and left to die, but Odin, King of Asgard, found him and raised as his own son. Loki is known for his trickster's schemes, sabotages, and lies. He is god of mischief and lives up to this name.
There are various versions of Loki in the Marvel Universe. The one we are interested in today is variant L1130 – main character of Loki, new tv series about the god of mischief. It's an alternative version of Loki that was brought to the Time Variance Authority – an organization that monitors and brings order to various timelines. L1130 is an interesting choice for a Halloween costume. The TVA suit brings memories of the old tv series like The X-Files while having unique design at the same time.
Apart from Time Variance Authority Loki, there are other costumes to consider like President Loki, Classic Loki, Kid Loki, Boastful Loki or Alligator Loki if you are brave enough. Do you have your favorite one?
Which Hocus Pocus 2 character are you? Find out in our recent quiz!
Halloween Costume Ideas For 2022
Don't wait until the last minute! The spooky season approaches and so is the time to choose the best Halloween costume. Solve our quiz and find out who you should be for Halloween 2022. Have fun and stay spooky!
After you choose your costume another mystery awaits you. Which Halloween monster are you? Take this scary and funny quiz to uncover the truth.
How Many Questions Do I Have To Answer?
You need to answer 20 questions. 
Who Can Solve This Test?
Today's quiz is aimed at people who are still wondering what to wear for Halloween. However, it can be solved by everyone who loves personality tests.
What Results I Can Get After Finishing The Test?
You will discover which costume you should wear for this year's spooky season. You can get one of the four costume ideas as a result: Doctor Strange, Harley Quin, Scooby-Doo squad, or Variant Loki. 
We are sorry that this post was not useful for you!
Let us improve this post!
Tell us how we can improve this post?