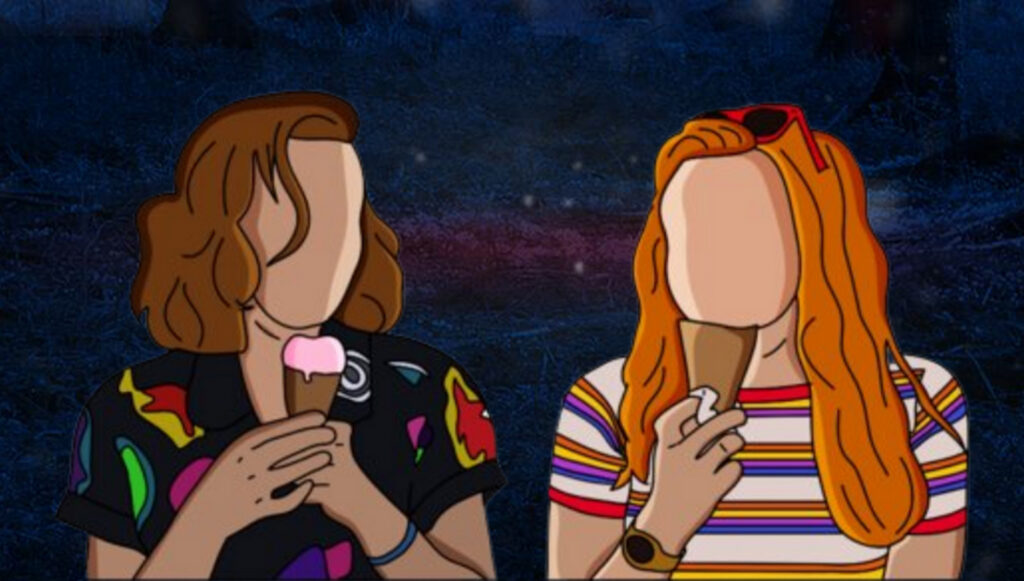 Advertisement
Advertisement
Hey everyone! Have you been waiting for the fourth season of Stranger Things? If you are fans of the series, we invite you to take the quiz! Answer twenty questions and you will find out what character from the series you resemble the most!
Stranger Things is an American science fiction horror drama television series created by the Duffer Brothers and streaming on Netflix. The brothers serve as showrunners and are executive producers along with Shawn Levy and Dan Cohen. The series premiered on Netflix on July 15, 2016. Set in the 1980s in the fictional town of Hawkins, Indiana, the first season focuses on the investigation into the disappearance of a young boy (Will Byers) amid supernatural events occurring around the town, including the appearance of a girl with psychokinetic abilities (Eleven). The series stars an ensemble cast including Winona Ryder, David Harbor, Finn Wolfhard, Millie Bobby Brown, Gaten Matarazzo, Caleb McLaughlin, Natalia Dyer, Charlie Heaton, Noah Schnapp, Sadie Sink, Joe Keery, Cara Buono, Matthew Modine, Dacre Montgomery, Sean Astin, Paul Reiser, Maya Hawke, Priah Ferguson, Brett Gelman, and Jamie Campbell Bower.
The Duffer Brothers developed Stranger Things as a mix of investigative drama alongside supernatural elements portrayed with horror, science fiction, and childlike sensibilities. Setting the series in the 1980s, the Duffer Brothers infused references to the pop culture of that decade while several themes and directorial aspects were inspired primarily by the works of Steven Spielberg, John Carpenter, Stephen King, and H. P. Lovecraft, as well as anime and video games. They also took inspiration from strange experiments that took place during the Cold War and real-world conspiracy theories involving secret government experiments.
Stranger Things has attracted record viewership on Netflix and has an international fan base. The series has received critical acclaim for its characterization, atmosphere, acting, soundtrack, directing, writing, and homages to 1980s films. It has received many awards and nominations, including 39 Primetime Emmy Award nominations (and six wins), four Golden Globe Award nominations, a British Academy Television Award nomination, two Directors Guild of America Award nominations, and three Writers Guild of America Award nominations, and three Grammy Award nominations. It has won a Screen Actors Guild Award for Outstanding Performance by an Ensemble in a Drama Series, two American Film Institute awards, a Critics' Choice Television Award, and three People's Choice Awards, among others. In September 2019, the series was renewed for a fourth season, which is being split into two volumes, releasing on May 27 and July 1, 2022, respectively. In February 2022, the series was renewed for a fifth and final season.
Stranger Things is set in the fictional rural town of Hawkins, Indiana, during the 1980s. The nearby Hawkins National Laboratory ostensibly performs scientific research for the United States Department of Energy, but secretly does experiments into the paranormal and supernatural, including those that involve human test subjects. Inadvertently, they have created a portal to an alternate dimension, "the Upside Down". The influence of the Upside Down starts to affect the unknowing residents of Hawkins in calamitous ways.
The first season begins in November 1983, when Will Byers is abducted by a creature from the Upside Down. His mother, Joyce, and the town's police chief, Jim Hopper, search for Will. At the same time, a young psychokinetic girl called Eleven escapes from the laboratory and assists Will's friends, Mike, Dustin, and Lucas, in their own efforts to find Will.
The second season is set a year later, starting in October 1984. Will has been rescued, but few know of the details of the events. When it is discovered that Will is still being influenced by entities from the Upside Down, his friends and family learn there is a larger threat to their universe from the Upside Down.
The third season is set several months later, in the days leading up to the Fourth of July celebration in 1985. The new Starcourt Mall has become the center of attention for Hawkins' residents, putting most other stores out of business. Hopper becomes increasingly concerned about Eleven and Mike's relationship while still trying to care for Joyce. Unbeknownst to the town, a secret Soviet laboratory under Starcourt seeks to open the gateway to the Upside Down, allowing the entities from the Upside Down to possess people in Hawkins and creating a new horror to deal with.
The fourth season is set several months later, in April 1986. Joyce, Will, Eleven (now going by Jane Hopper) and Jonathan have moved to Lenora, California. Eleven has a hard time adjusting and gets bullied in school. Meanwhile, in Hawkins, a new monster from the Upside Down murders multiple high school students.
Imagine now that you live in the world of Stranger Things! Which character would you be after moving to that Universum? Answer twenty questions and you will see now which character resembles you the most.
How many questions are there?
What can you get as a result?
Will Byers, Mike Wheeler, Eleven, Lucas Sinclair, Max Mayfield, Dustin Henderson
We are sorry that this post was not useful for you!
Let us improve this post!
Tell us how we can improve this post?