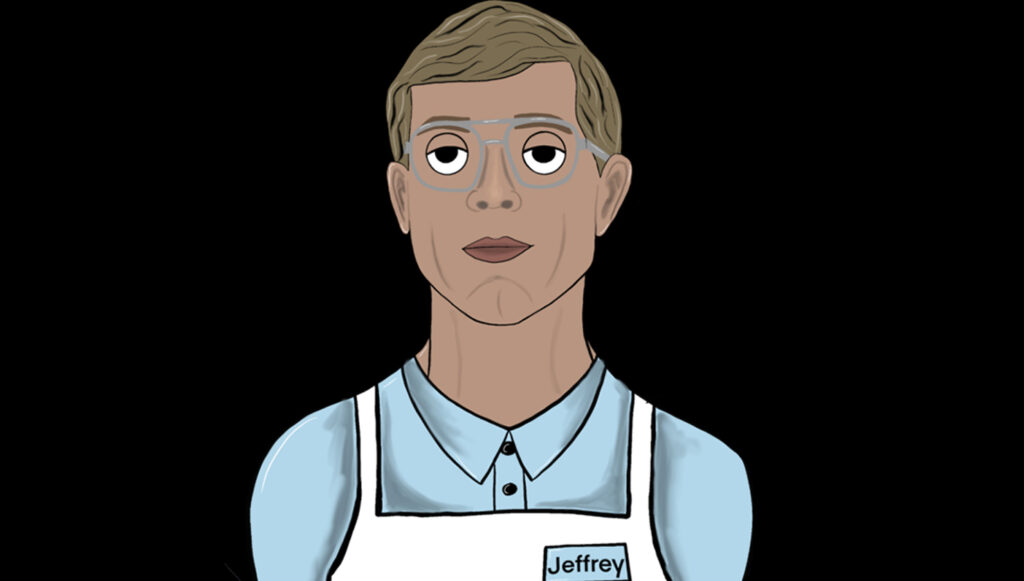 Advertisement
Advertisement
Jeffrey Dahmer was a terrifying serial killer stalking the state of Wisconsin in the 1980s. Recently his horrible crimes came to light once again with the release of the new Netflix series "Dahmer – Monster: The Jeffrey Dahmer Story". The show investigates the reasons behind and tactics used by Dahmer concerning the killings he carried out between 1978 and 1991. Read on to learn more about it. And just to avoid any confusion: no, this quiz isn't about Dave Dahmer.
"Dahmer" cast
Evan Peters of "American Horror Story" fame portrayed the famous serial killer in the show. The audiences got to see him as Dahmer for the first time when he was photographed in costume on set back in July.
It wasn't the first time Peters played the part of a dangerous real-life murderer. In "American Horror Story: Cult" he took on the role of Charles Manson, the infamous cult leader. Peters portrayed multiple characters in the seventh season of AHS, including Manson and other cult leaders like David Koresh, Jim Jones, and Marshall Applewhite.
It also wasn't the first time Dahmer was portrayed on screen. In the 2017 film "My Friend Dahmer" Ross Lynch played Jeffrey Dahmer as a high school student. Before stepping into the shoes of Hawkeye, Jeremy Renner sported a boybandish hairstyle portraying Dahmer in a 2002 movie.
Find your true personality.
Stepping into the killers' shoes
Serial killers, murderers, cult leaders, and other unsavory figures have been an object of public fascination for a long time. Many actors tried their hand at roles like that.
Former teenage heartthrob Zac Efron had an ambitious task of playing a prolific serial killer Ted Bundy in the 2019 movie of lengthy title: "Extremely Wicked, Shockingly Evil and Vile." The exact number of Bundy's victims is unknown, but he confessed to 30 killings before his execution in 1989. Additionally, for the 2021 movie Ted Bundy: American Boogeyman, Chad Michael Murray donned Bundy's deadly garb.
In yet another link to American Horror Story, Kathy Bates played Madame LaLaurie in the third season of the show. She was a real-life slave owner living in New Orleans who horrifically tortured and killed at least several of her slaves in the 1800s.
In the Netflix series "Mindhunter," Cameron Britton played Ed Kemper in a terrifying manner. Kemper was a serial killer who killed six female college students before murdering his mother and her friend. He also murdered his grandparents when he was a teenager.
Aileen Wuornos, a serial murderer who killed seven men in Florida between 1989 and 1990, was portrayed by Charlize Theron in a role that earned her an Oscar. Additionally, a character played by Christina Ricci in the 2003 film Monster is modeled after Wuornos' ex-girlfriend Tyria Moore.
Peters is accompanied by other talented actors, including Richard Jenkins, Molly Ringwald, Michael Learned, and Niecy Nash.
Jenkins played Dahmer's caring but distracted father, Lionel Jenkins. Molly Ringwald, the former teen icon of the 80s, played Dahmer's stepmother, Shari Dahmer. Niecy Nash proved her acting chops as Glenda Cleveland, Jeffrey Dahmer's neighbor who tries to get the police to investigate Dahmer.
In the show, Cleveland lives adjacent to the murderer. Real Glenda, however, resided in a building next door. The woman living right next to Dahmer was Pamela Bass.
Real-life Glenda Cleveland was suspicious of Dahmer for a long time and tried many times to alert the police. In 1991, she tried to help 14 years old Konerak Sinthasomphone after he stumbled, injured and dazed, out of Dahmer's apartment.
Unfortunately, the police officers who arrived on the scene believed Dahmer over Cleveland. The man claimed Konerak was his boyfriend and was simply drunk, so they let him take the boy back to his apartment. Konerak was killed that same evening. Glenda tried to intervene with the police about the boy's fate, but she was ignored.
In the years that followed Dahmer's arrest and trial, Glenda mostly returned to her normal life She passed away from natural causes on December 24, 2010, at the age of 56.
Shaun J. Brown played the part of Tracy Edwards, the man who escaped Dahmer and let the police to the killer's apartment, which ultimately resulted in his conviction. In 1992, Edwards gave testimony against Jeffrey Dahmer and became a crucial witness.
Unfortunately, Edwards never seemed to come back to himself after his traumatic experience. Tracy Edwards was charged with murdering a man by throwing him off a bridge twenty years after escaping Dahmer's clutches. After entering a guilty plea, he got a one-and-a-half-year sentence reduction. Edwards' current whereabouts are unknown.
Do you know Jeffrey Dahmer?
Take the Jeffrey Dahmer quiz to find out which "Dahmer" character you most identify with. Hopefully, it's not the old Jeffrey or we will be very concerned about you.
Who played Jeffrey Dahmer on the show "Dahmer"?
Evan Peters took on the role of the infamous murderer, necrophile, and cannibal Jeffrey Dahmer.
What characters can you get on this quiz?
Jeffrey Dahmer, Lionel Dahmer, Glenda Cleveland, Tracy Edwards
Who played Glenda Cleveland on the show "Dahmer"?
Niecy Nash starred as Glenda Cleveland, Dahmer's neighbor.
We are sorry that this post was not useful for you!
Let us improve this post!
Tell us how we can improve this post?