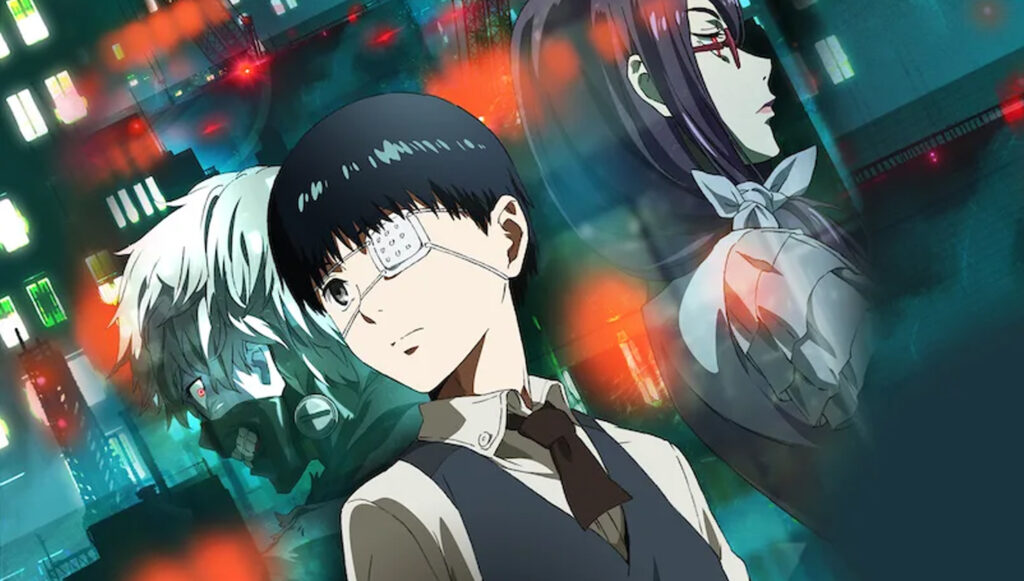 Advertisement
Advertisement
Hey everyone! Do you like Tokyo Ghoul? If so, you will surely like today's quiz. Answer twenty questions to find out what character from this series you resemble.
Tokyo Ghoul is a Japanese dark fantasy manga series written and illustrated by Sui Ishida. It was serialized in Shueisha's seinen manga magazine Weekly Young Jump between September 2011 and September 2014 and was collected in fourteen tankōbon volumes. A prequel, titled Tokyo Ghoul, ran online on Jump Live in 2013 and was collected in a single tankōbon volume. A sequel, titled Tokyo Ghoul:re, was serialized in Weekly Young Jump between October 2014 and July 2018, and was collected in sixteen tankōbon volumes.
A 12-episode anime television series adaptation by studio Pierrot aired on Tokyo MX between July and September 2014. A 12-episode second season, Tokyo Ghoul √A (pronounced Tokyo Ghoul Root A), which follows an original story, aired from January to March 2015. A live-action film based on the manga was released in Japan in July 2017, with a sequel being released in July 2019. An anime adaptation based on the sequel manga, Tokyo Ghoul:re, aired for two seasons; the first from April to June 2018, and the second from October to December 2018.
In North America, Viz Media licensed the manga for English language release, while Funimation has licensed the anime series for streaming and home video distribution.
Tokyo Ghoul is set in an alternate reality where ghouls, creatures that look like normal people but can only survive by eating human flesh, live among the human population in secrecy, hiding their true nature to evade pursuit from the authorities. Ghouls have powers including enhanced strength and regenerative abilities – a regular ghoul produces 4–7 times more kinetic energy in their muscles than a normal human; they also have several times the RC cells, a cell that flows like blood and can become solid instantly. A ghoul's skin is resistant to ordinary piercing weapons, and it has at least one special predatory organ called a kagune, which it can manifest and use as a weapon during combat. Another distinctive trait of ghouls is that when they are excited or hungry, the color of their sclera in both eyes turns black and their irises red. This mutation is known as kakugan.
A half-ghoul can either be born naturally as a ghoul and a human's offspring or artificially created by transplanting some ghoul organs into a human. In both cases, a half-ghoul is usually much stronger than a pure-blood ghoul. In the case of a half-ghoul, only one of the eyes undergoes the "red eye" transformation. Natural-born half-ghouls are very rare, and creating half-ghouls artificially initially has a low success rate.
There is also the case of half-humans, hybrids of ghouls and humans that can feed like normal humans and lack a Kagune while possessing enhanced abilities, like increased speed and reaction speed, but shortened lifespans. Naturally born half-ghouls can also eat like normal humans or full ghouls.
The story follows Ken Kaneki, a student who barely survives a deadly encounter with Rize Kamishiro, his date who reveals herself as a ghoul and tries to eat him. He is taken to the hospital in critical condition. After recovering, Kaneki discovers that he underwent surgery that transformed him into a half-ghoul. This was accomplished because some of Rize's organs were transferred into his body, and now, like normal ghouls, he must consume human flesh to survive. Ghouls who run a coffee shop called "Anteiku" take him in and teach him to deal with his new life as a half-ghoul. Some of his daily struggles include fitting into the ghoul society, as well as keeping his identity hidden from his human companions, especially from his best friend, Hideyoshi Nagachika.
The prequel series Tokyo Ghoul follows the youths of Kishō Arima and Taishi Fura, two characters from the main series who become acquainted when they join forces to investigate the death of Taishi's friend at the hands of a ghoul, leading to Taishi eventually following Arima's path and joining the CCG (Commission of Counter Ghoul), the federal agency tasked into dealing with crimes related to ghouls as well.
The sequel series Tokyo Ghoul:re follows an amnesiac Kaneki under the new identity of Haise Sasaki (the result of horrific brain damage sustained from Kishō Arima). He is the mentor of a special team of CCG investigators called "Quinx Squad" that underwent a similar procedure as his, allowing them to obtain the special abilities of Ghouls to fight them while still being able to live as normal humans.
Tokyo Ghoul was the 27th best-selling manga series in Japan in 2013, with 1.6 million estimated sales. As of January 2014, the manga had sold around 2.6 million copies. It was the fourth best-selling manga series in Japan in 2014, with 6.9 million copies sold. The manga was nominated for the 38th Kodansha Manga Award in 2014. The whole original series sold over 12 million copies. Tokyo Ghoul was chosen as one of the Best Manga at the Comic-Con International Best & Worst Manga of 2016.
Who is your favorite from Tokyo Ghoul? Which character from the series do you resemble? Answer twenty questions and see for yourself. We invite you to the quiz!
How many questions are there?
What can you get as a result?
Ken Kaneki, Touka Kirishima, Rize Kamishiro, Shū Tsukiyama, Yoshimura
We are sorry that this post was not useful for you!
Let us improve this post!
Tell us how we can improve this post?