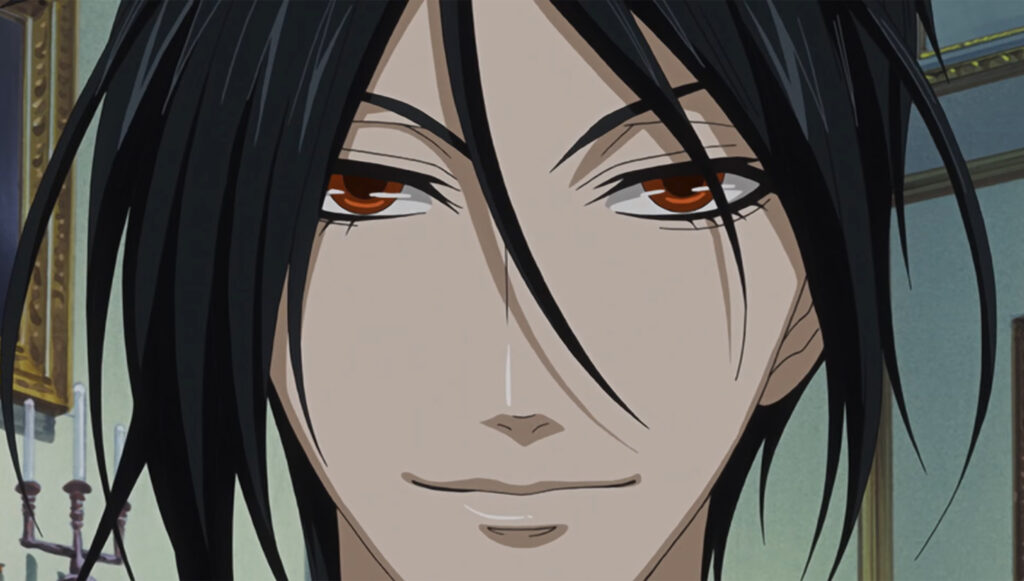 Advertisement
Advertisement
Hey everyone! Do you like Black Butler? If so, you will surely like today's quiz. Answer twenty questions and find out what character you are in this series.
Black Butler is a Japanese manga series written and illustrated by Yana Toboso. It has been serialized in Square Enix's shōnen manga magazine Monthly GFantasy since September 2006. The series follows Ciel Phantomhive, the twelve-year-old Earl of Phantomhive serving as the Queen's Watchdog. He is tasked with solving crimes in the underworld of Victorian-era London. Ciel has formed a contract with demon Sebastian Michaelis, who disguises himself as his butler, to seek revenge on those who tortured him and murdered his parents. In exchange for his services, Sebastian will be allowed to consume Ciel's soul.
A twenty-four-episode anime television series adaption, produced by A-1 Pictures, aired from October 2008 to March 2009. A second twelve-episode season aired from July to September 2010; this season features two new main characters and has an anime-original storyline that does not feature manga content. A third season, titled Black Butler: Book of Circus, was broadcast between July and September 2014. A two-part theatrical original video animation (OVA), titled Black Butler: Book of Murder, screened in Japanese theaters in October and November 2014. A live-action film adaptation was released in Japan in January 2014. An animated film, titled Black Butler: Book of the Atlantic, premiered in Japan in January 2017.
In North America, the series has been licensed by Yen Press. It was published in Yen Plus from August 2009 to July 2010. The anime series was licensed by Funimation. Funimation lost the rights to the first two seasons, and they were later acquired by Aniplex of America.
As of January 2021, the Black Butler manga has over 30 million copies in circulation.
In Victorian-era London lives a twelve-year-old earl named Ciel Phantomhive, who acquired this position after the events of his tenth birthday on December 14, 1885, when the Phantomhive manor was attacked by unidentified perpetrators and set ablaze. Ciel, amidst the chaos, discovers his parents, Vincent and Rachel Phantomhive, to be dead along with the family dog, Sebastian. The same night he is kidnapped by the attackers and then sold into slavery, where he ends up in the hands of a sadistic, demon-worshipping cult. Ciel then endures endless physical, mental, and sexual abuse at the hands of his captors. Ciel was also heat branded with a mark referred to as the "mark of the beast". One night, during a sacrificial ceremony, to summon a demon, instead of forming a contract with the cult members, the demon states that he was summoned by Ciel, therefore he only agrees to form a contract with him, killing all the cultist members in the process. To show a contract was formed, the demon places a contract symbol referred to as the Faustian contract symbol on Ciel's right eye, giving it a purple hue, and his iris and pupil now showcase the symbol of the covenant. After the formation of the contract, the demon reveals he will consume Ciel's soul as payment for helping him achieve his goal; revenge on those who brought down the House of Phantomhive. Afterward, Ciel names the demon Sebastian Michaelis, after his deceased pet dog. The duo then returns to society as Ciel takes over his now late father's previous position as the queen's watchdog, a very high-profile individual who is tasked with investigating cases that Queen Victoria herself deems especially important or threatening to England and the crown.
As of January 2021, the Black Butler manga had over 30 million copies in circulation worldwide. Individual volumes alone have done well in weekly polls in Japan, taking several high spots. In addition to the volumes, the comics anthology Rainbow Butler ranked seventeenth during the week of March 31 to April 6, 2009, selling 41,083 copies after ranking thirty-third the previous week. The fourth and fifth volumes ranked thirty-third and thirty-ninth the top-selling manga in Japan in 2008, selling 529,210 copies and 468,550 copies respectively. The sixth volume ranked thirteenth of the top-selling manga in Japan during the first half of 2009, selling 619,501 copies. The series itself was ranked tenth of the top-selling manga series in Japan in 2009, selling a total of 1,603,197 estimated copies.
The Japanese music distributor Recochoku has created an annual survey of which anime characters people would like to marry. Sebastian Michaelis ranked ninth in the category "The Character I Want to Be My Groom".
Written and illustrated by Yana Toboso, Black Butler has been serialized in Square Enix's shōnen manga magazine Monthly GFantasy since September 16, 2006. Square Enix has collected its chapters into individual tankōbon volumes. The first volume was released on February 27, 2007. As of September 27, 2021, thirty-one volumes have been released.
Which Black Butler character is your favorite? And which of them resembles you the most? Answer twenty questions and see for yourself!
How many questions are there?
What can you get as a result?
Earl Ciel Phantomhive, Sebastian Michaelis, Baldroy, Finnian, Mey-Rin
We are sorry that this post was not useful for you!
Let us improve this post!
Tell us how we can improve this post?