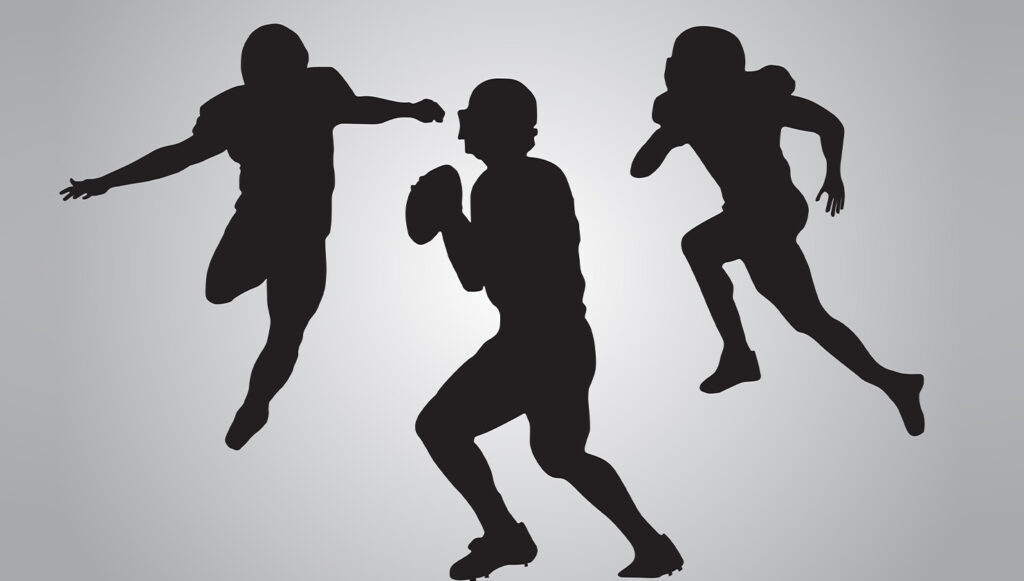 Advertisement
Advertisement
Hello there, NFL fans! A short while ago, we gave you a quiz to test your knowledge about the League. Today we have something a little different. Do you have your favorite NFL players? The answer is most likely yes! Our quiz will analyze your personality and tell you which of your favorite NFL stars is the most like you. There have been many interesting characters in the sport's history, and you are about to find out which one you resemble!
Find out your level of NFL knowledge.
NFL introduction
For the bystanders and newbies who might not know a lot about the NFL, here are some basic facts about it.
The National Football League is a professional football organization in the United States. Its history starts in the year 1920 in Canton, Ohio. Jim Thorpe, an exceptional American athlete who also played in the NFL, was the League's first president.
Only the most faithful FC Barcelona fans can score 100%.
When the NFL started its run, there were five teams from Ohio, and four from Illinois. Two clubs were from New York and two were from the state of Indiana. There also was the Detroit Heralds from Michigan. Nowadays, it has 32 teams divided between two conferences.
Most liked NFL players
We all have favorites, but some players seem to have won the general audience's approval.
How well-versed in the Premier League are you?
Troy "Legendary Hair" Polamalu
Troy Polamalu played for Pittsburgh Steelers in the strong safety position for twelve years, from 2003 to 2014. He has an American-Samoan heritage and was born Troy Aumua in 1981 in Garden Grove, California.

Polamalu was crucial to the success Steelers had in the 2000s. He was known for his "all-out," explosive style of play, range, and influence on the field. Football, for him, was a "spiritual battle" and a "test of will." Polamalu's luscious locks were his distinctive trait. In his private life, he's a deeply spiritual, modest, hard-working person. His hobbies include surfing, gardening, woodworking, and playing piano.
Drew "Four F'S" Brees
Drew Christopher Brees played for the NFL for 20 seasons, mainly for the New Orleans Saints. He was instrumental in the team's first Super Bowl victory. Drew Brees' four priorities in life are spirituality, family, football, and charity. He is known for staying calm under pressure, which earned him the nickname "Cool Brees." To this day, Drew is dearly adored and appreciated by fans.
Aaron (Mr.) Rodgers
Since 2005, Rodgers has been the Green Bay Packers quarterback. He's been excelling on the field and is immensely popular, despite some controversies. Rodgers won his first Most Valuable Player award in 2011 and the second in 2014. Some people refer to Rodgers as self-centered and arrogant, but others see him as a natural leader. His sense of humor also appeals to many.
Ultimate challenge for the FC Barcelona fans!
Rob "¡Yo soy fiesta" Gronkowski
Rob Gronkowski played eleven seasons in the NFL as a tight end. During his career, he set several NFL records, including being the first player of the tight end position to lead the game in accepting touchdowns.

Gronkowski is considered one of the most excellent players of his rank. With 350,000 Twitter followers, he's also one of the favorites. Rob is a social, enthusiastic, and spontaneous person. Life is never dull around people like Gronk.
Joe "Joey Franchise" Burrow
Burrow has been the Cincinnati Bengals' quarterback since 2020. For his performance on the field, Joe Burrow received numerous accolades and honors, including the Heisman Trophy and the Maxwell Award. The Bengals selected him first in the 2020 Draft. His rookie season ended prematurely midway through due to a serious knee injury suffered in a game. Joe Burrow is a quiet man with a pleasant demeanor who is quick to learn, dedicated, and dependable.
Guess the NBA player!
Patrick "Bronze" Mahomes
Before being selected by the Kansas City Chiefs, Mahomes played football and baseball in college but gave up baseball after his sophomore year to concentrate on football. Fans laud Mahomes for his ability to read the defense and understand the situation on the field. In his personal life, he is an enthusiastic gamer, primarily enjoying the Call of Duty video game series.
Which NFL player are you? Get ready for a touchdown with our NFL personality quiz. Find your NFL match!
What players can you get?
Troy Polamalu, Drew Brees, Aaron Rodgers, Rob Gronkowski, Joe Burrow, and Patrick Mahomes.
How many teams does the NFL have?
Who is the most likable NFL team?
The Dallas Cowboys has the largest fan base.
Who has the nicest jerseys in the NFL?
We are sorry that this post was not useful for you!
Let us improve this post!
Tell us how we can improve this post?