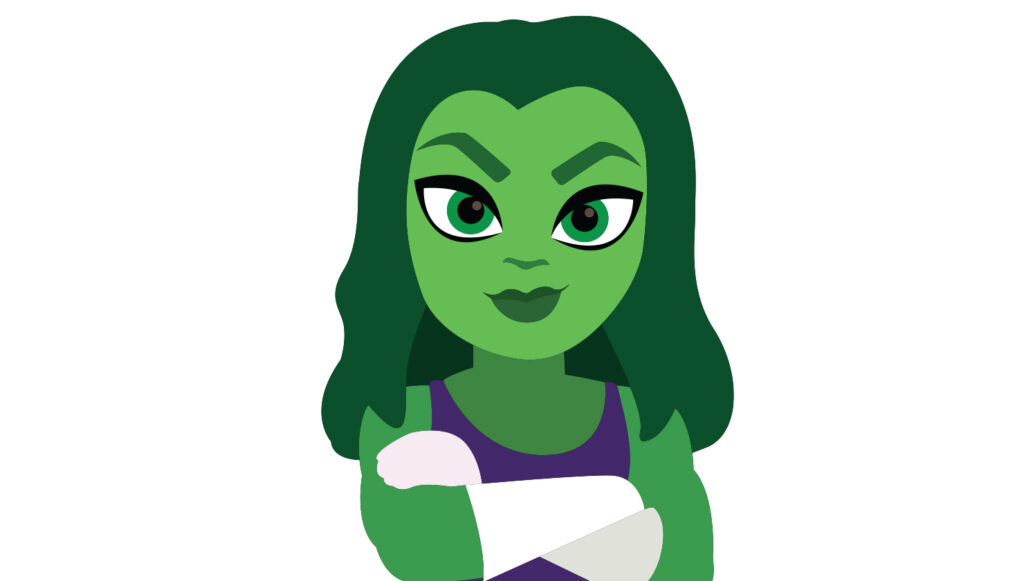 Advertisement
Advertisement
Hey everyone! Have you watched She-Hulk? We hope so! Today we have prepared a quiz about this series for you! Which She-Hulk: Attorney at Law character are you? Answer twenty questions and see for yourself now!
She-Hulk: Attorney at Law is an American television series created by Jessica Gao for the streaming service Disney +, based on the Marvel Comics featuring the character She-Hulk. It is the eighth television series in the Marvel Cinematic Universe (MCU) produced by Marvel Studios, sharing continuity with the films of the franchise. It follows Jennifer Walters, a lawyer specializing in cases involving superhumans, who also becomes the green superhero She-Hulk. Gao serves as a head writer with Kat Coiro leading the directing team.
Tatiana Maslany stars as Jennifer Walters / She-Hulk, alongside Jameela Jamil, Ginger Gonzaga, Mark Ruffalo, Josh Segarra, Jon Bass, Renée Elise Goldsberry, Tim Roth, Benedict Wong, and Charlie Cox. She-Hulk was announced in August 2019, with Gao hired in November. Coiro joined to direct multiple episodes in September 2020, and Maslany was cast. By December, Roth and Ruffalo had joined the cast and Anu Valia was also set to direct. Filming began in mid-April 2021 in Los Angeles and Atlanta, Georgia, and lasted until mid-August. The subtitle for the series was added by May 2022.
She-Hulk: Attorney at Law premiered on August 18, 2022, and will consist of nine episodes, concluding on October 13. It is the last television series of Phase Four in the MCU. The series received generally positive reviews, with particular praise for Maslany's performance and the lighthearted tone, though reception to the series' CGI was mixed.
By July 1989, the character Jennifer Walters / She-Hulk was expected to appear in the television film The Death of the Incredible Hulk (1990). The character ultimately did not appear, and a proposed television series featuring She-Hulk at ABC was canceled a year later. In 1991, a film based on the character entered development at New World Pictures with Larry Cohen serving as director, and Brigitte Nielsen set to play She-Hulk. Nielsen participated in a promotional photoshoot, but the film ultimately did not materialize.
In August 2019, Marvel Studios announced at the D23 conference that She-Hulk was being developed for the streaming service Disney +, to be set in their shared universe the Marvel Cinematic Universe (MCU). Shortly after, Jessica Gao was approached to pitch for the series. Gao had previously met with Marvel Studios to pitch for Captain Marvel (2019), Black Widow (2021), and Shang-Chi and the Legend of the Ten Rings (2021), which did not pan out and had expressed her desire to be approached about a potential She-Hulk project each time. She was one of the first creatives to include the character in her pitches to the studio, doing so in her Black Widow one, which Marvel Studios executive Brad Winderbaum felt was more of a She-Hulk film featuring Black Widow. Gao believed her past pitches allowed her to build her relationship with Marvel Studios, so by the time she pitched for She-Hulk, Feige and the other executives knew the type of writer she was, her humor, and "the quirks and nuances" she put into her scripts. Her pitch for She-Hulk had included Bruce Banner and Emil Blonsky / Abomination, despite being unsure if they would be able to appear; her pitch also featured more of Blonsky's trial than what is shown in the series. Gao was hired to serve as the head writer in November 2019.
In September 2020, Kat Coiro was hired to direct the first and final episodes plus four others, and to executive produce the series, while Anu Valia had also joined as a director by December 2020. Valia said she was directing a few episodes of the series and described Coiro as the series' "visionary leader". Coiro ultimately directed six episodes, with Valia directing three. In May 2022, Marvel revealed the series would be titled She-Hulk: Attorney at Law. Banner has a line in the series, "She-Hulk attorney at law, it's got a nice ring to it". While working on the editing of the episodes, Marvel Studios president Kevin Feige heard that line and felt it would be a "great title for a show" and that they should alter the series to it.
The series consists of nine 30-minute episodes, after originally being announced to be consisting of ten episodes; Feige had previously said these ten episodes would equal approximately six hours of content. Marvel Studios' Feige, Louis D'Esposito, Victoria Alonso, and Winderbaum serve as executive producers along with Coiro and Gao.
In February 2021, Feige stated that some of their series, including She-Hulk and Moon Knight (2022), was being developed with the potential to have additional seasons made, in contrast to series like WandaVision (2021) which were developed as limited events that lead into feature films instead. Coiro echoed this in August 2022, stating the series could get a second season, or the character could appear in films. Gao had an idea and premise for what a second season could entail but focused on telling a complete story with the first season. She was hopeful some of these ideas and material cut from the first season would be able to appear in future projects.
Which She-Hulk character do you like best? And which of them most closely resemble you in personality? Answer twenty questions and see for yourself now!
How many questions are there?
Who can you get as a result?
Jennifer Walters, Titania, Nikki Ramos, Bruce Banner, Augustus "Pug" Pugliese
We are sorry that this post was not useful for you!
Let us improve this post!
Tell us how we can improve this post?