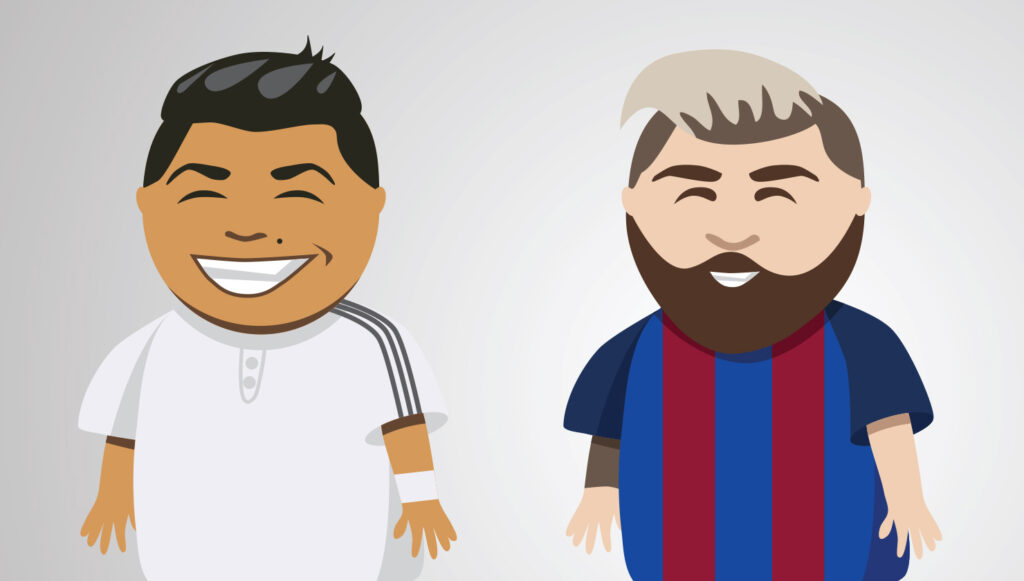 Advertisement
Advertisement
Goal, goal, goal! Are you a fan of football? Which sports team do you prefer: FC Barcelona or Real Madrid? In our quiz today, you will be made to choose between the two teams and their players. Which one is your true favorite? You will find out today!
FC Barcelona and Real Madrid are two of the most successful football (soccer) teams not only in Spain but in the whole of Europe. As a fan, you probably know everything there is to know about them. For the newbies out here, let's repeat some of the most important facts!
Futbol Club Barcelona, known simply as Barcelona or Barca, is a football club based in the city of Barcelona, Spain. It was founded on November 29th, 1899, by a group of Swiss, Catalan, German, and English footballers guided by Joan Gamper. Barcelona competes in La Liga, the men's top professional football division of Spanish football.
Since its inception, the club has grown into a symbol of Catalonia and Catalan culture, hence the team's motto "Més que un club" ("More than a club"). Barcelona's supporters are the ones owning and operating it, which differentiates it from many other football clubs.
Barcelona traditionally plays in dark blue shades with red stripes. The current head coach of the club is Xavier Hernández Creus, known as Xavi. Lionel Messi is the captain, and one of the top goal scorers. He scored 547 goals including friendlies, 461 goals in official competitions, 89 goals in European competitions, and 94 goals in international club matches.
Real Madrid Club de Fútbol, commonly referred to as Real Madrid or Real, is a Spanish football club based in Madrid. It was founded on March the 6th, 1902 as Madrid Football Club. It competes in La Liga, just like FC Barcelona.
The traditional color worn by Real Madrid's players is white. The title of honor real is Spanish for "royal". It was granted to the club by King Alfonso XIII in 1920 with the royal crown in the emblem. Unlike most European sporting organizations, Real Madrid's members have owned and operated the club since its inception.
The current head coach of Real Madrid is Carlo Ancelotti. Sergio Ramos is the captain. One of the top goal scorers is Cristiano Ronaldo, who accumulated 448 goals.
The rivalry between Barcelona and Real is viewed as one of the biggest in the sports world. El Clásico is the name of any football match between the two clubs. It is regarded as one of the most important club football games in the world, as well as one of the most watched annual sporting events.
In a total of 247 El Clasico matches, Read Madrid had 99 wins to FC Barcelona's 96 wins. There were 52 draws. These numbers include La Liga competitions. There were 183 matches, with Real Madrid winning 76 times, FC Barcelona winning 72 times, and 35 draws.
The top five goal scorers in El Clasicos are Lionel Messi for Barcelona with 26 goals, Alfredo Di Stefano for Real with 18 goals, Cristiano Ronaldo for Real also with 18 goals, Raul Gonzalez for Real with 15 goals, and Cesar Rodriguez for Barcelona with 14 goals.
The top five players with the most appearances in El Clasicos are Sergio Ramos for Real, Lionel Messi for Barcelona (both with 45 appearances), Francisco Gento for Real, Manuel Sanchis for Real, and Xavi Hernandez for Barcelona (all three with 42 appearances).
The largest victory took place when Real Madrid beat Barcelona in the Copa del Rey on June 19, 1943, by a score of 11-1, the most uneven victory in the matchup's history.
The youngest goal scorer in the history of the matches was Alfonso Navarro, playing in the 16th season of the 1946–47 La Liga, on 30 March 1947. He was 17 at the time. The oldest scorer was Alfredo Di Stéfano, playing in the 33rd season of the 1963–64 La Liga, on 15 December 1963. He was 37 at the time.
FC Barcelona in total won 128 titles, including 30 on regional scope, 75 on a national scope, and 23 at the international level. Real Madrid won 123 titles, including 26 on a regional level, 68 on a national level, and 29 internationally.
Between 1905 and 1938, Football Club Barcelona scored 21 Catalan Championships as well as nine Catalan Cups (eight Cups and one Super Cup).
In the meantime, Real Madrid would win 23 regional championships (18 Madrid / Centro championships and five combined championship games) and three cups between 1902 and 1943.
While Barca is the most successful side in the now-defunct UEFA Cup Winners' Cup with four victories, Real has won the UEFA Cup (now the Europa League) twice. Barca did succeed in winning the Inter-Cities Fairs Cup three times, which later evolved into the UEFA Cup.
Are you ready to pick your favorites? Take the quiz and tell us which team – FC Barcelona or Real Madrid – you like more! Do you think we can guess it? Have fun!
How many questions are in the quiz?
What options can you get?
FC Barcelona or Real Madrid
We are sorry that this post was not useful for you!
Let us improve this post!
Tell us how we can improve this post?