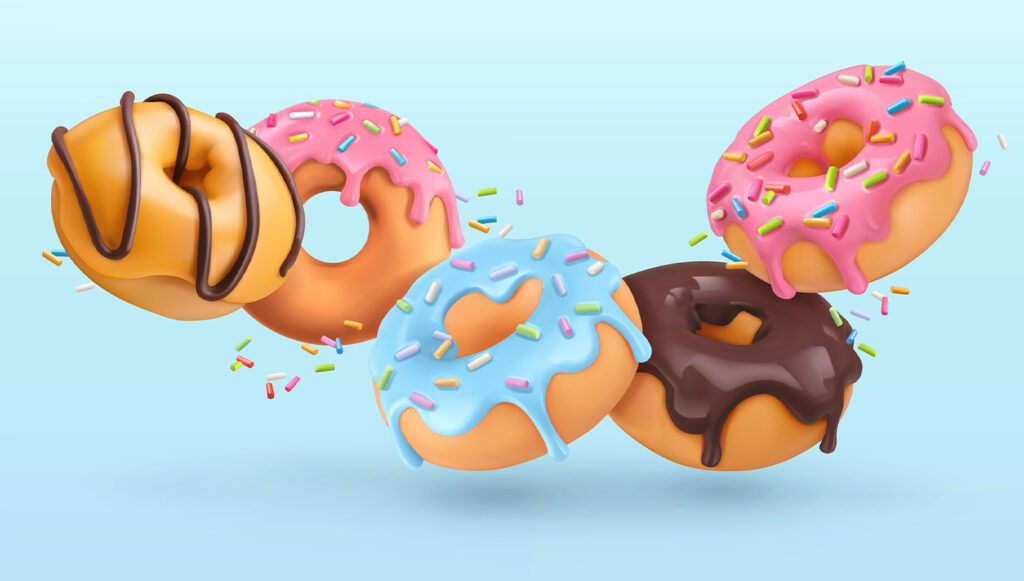 Advertisement
Advertisement
Hello everyone! Are you bored and feel like having a little fun? Today we have a relaxed and funny topic. Donut quiz! Have you ever wondered what kind of donut are you? Probably not. But today you can find out. But what are donuts? They are round cakes with a hole in the middle. They are usually deep-fried, so they are not considered fit snacks, but we all love them for their delicious taste. There are many types of donuts. Which one is your favorite? And what kind of donut are you?
If you liked this one, here is a similar one – What Kind Of Drink Are You? Have fun!
Types of Donuts
Let's see what types of donuts there are. We will list a few basic ones today and focus on them, because there may be too many of these around the world. Donuts differ in the type of filling, type of topping or type of dough. In these ways, a lot of unique donuts can be created.
Glazed Donut
This is a basic donut that will satisfy the senses of any lover of sweets. It usually doesn't have any filling, but this allows us to experience the true taste of soft dough. The glaze, on the other hand, consists mainly of sugar. But for that it is beautifully presented. Glazed donuts stand out with their glow, which makes you feel like eating them right away!
This is an ideal choice for people who like traditional snacks, the taste of which they know well, so they know what to expect. Deciding on this donut, you will not be disappointed.
Chocolate with Sprinkle Donut
Also very popular, but it stands out more. It is a donut also without filling, but you also find some with chocolate filling, or even jelly. However, what this cake is based on is primarily a coating of chocolate, milk or dark chocolate. The addition that adds color is the sprinkles.
This donut is a great choice for all chocolate lovers. Nicely presented chocolate cookies are sure to catch our attention.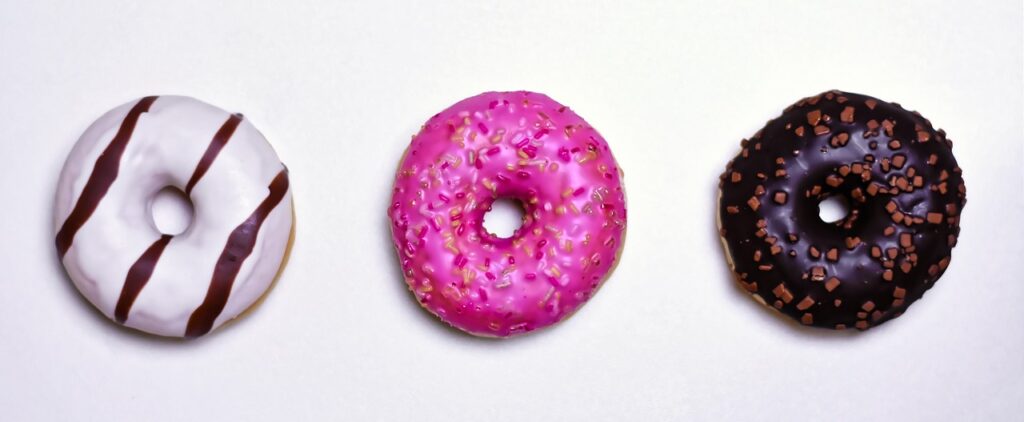 Frosted and Jelly Donut
Another standard type. These colorful donuts are often chosen by children. They have different colored icing on top, but often it is pink. They are filled with fruit jelly. Sometimes sprinkles are also used for them. They are rich in toppings. However, not everyone is a fan of these donuts.
For that, they are sure to please lovers of fruity choices. Strawberry fillings are very popular and more than one person is crazy about them.
Cider Donut
These are more unique, but also often wanted. Cider donuts tend to be smaller than others. Apple cider is used for the dough, hence the special flavor. They don't have icing, glaze or sprinkles. Finally, they are coated in a mixture of cinnamon and sugar.
This is for those who like interesting flavor combinations. Cider donuts also fit perfectly into the atmosphere of Christmas!
Others donuts
What other donuts do you know? We'll list a few more here to round out the thread. Sugar donuts are also one of the popular and standard ones. They are simply coated in sugar and sometimes have a lemon flavor. Or do you like more exotic flavors? Coconut donuts are sure to please you. Cake donuts are also worth mentioning. They are innte, their texture is more matte and dry. But that doesn't mean they are worse! Some people prefer just those. How about Boston Cream Donuts? These are certainly unique and have a delicious appearance. Filled with cream and topped with chocolate. Yum!
So, what kind of donut are you?
Do you like to bake cakes and cookies? Let's see Which Cake Should You Bake Next!
Donuts Served Around The World
It is not only in America that donuts are eaten. Although the truth is that in other countries donuts can vary greatly in appearance and even in name. However, they retain one essential characteristic – they are doughs fried in fat. We will mention here some donuts from different parts of the world. Do you recognize them? Have you ever tried them? It's certainly worth it! What kind of are you?
Churros – well-known doughnuts from Spain and Mexico. They do not resemble American donuts. They are long and thin, like sticks. They are often sprinkled with sugar, or a mix of sugar and cinnamon. People in these countries often eat these donuts for breakfast or as a snack during the day.
Bomboloni – Italian doughnuts that are heavily sweet. They are filled with vanilla cream, chocolate cream or raspberry jam. The dough is light and fluffy, and thus less fatty. Perfect for a morning cappuccino.
Spurgos – Lithuanian doughnuts. They are much smaller than normal ones. They look like small globes. Their special ingredient is curd cheese. They are more sour in taste. They are sprinkled with powdered sugar. They are also popular in other Central and Eastern European countries.
Paczki – polish delicacy. Round doughnuts that are made from yeast dough. They are made without a hole in the center. There are different types of paczkis. Some are sprinkled with powdered sugar, others are decorated with icing. The filling is also a matter of choice. Rose jam, strawberry jam, plum jam. Sometimes pudding or whipped cream. It all depends on what you like. They have gained popularity in Chicago. In Poland, there is a special day for eating these snacks and it is called Fat Thursday.
Taking donuts from other parts of the world, what kind of donut are you?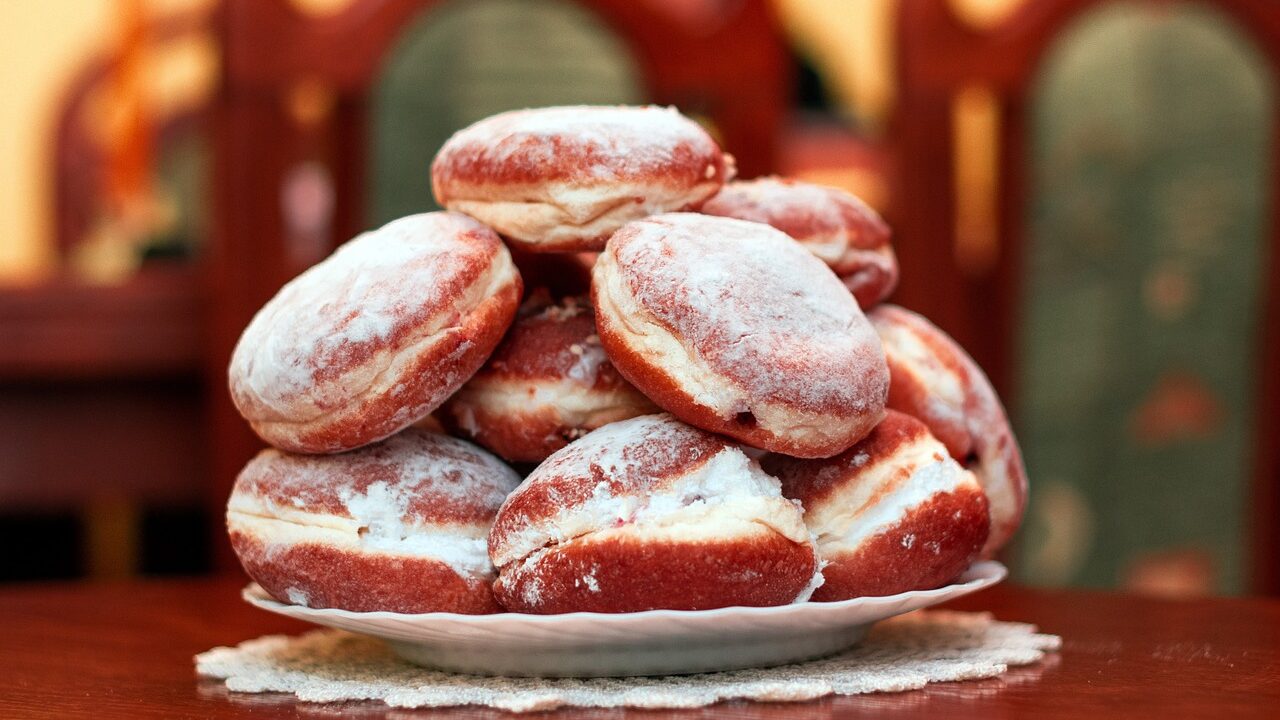 Vegan donuts
Vegan cuisine is very popular. Many people choose this diet because of their own taste preferences (they may not like meat), or for moral reasons. We know that large industries are not famous for treating animals well. So it's understandable and very brave that many people want to make this world a better place.
Nowadays, vegan options are also available, so everyone can choose what they want. To make a vegan donut, replace cow's milk with some plant-based milk. It can be almond, rice, oatmeal, soy or coconut. The choice is even greater than with regular donuts. However, instead of eggs, you can add a banana, or chia seeds. Alternatively, you can find special substitutes in stores. Fortunately, we live in an age where it is easy to find vegan options! Also make sure that the frying oil is of plant origin. In different parts of the world, donuts can be fried in animal fat, so vegans beware! But don't worry. In the what kind of donut are you quiz all donuts are vegan!
What is my favorite donut?
Fun fact! The standard donut shape, the round one with a hole, was invented in 1847. This happened because the donuts that were fried in the center were raw, so a piece of dough was cut out. Donuts originated in North America and there, in this described version, they are best known, although increasingly such donuts are also appearing in other parts of the world. Everyone now likes to taste snacks from different countries.
And how much do you know about food? Test yourself with the Food Knowledge Quiz!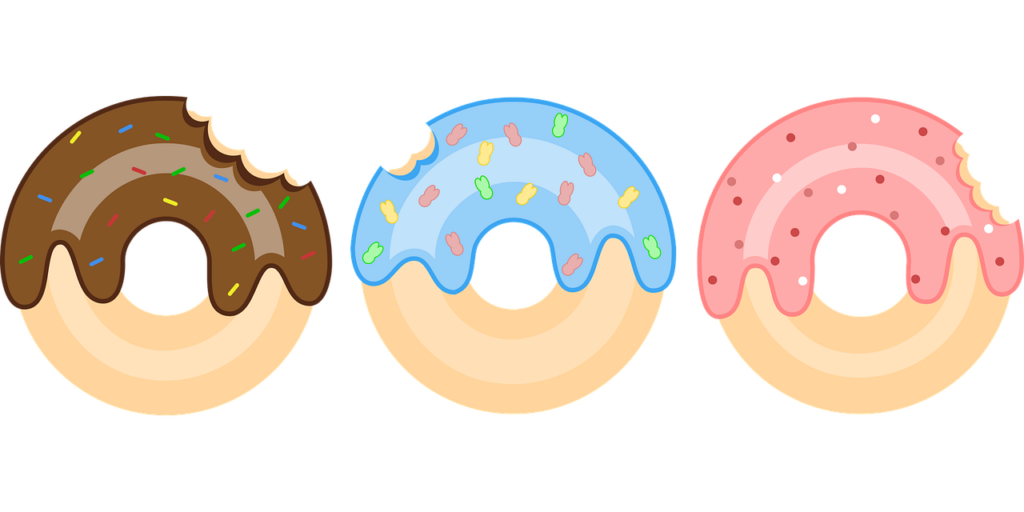 You come to a store or a bakery. You see beautiful donuts stacked in a row. Which donut did you just imagine? That one you'd probably want to eat right now. But if you were to make the donuts yourself with your choice of ingredients, sprinkles, toppings and fillings. And you are wondering, what kind of donut should i get?
You may not have discovered your favorite donut flavor yet. For that, today you can discover what kind of donut are you! How about playing a game? After taking the quiz, you can go to the nearest store and choose the donut that comes out to you as a result of the quiz. It will be a great bonus! Remember, everyone has a donut that matches their personality!
What donut can I be in this quiz?
You can be Glazed Donut, Chocolate with Sprinkle Donut, Frosted and Jelly Donut or Cider Donut.
What are the questions about?
The questions are about your taste preferences and personality traits.
Is there such thing as Donut Day?
In the US, it is celebrated on June 2.
Who invented the first donut?
The first donut was invented by American Hanson Gregory.
We are sorry that this post was not useful for you!
Let us improve this post!
Tell us how we can improve this post?