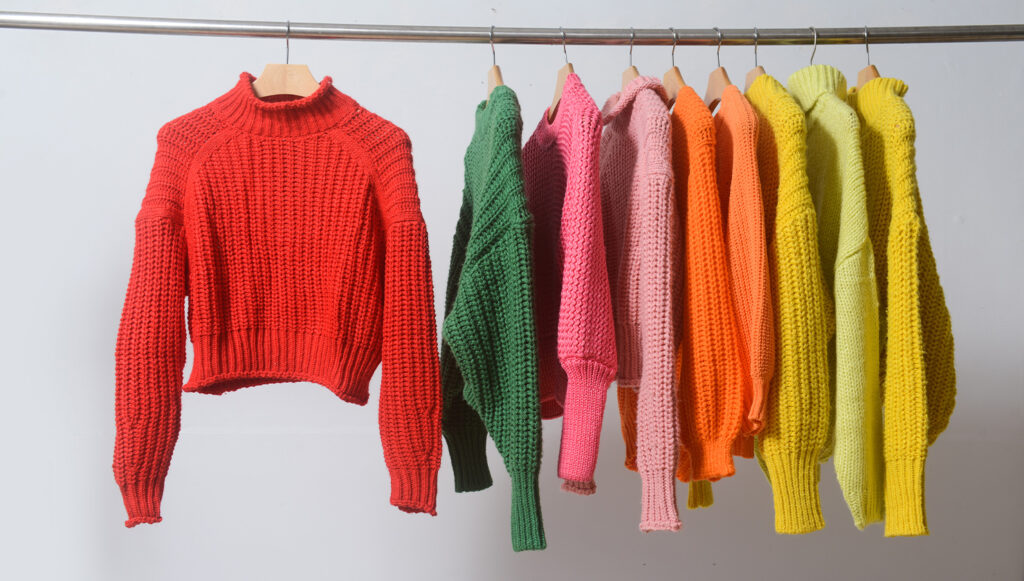 Advertisement
Advertisement
Hi there! Are you trying to reinvent your wardrobe? Perhaps you want to add more color to it, but how do you know which ones look the best on you? Worry not – with our quiz you will find the most flattering colors for you in no time!
To pick the best colors, you need to understand your skin tone. You might have heard terms such as "cool", "warm", or "neutral" in regards to the color or tone of your skin. But what does it all mean, and how do you find your "tone"? Read our easy-to-understand guide to find the color that works best for you.
If you have a warm skin tone, your skin is likely to be creamy white, peachy beige, golden olive, or honey brown color. You most likely have darker hair naturally, for example, brown, copper, auburn, and wine red. You could also have creamy white, golden, honey, or strawberry blonde hair. You have brown or hazel eyes. You have yellow skin undertones, and your veins look green.
If you have a warm skin tone, you should go for rich, earthy shades of red, orange, yellow, green, and brown. Peach, coral, and red-violet will be good choices too. You should probably steer clear of icy, cold shades of blue, as they will make your skin look gray. You can wear periwinkle (light indigo) and teal (cyan-green) shades, though. If cool tones are your preference, you can opt for colors such as olive, fuchsia (purplish red), violet, and orchid (bright rich purple). Want to throw in some neutral colors? Look for off-whites and warm grays, such as mushroom or taupe color (that last one is a shade between brown and grey).
If you have a cool skin tone, your skin is most likely cool white, rosy beige or rosy pink, olive with blue or green undertones, black with blue undertones, or rosy brown. As you can see, a cool skin tone doesn't have to mean you have fair, pale skin! (Although it can). Your hair might be ashy blonde, sandy blonde, towhead, ash or dark brown, black with blue undertones, auburn, snow-white, or silvery gray. You have grey or blue eyes. You have pink skin undertones, and your veins look blue.
When your skin has a cool tone, you ought to try colors from the cooler end of the spectrum. Opt for cobalt blue, turquoise, icy blues, fresh greens, frosty purples and pinks, and berry reds. Pastel colors, sea shades, and light, grassy tones will be great for you. As for neutrals, consider crispy whites and cool grays. Avoid warm shades like tomato red, orange and yellow, as they can overpower your cool complexion. If you do like warm colors, try lipstick reds or super-pale yellows.
If you have a neutral skin tone, you most likely have ivory, beige, light to medium olive, or light brown skin color. Your natural hair color is either blonde, brown, red, white, or gray. You can have different eye colors, but they will for sure have both warm and cool undertones – just like your skin and hair. You have neutral undertones or a mix of both cool and warm. It's hard for you to determine if your veins are green or blue.
With a neutral skin tone, you can consider yourself lucky, because you can choose from practically all the colors. However, it will be more flattering for you to pick muted, soft shades over bright hues. Try muted raspberry, creamsicle, lavender, and lemon. You should avoid neon colors and shades, like electric blue, as they will throw your complexion off balance. There is one bright color that can easily become your go-to, and that is a true red.
If you have a deep and/or dark skin tone, you will have a skin color ranging from mahogany to deep honey and rich honey. Your hair color may be dark brown, black, auburn, or gray, but it could also be light, contrasting with your skin. Both bright and light, pastel colors will be a good choice for you and will compliment your skin tone perfectly. Try colors such as pale blue, summer lavender, light pink, coral, peach, cobalt blue, electric green, purple, red, and metallic colors like gold and silver.
If you have an olive skin tone, your natural hair color may be a deep russet (dark brown with reddish-orange tinge), auburn, jet black, or contrasting light color. You may find lighter highlights offer a good way to accentuate your dark olive undertone skin. You should try colors such as tan brown, gray, gold, maroon, white, red, fuchsia or hot pink, orange or carrot, electric blue or teal.
There are a few colors that will work universally across all skin tones and hair colors. It's because they offer an equal balance of warm and cool tones. These colors include true red, blush pink, teal, and eggplant (dark or brownish purple).
Knowing what colors flatter your skin tone, and choosing your wardrobe accordingly, can have an impact on how you look and feel. Are you ready to find out your true colors? Take our quiz and discover what colors look good on you!
How many questions are in the quiz?
What options do you get?
Warm color palette, Cool color palette, Neutral color palette, Rich color palette, Bright to pale color palette
We are sorry that this post was not useful for you!
Let us improve this post!
Tell us how we can improve this post?