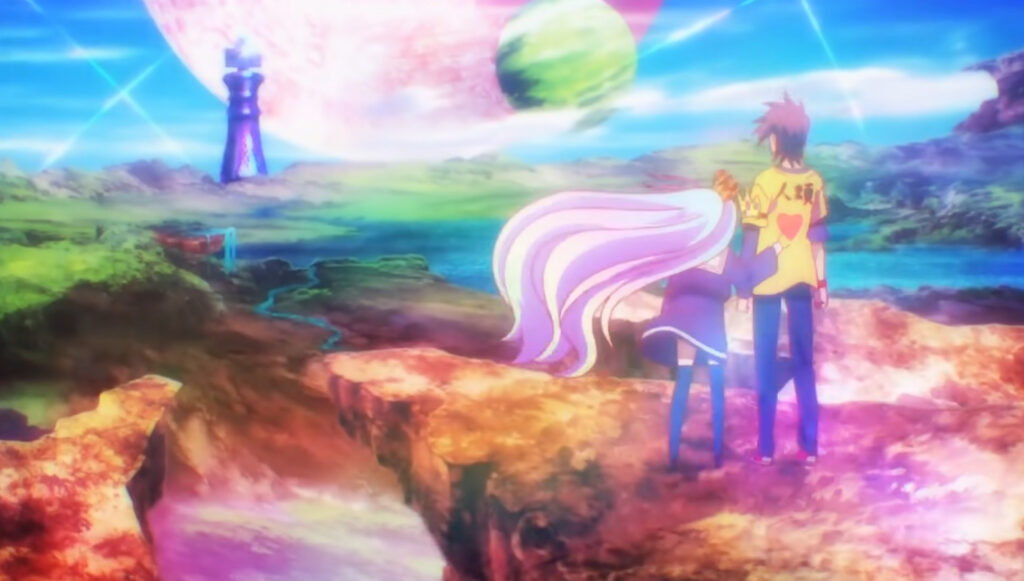 Advertisement
Advertisement
Hey everyone! Do you like No Game No Life? We hope so because today we have prepared a quiz on this topic for you! Which character from this series are you? Answer twenty questions and see for yourself now!
No Game No Life is a Japanese light novel series by Yū Kamiya. The series follows a group of human gamers seeking to beat the god of games on a series of board games to usurp the god's throne.
It is published under the MF Bunko J imprint with ten novels released between April 25, 2012, and January 25, 2018. The author and his wife, Mashiro Hiiragi, adapted the novels into a manga series for Monthly Comic Alive in 2013. Later that year, an anime adaptation of No Game No Life by Madhouse was announced. It premiered on AT-X between April and July 2014 and was simulcast outside Japan by Crunchyroll. An anime film adaptation of the sixth volume, No Game, No Life Zero, premiered on July 15, 2017. A spinoff manga, No Game No Life, Please!, focusing on the character Izuna, ran from May 27, 2015, to November 27, 2017. The No Game No Life franchise was localized in North America by several companies: Seven Seas Entertainment licensed the manga, Sentai Filmworks the anime, and Yen Press the light novel series.
The series follows Sora and his younger stepsister Shiro, two hikikomori who make up the identity of Blank, an undefeated group of gamers. One day, they are challenged by the god of games to chess and are victorious. As a result, the god summons them to Disboard, a world where stealing, war, and killing are forbidden, and all matters are decided through games, including national borders and even people's lives. Intent on maintaining their reputation as undefeated gamers, Sora and Shiro plan to conquer the sixteen ruling species and usurp the god of games.
The series began receiving recognition in 2014 when it appeared in Kono Light Novel ga Sugoi! and had its volumes placed as one of the top thirty selling novels in Japan. It was reported in May 2017 that over 3 million printed copies are in circulation. The English localization of the manga and anime was also well received: the manga adaptation appeared on The New York Times Manga Best Sellers; meanwhile, English reviewers were generally turned away by the first episode of the anime, though reviewers who have completed the series generally praised the character dynamics, game strategies, and animation, while disliking the fan service featuring the underage Shiro.
Sora and Shiro are two hikikomori step-siblings who are known in the online gaming world as Blank, an undefeated group of gamers. One day, they are challenged to a game of chess by Tet, a god from another reality. The two are victorious and are offered to live in a world that centers around games. They accept, believing it to be a joke, and are summoned to a reality known as Disboard. There, a spell known as the Ten Pledges prevents the citizens of Disboard from inflicting harm on one another, forcing them to resolve their differences by gambling with games whose rules and rewards are magically enforced. In-game, rule enforcement only occurs when the method of cheating is acknowledged and outed by the opponent, allowing players to cheat through discreet methods. Sora and Shiro traverse Elkia, the nation inhabited by humans, and befriend duchess Stephanie Dola. Learning about Elkia's decline, the two participate in a tournament to determine the next ruler; after winning the crown, they earn the right to challenge the Disboard's other species as humanity's representative. Their next goal is to conquer all sixteen species to challenge Tet to a game; as of the sixth volume, five of the sixteen are under their control.
No Game No Life is a light novel series written and illustrated by Yū Kamiya. It is published under the MF Bunko J imprint; ten volumes were published by Media Factory between April 25, 2012, and January 25, 2018. In August 2014, Yen Press announced No Game No Life will be one of its titles published under its newly launched imprint, Yen On, in 2015. Non-English localizations include Brazil, Taiwan, and Russia. Distribution in China was banned due to the government viewing the series as a threat to communism, while the Australian Classification Board banned the selling or importing of volumes 1, 2, and 9 in Australia for containing content that is "likely to cause offense to a reasonable adult".
No Game No Life was conceived during the serialization of A Dark Rabbit Has Seven Lives. Kamiya's original idea was a fantasy setting with battles; since he disliked drawing battles, he replaced them with games. He had intended to turn the idea into a manga series, but an unspecified illness made him unfit to handle the workload. While hospitalized for treatment, the author imagined how his idea would work as a light novel, and settled for that medium instead. Kamiya began writing the first volume and was advised to break it into three parts due to its length. In the middle of writing the second volume, Kamiya moved to his home country, Brazil, for further treatment for his ailment; to meet the volume's deadline, his wife drew some of the illustrations in the novel.
Which of the characters from No Game No Life caught your attention? And which of them resemble you the most? Answer twenty questions in our quiz to find out now!
How many questions are there?
Who can you get as a result?
Sora, Shiro, Tet, Stephanie Dola, Chlammy Zell
We are sorry that this post was not useful for you!
Let us improve this post!
Tell us how we can improve this post?