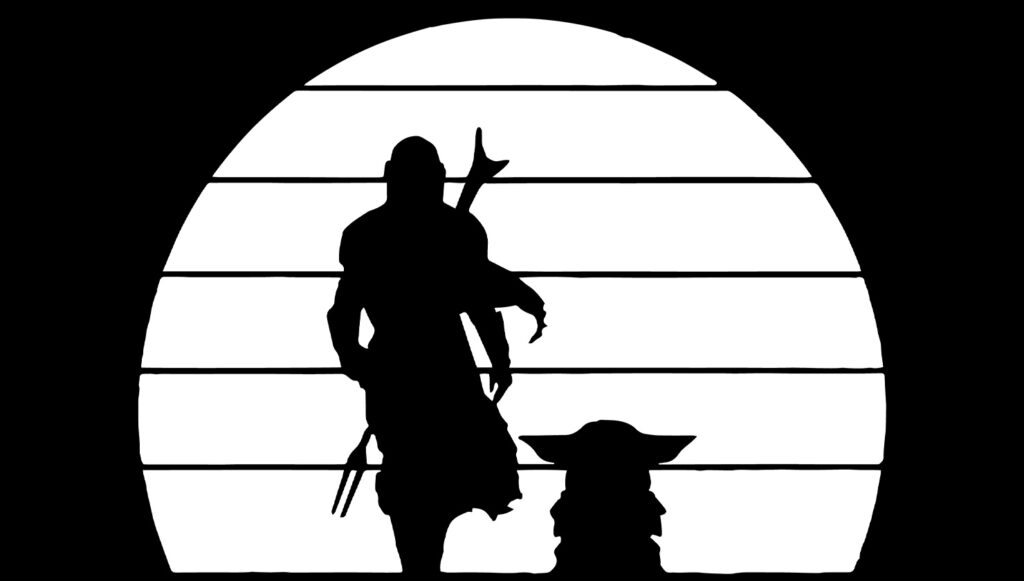 Advertisement
Advertisement
Hey everyone! Do you like The Mandalorian? If so, you've come to the right place! Today we have prepared a quiz for you about this series! What Mandalorian character are you? Answer twenty questions and see for yourself today!
The Mandalorian is an American space western television series created by Jon Favreau for the streaming service Disney+. It is the first live-action series in the Star Wars franchise, beginning five years after the events of Return of the Jedi (1983), and stars Pedro Pascal as the title character, a lone bounty hunter who goes on the run to protect "The Child".
Star Wars creator George Lucas had begun developing a live-action Star Wars television series by 2009, but this project was deemed too expensive to produce. He sold Lucasfilm to Disney in October 2012. Subsequently, work on a new Star Wars series began for Disney+. Favreau signed on in March 2018, serving as writer and showrunner. He executive produces alongside Dave Filoni, Kathleen Kennedy, and Colin Wilson. The series' title was announced in October 2018, with filming starting at Manhattan Beach Studios in California. Visual effects company Industrial Light & Magic developed the StageCraft technology for the series, using virtual sets and a 360-degree video wall to create the series' environments. This has since been adopted by other film and television productions.
The Mandalorian premiered with the launch of Disney+ on November 12, 2019. The eight-episode first season was met with positive reviews, was nominated for Outstanding Drama Series at the 72nd Primetime Emmy Awards, and won seven Primetime Creative Arts Emmy Awards. A second season premiered on October 30, 2020, to positive reviews, and a third season is scheduled to be released in February 2023. A fourth season is in development. Spin-offs The Book of Boba Fett and Ahsoka expand on the series' timeframe, as well as Star Wars: Skeleton Crew.
Beginning five years after the events of Return of the Jedi (1983) and the fall of the Galactic Empire, The Mandalorian follows Din Djarin, a lone Mandalorian bounty hunter in the outer reaches of the galaxy. He is hired by remnant Imperial forces to retrieve the child Grogu but instead goes on the run to protect the infant. While looking to reunite Grogu with his kind, they are pursued by Moff Gideon, who wants to use Grogu's connection to the Force. The duo then travel to Mandalore so Din Djarin can redeem himself for the transgression of removing his helmet.
Pedro Pascal stars as Din Djarin, the series' title character. Pascal compared Djarin, a lone bounty hunter with advanced combat skills and "questionable moral character", to Clint Eastwood. The character's real name is not given until "Chapter 8: Redemption", but Pascal accidentally revealed it early in November 2019. His bounty in "Chapter 1: The Mandalorian" is "The Child"—colloquially known as "Baby Yoda" by viewers—an infant of the same species as Yoda, created with animatronics and puppetry (augmented with visual effects). He becomes the Mandalorian's ward, and is revealed to be named Grogu in "Chapter 13: The Jedi".
The first season features several recurring co-stars, including Carl Weathers as Greef Karga, leader of a bounty hunter guild; Werner Herzog as "The Client", an enigmatic man; Omid Abtahi as Dr. Pershing, a scientist working for the client; Nick Nolte as the voice of Kuiil, an Ugnaught moisture farmer who helps the Mandalorian; Taika Waititi as the voice of IG-11, a bounty hunter droid; Gina Carano as Cara Dune, a former Rebel shock trooper-turned-mercenary; Giancarlo Esposito as Moff Gideon, a former Imperial officer; and Emily Swallow as "The Armorer", a Mandalorian who forges armor and equipment from beskar steel.
Esposito, Carano, Weathers, and Abtahi returned for the second season. Several actors appear as characters from previous Star Wars media, including Timothy Olyphant as Cobb Vanth, Temuera Morrison as Boba Fett, and Katee Sackhoff as Bo-Katan Kryze, Rosario Dawson as Ahsoka Tano, and Mark Hamill as Luke Skywalker. Other recurring co-stars for the season include Amy Sedaris as Peli Motto, reprising her role from the first season; Misty Rosas, the on-set performer for Kuiil in the first season, as the Frog Lady; Mercedes Varnado as Koska Reeves; and Ming-Na Wen as Fennec Shand, also reprising her first season role.
Esposito, Weathers, Sackhoff, Swallow, and Abtahi returned for the third season.
Star Wars creator George Lucas began development on a live-action Star Wars television series known as Underworld in early 2009. More than 50 scripts were written for the series by 2012, but they were eventually deemed too expensive to produce. In January 2013, ABC president Paul Lee stated that his network would be discussing a potential live-action Star Wars television series with Lucasfilm after the latter had been sold by Lucas to ABC's parent company The Walt Disney Company in October 2012. In November 2017, Disney CEO Bob Iger announced that Disney and Lucasfilm were developing a live-action Star Wars television series for the new streaming service Disney+.
Which character from The Mandalorian is your favorite? And which of them resembles you the most? Answer twenty questions and see for yourself now. Click the start button and have fun!
How many questions are there?
What can you get as a result?
The Mandalorian, Grogu, Kuiil, Greef Karga, The Client
We are sorry that this post was not useful for you!
Let us improve this post!
Tell us how we can improve this post?