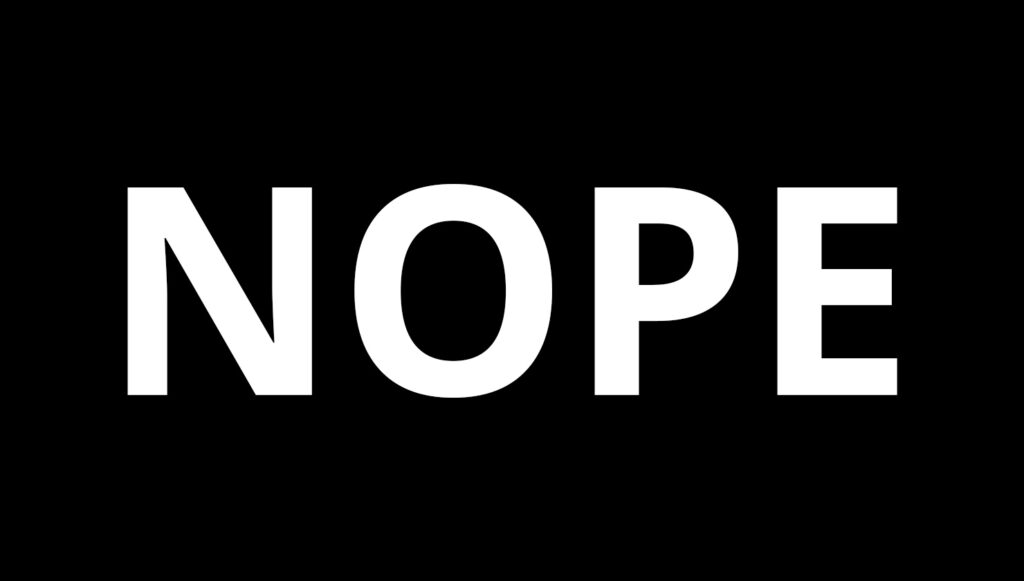 Advertisement
Advertisement
Hey everyone! Have you already watched Nope? We hope so because today's quiz will help you figure out which character from this movie you resemble. Answer twenty questions and find out today!
Nope is a 2022 American science fiction horror film written, directed, and co-produced by Jordan Peele under his Monkeypaw Productions banner. Starring Daniel Kaluuya, Keke Palmer, Steven Yeun, Michael Wincott, and Brandon Perea, it follows two ranch-owning siblings who attempt to capture evidence of an unidentified flying object.
Peele officially announced his then-untitled third directorial film in November 2020. Palmer and Kaluuya joined in February 2021, with Yeun being cast the next month, and Peele revealed the title in July 2021. Filming took place during fall 2021 in northern Los Angeles county, wrapping in November. The title was rumored to be an acronym for "Not of Planet Earth" or "Not Our Planet Earth" based on the movie poster, but Peele later revealed that the title refers to the reaction he hoped to elicit from audiences.
Nope premiered at the TCL Chinese Theatre in Los Angeles on July 18, 2022, and was released in the United States on July 22, 2022, by Universal Pictures. It has grossed over $114 million and received praise for its ambition, performances, cinematography, and direction, although the screenplay polarized critics.
The film has been characterized as containing themes related to spectacle and exploitation. GQ's Gerrick D. Kennedy wrote that Nope "is a movie about spectacle. More specifically, our addiction to spectacle […] Nope is about holding a mirror up to all of us and our inability to look away from drama or peril." Kennedy also states that "the erasure of Black contributions" to the history of filmmaking plays a significant role in the film. Writer-director Jordan Peele was partly inspired to write Nope by the COVID-19 lockdowns and the "endless cycle of grim, inescapable tragedy" in 2020.
Los Angeles Times writer Jen Yamato noted that Steven Yeun's Ricky "Jupe" Park attempts to profit off Jean Jacket with his "Star Lasso Experience" show, falsely believing that, because he survived the Gordy incident, he shares a similar kinship with Jean Jacket. Zosha Millman of Polygon argues that Park's belief that Gordy and Jean Jacket are well-intentioned, despite their capacity to be unpredictable and dangerous, contrasts with the life experience of Daniel Kaluuya's OJ, "who grew up around unruly animals that it was his job to tame. As a horse trainer, he knows that animals are worthy of our respect. But it's not part of a grand design, or born from a special relationship with the horse. It's an animal, and it could kill you—but it can be tamed and worked with, if you know what you're doing." Discussing Park's fate, Michael Wincott's character, Antlers Holst, makes mention of Siegfried & Roy—a duo known for training white lions and white tigers—the latter of whom was attacked and severely injured by one of his tigers. GameRevolution's Jason Faulkner further noted "Peele quot[ing Neon Genesis] Evangelion['s Angels] as the principal inspiration for the film and the monster within", and of the true meaning of Jean Jacket's true form's resemblance to the biblical description of angels; he notes the verse from Nahum prefacing the film as indicative of Peele's thoughts on the Bible, and how if one "think[s] about the way [Jean Jacket] feeds and the concept of people ascending to heaven, [one can] connect the dots [that] Jean Jacket['s species has] been with humanity for a long time, and an attack from one of the creatures could [be] misinterpreted as something from the divine."
When watching Gordy move about the wrecked set of Gordy's Home, Park notices one of his co-star's shoes inexplicably standing upright; as an adult, Park has the shoe on display in his room of Gordy's Home mementos. Millman, along with Cooper Hood of Screen Rant, identifies the mysteriously standing shoe as a possible example of a "bad miracle", a label which OJ uses when he and Keke Palmer's Emerald learn that they are seemingly dealing with a UFO. Hood writes that the shoe standing up can be viewed as a "bad miracle" due to "the unexplainable nature of the phenomenon and how it happened during a tragedy. It plays into the movie's theme of turning tragic events into a spectacle, as Ricky is profiting off the collectible despite the trauma of its circumstances." Yamato, however, questions if Park "merely imagine the shoe standing impossibly in the air—and is he misremembering that just before being shot, Gordy turned to him in friendship?" Yamato asserts that Park has disguised his trauma from the incident "under a veneer of capitalist hustle and humor", and characterizes Park's experience as a child actor as one in which he was "exploited and then spit out by the fame machine […] and this sets him up to make the fatal mistake of underestimating a creature that's too dangerous to wrangle."
Which Nope character did you like the most? Which of them resembles you the most? Answer twenty questions and see for yourself now! Good luck.
How many questions are there?
What can you get as a result?
Otis Jr. "OJ" Haywood, Emerald "Em" Haywood, Ricky "Jupe" Park, Angel Torres, Antlers Holst
We are sorry that this post was not useful for you!
Let us improve this post!
Tell us how we can improve this post?