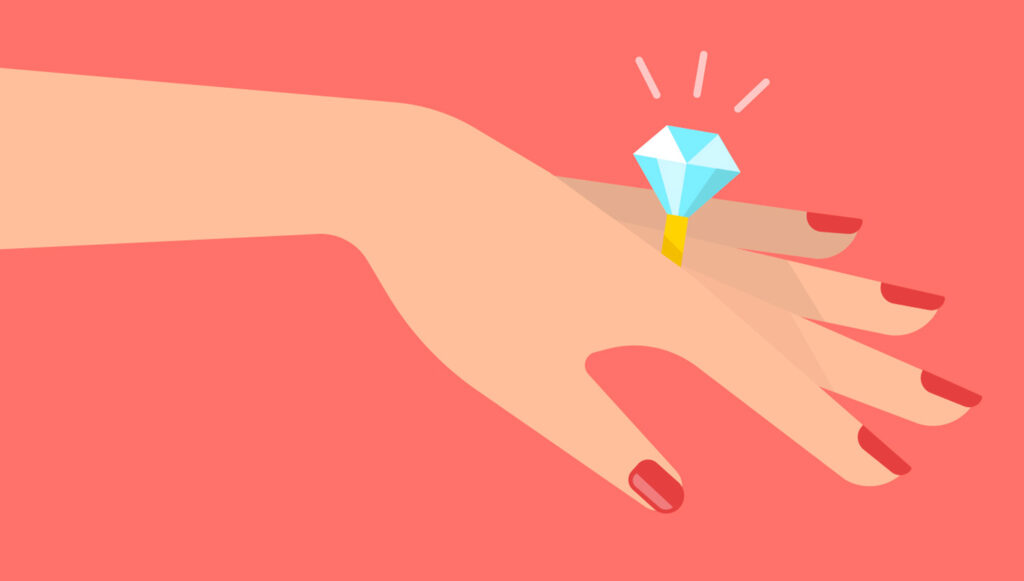 Advertisement
Advertisement
Hello, and welcome to the quiz! The other day we helped you choose the best way to propose. But how can you pop the question without a ring? Today we're going to help you discover your dream engagement ring style. With so many options and factors to consider, selecting the perfect ring can be a stressful experience. But fear not – this quiz is designed to make the process fun and easy. Get ready to find the engagement ring of your dreams!
Discover which type of wedding proposal is best for you.
The Golden Rule for Engagement Rings: What Is It? A Guide to Choosing The Perfect Ring
With so many options to consider, selecting an engagement ring can be a huge challenge. There is, however, one golden rule to remember that can help simplify the process: choose a ring that reflects your partner's sense of style and personality. Whether you opt for a classic solitaire diamond or a unique gemstone setting, the key is to select a ring that feels authentic to your partner's tastes. In this article, we'll explore different engagement ring styles and provide tips for finding the perfect ring that will make your partner's heart skip a beat.
Not so fast! Is marriage right for you?
Engagement Rings 101: How Many Styles Are There in The Wedding Jewelry Industry?
If you're looking for an engagement ring, you might be overwhelmed by the sheer variety of choices that exist. From classic solitaires to trendy colored gemstones, there are countless styles to choose from, each with unique features and benefits.
So, how many engagement ring styles are there? The answer is, well, a lot. While it's impossible to put an exact number on it, we can break down some of the most popular options you can come across when shopping for an engagement ring.
Solitaire: This style includes an individual diamond or other jewel set in a simple band, making it a never-go-out-of-style classic.

Halo: A halo engagement ring has a center stone that is encircled by a "halo" of smaller diamonds or gemstones that can add sparkle and visual interest to the design.

Three-Stone: As the name suggests, a three-stone engagement ring features three stones – typically diamonds – to represent the past, present, and future of the couple's relationship.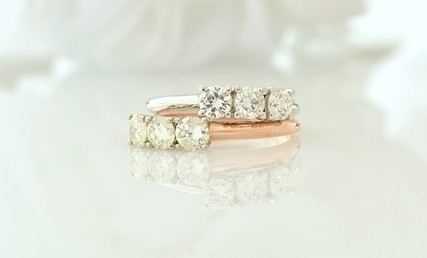 Vintage: If you're a fan of old-world glamour, a vintage engagement ring may be right up your alley. These rings draw inspiration from past eras and often feature intricate detailing and unique design elements.

Modern: Modern rings often feature sleek, minimalist designs and non-traditional materials or shapes.
10 Engagement Ring Ideas to Help You Find The Perfect Ring
For all the stressed-out folks out there on a hunt for a perfect engagement ring, we've put together a list of 10 engagement ring ideas to get you inspired and help guide you in your search.
1) Nature-inspired
Pick a ring incorporating natural elements like leaves, vines, or flowers into the design if you want something unique and whimsical.
2) Colored gemstones
Diamonds aren't the only option for engagement rings. Consider a ring with a stunning sapphire, emerald, or ruby as the centerpiece.
Did you know you have a birthstone? Find your natal gem.
3) Vintage
Because of their elaborate details and eternal appeal, vintage rings are a popular option. Look for rings inspired by the Art Deco, Victorian, or Edwardian eras.
4) Rose gold
A rose gold ring is a trendy choice in recent years, perfect for those wanting a romantic and feminine touch.
5) Mixed metals
Mixing different metals, such as white gold and yellow gold, can create a distinctive and eye-catching design that stands out from the crowd.
Gold or silver? Which one should you wear?
6) Stackable bands
For a more versatile and customizable option, consider a stackable ring set that allows you to mix and match different bands to create your own unique look.
7) Geometric designs
Rings with geometric designs, such as hexagons or triangles, can add a modern and edgy touch to your engagement ring.
8) Cluster rings
Cluster rings feature a cluster of smaller diamonds or gemstones that create a stunning and eye-catching effect.
9) Engraved details
Personalize your ring with engraved details, such as your initials or a meaningful message.
10) Personalized
If you want something unique, think about collaborating with a jeweler to make a special design that will suit your preferences.
No matter what style you choose, the most important thing is that the ring reflects your love and commitment to your partner. Use these engagement ring inspiration ideas as a starting point in your search.
Find your perfect wedding dress!
Is It Customary to Pick Your Own Engagement Ring?
Yes, it is common for individuals getting engaged to pick out their own engagement ring or at least provide input on the style and design. In fact, many couples nowadays prefer to shop for rings together, as it allows them to ensure that the ring reflects their personal style and tastes.
Is it time to settle down?
However, some people prefer to have their partner surprise them with the ring, in which case the partner may seek advice from family members or close friends to help them choose the right ring. The final decision is a personal one that differs from couple to couple.
So, are you ready to discover what type of engagement ring is ideal for you? Take the Pick or Pass Engagement Ring Quiz now and discover your ring style! Happy quizzing!
What are the options you can get?
Classic solitaire ring, sleek modern ring, vintage ring, nature-inspired ring, colored gemstones ring, three-stone ring, and personalized ring.
Is picking your own engagement ring standard?
Many people do that! You have that option if you want.
What is the golden rule for picking an engagement ring?
The golden rule is to pick a ring that reflects your partner's sense of style and personality.
What are the four qualities of a diamond?
Cut = how a diamond interacts with light, carat = measurement of a diamond's natural weight, clarity = lack of markings or blemishes, and color = how colorless a natural diamond is.
We are sorry that this post was not useful for you!
Let us improve this post!
Tell us how we can improve this post?