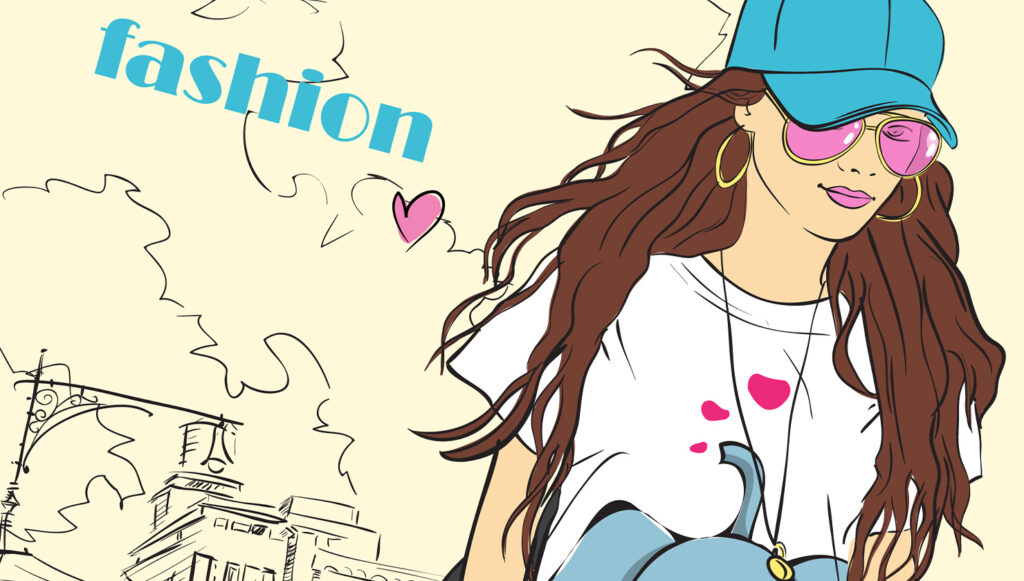 Advertisement
Advertisement
Hello everyone! Are you interested in fashion? Whether you are a real fashionmonger or just like to dress nicely sometimes, our quiz is for you! Do you want to discover what style essence suits you best? Read our special article and take the Kitchener Essence Quiz!
Style Essences
You're probably wondering, what are the essences of style? What exactly does it mean? Fashion experts use this name to describe someone's type of beauty. Beauty type consists of many factors – figure, face, hair and even personality. Have you ever noticed that some people look better in specific clothes?
For example, a certain stylist looks good in a combination of blazers and athletic shoes, and a girl wanted to recreate her styling, but when she put on the same clothes she didn't feel as good in them. Each of us has a specific style of clothing that fits. That's what the essence of style is, it indicates the parts of clothing and accessories that fit a person. These essences are categorized into different types. Which type of essence fits you? Take our Kitchener Essence Quiz and find out!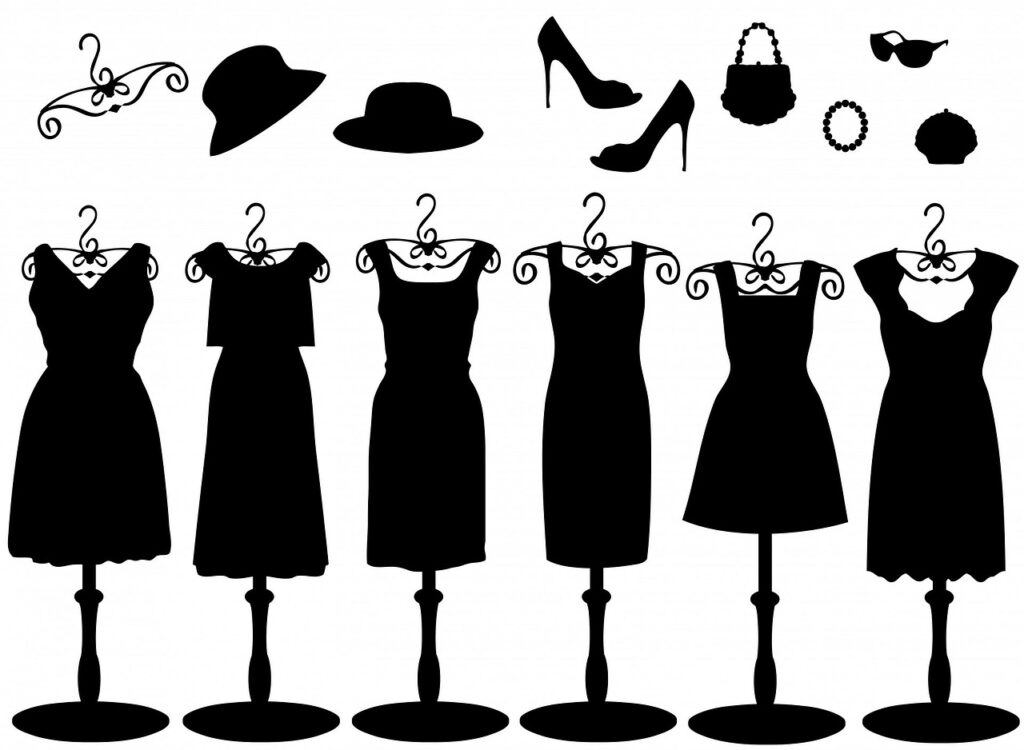 Beauty has different facets, and even in the world of fashion there is not just one universally valid canon of beauty. Good stylists can bring out the true beauty in any person. Our quiz is based on the essence theory according to color and style specialist John Kitchener.
His advice on matters of clothing is trusted by thousands of customers. He has worked with Bloomingdale's and other well-known companies. His intuition for fashion is a true talent. John is especially knowledgeable about colors because he is an artist himself. That's why his essence theory has become popular, because it is accurate and pertinent.
Click here for more information about Essence of Style.
Types of Style Essence
What style essence fits us depends on our various characteristics. This consists of figure, face, hair and personality. If we choose clothes that work well with all these factors, this will be our style essence. Everything must harmonize with each other, which is sometimes difficult to specify. To discover this we need to look at our natural attributes and match the essence to them. There are 7 essences of style and one of them is dedicated to you. Just which one? Read on and take our Kitchener Essence Quiz at the end, which will match the best essence for you.
7 Essences of Style
Angelic
Ingenue
Classic
Romantic
Natural
Gamine
Dramatic
Each of these essences has a certain vibe, which it reflects with clothes and makeup. Matching also requires knowledge of Kibby Body Types, which means knowing one's body shape. In a nutshell, Kibby's theory is based on a spectrum between yin (soft and curvy body shape) and yang (sharp and square body shape).
You can also take our Kibby Body Types Quiz to get to know your Style Essence better!
Angelic
Let's start with an essence with a very fancy name. It has something of glory and mysticism in it. Angelic essence is the most delicate and soft. The colors are light and subdued. It is ideal for tall and long figures and oval faces. This essence brings to mind mystical creatures such as fairies, or Greek goddesses.
Their feminine energy is attractive, but not in a sexy way but in a spiritual and unusual way. Women look as if from ancient times or as if taken out of paintings. This essence also has another name – Ethereal. The clothing of people of these essences is unique – they fit in delicate layered clothes that give a sense of lightness. Soft materials are often decorated with ornaments.
This essence can be hard to fully adapt to styling for ordinary days. It is more suitable for special occasions, but you can spice up your everyday closet to make it look more angelic by taking care of the details. This essence is reminiscent of the fairycore aesthetic, which often features corsets, lace, tulle, buff sleeves and delicate accessories.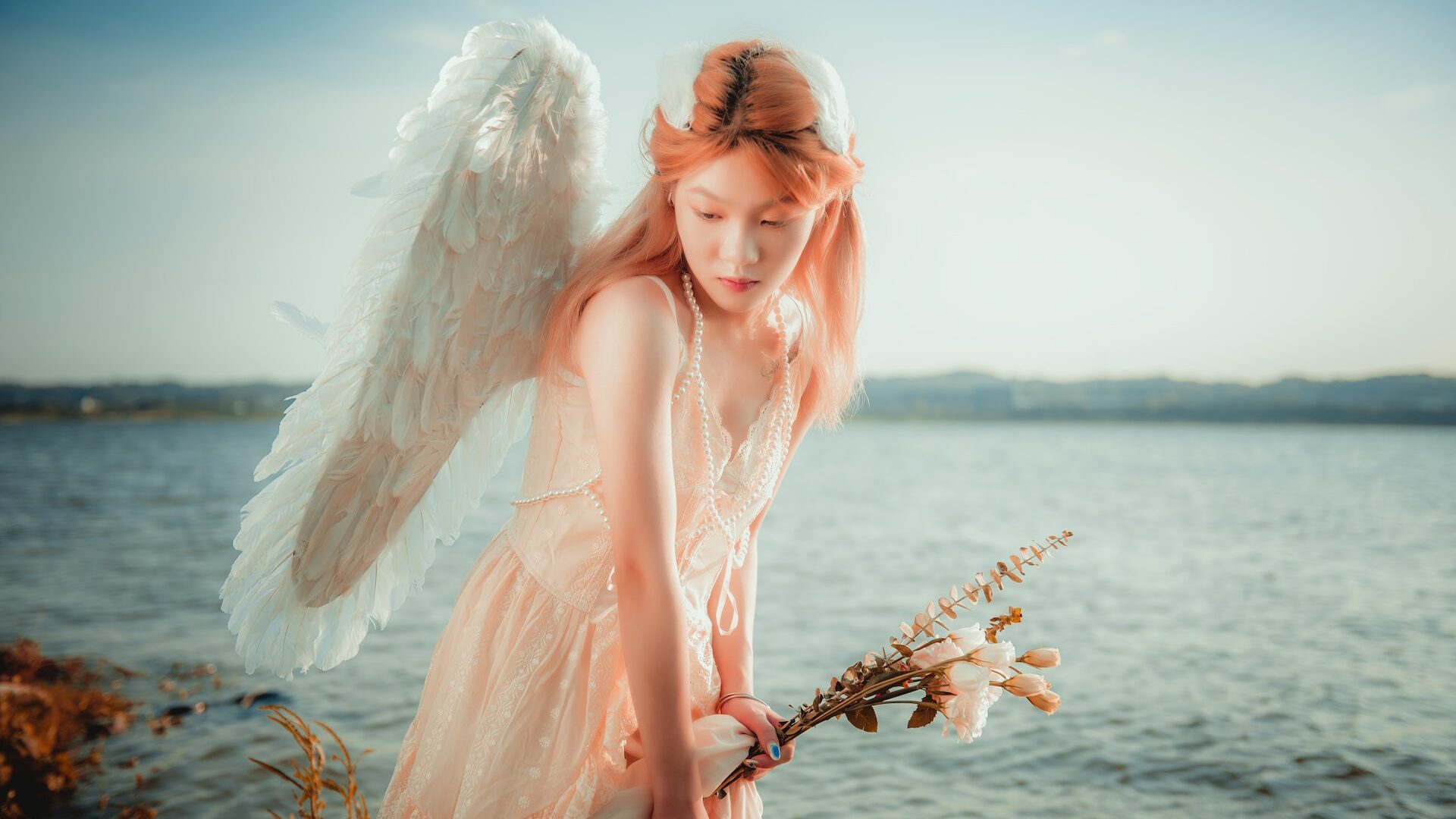 Ingenue
It is the essence of youth emphasizing a youthful appearance. It suits people who always look young regardless of age. The selection of this essence is mainly based on facial features – they are round faces with a childlike appearance. Wide-set eyes, flat noses, narrow lips.
As for clothes, floral prints, frills and bows dominate. It is a vintage style in a very soft and bright version. Clothes in this essence of style are modest and comfortable. It is an innocent and cute style that can be worn every day. It suits any occasion. It is a little feminine, but also not in a sexual and strong way. It brings out the inner child and has a dreamy aura.
Classic
The classic style is very versatile, for people who fall in the middle between softness and strength. It is timeless, as the name suggests – classic. Sometimes it can take a more conservative form. It suits people with versatile silhouettes – those that are neither too tall nor too short, not too round but not too sharp either. The classic style is clothes that are elegant and formal, even those that can be worn to office work.
Turtlenecks, coats and beige colors dominate this style. It suits women who want to combine modernity with old times. The classic essence of style can be seen as basic, because it does not stand out strongly. It allows you to blend in with the crowd while emphasizing confidence and class. It focuses on simplicity and neatness. It brings to mind wealthy and rich people who balance between casual and elegant looks.
Romantic
The romantic style is easy to recognize. It is very sensual and feminine, at the same time delicate and a little sexy. The figure should be shapely and curvy, in the shape of an hourglass. The characteristics of the face are full lips. Hair is often curly or pinned up in a fickle bun.
The color palette is dominated by shades of pink and red. It is a mature style, but has something of innocence about it. Also, it can be worn for everyday and for occasions, as the most common choice is dresses. The body-flattering materials look luxurious and classy. This essence of style is well known, Marilyn Monroe can be considered its icon.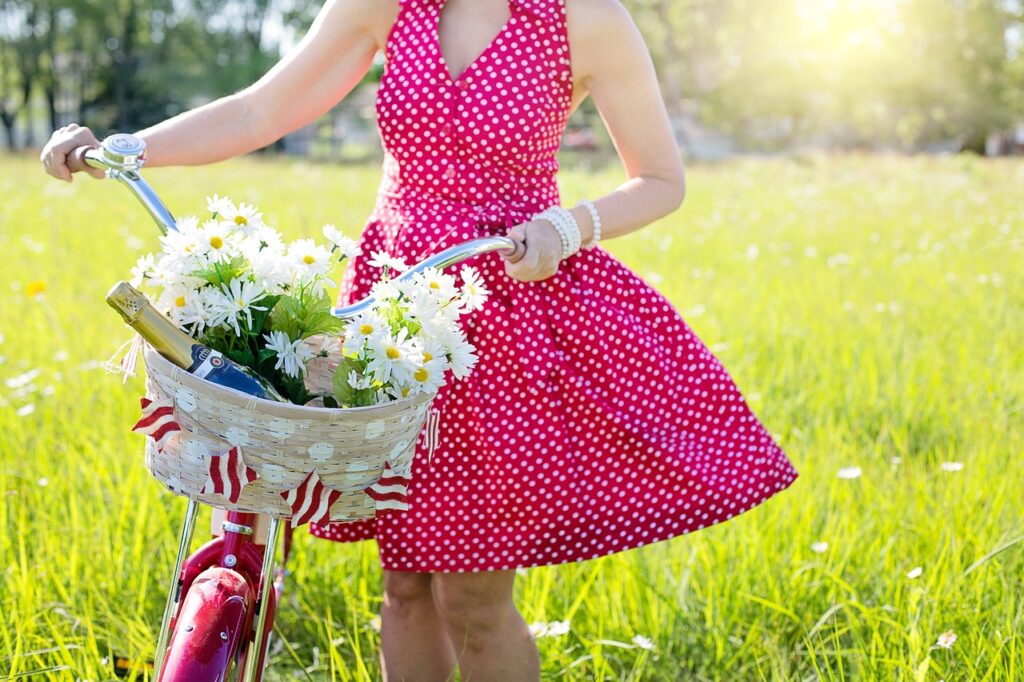 Natural
This essence indicates natural beauty. It can take various forms sporty, casual, boho, elegant. It often combines these various approaches. It sometimes refers to nature – mother earth. It is a clean u neat look. It suits people with broader shoulders and a more bony, sharp figure.
Clothes in this essence are often oversized, flowing layers, but practical and comfortable. Natural is a simple style reminiscent of Classic, but in a more everyday and sporty version. Characteristic here is very light makeup or its absence and simple accessories.
Gamine
Gamine is a somewhat boyish style reminiscent of a pixie. Petite silhouette, small and without curves. Short hairstyles and strong colors are characteristic. However, this essence of style is not devoid of femininity. Femininity is shown in an unusual and even a little strange way, emphasizing the individuality of the person.
It suits energetic and cheerful people, because this is the vibe of this look. It brings to mind fun and creativity. It goes very well with any current trend. This essence of style combines all colors and patterns, so it definitely attracts attention. You can say that it is a bold combination of all styles at once, but in such a way that it fits and looks good.
Dramatic
The last essence we describe is for confident people. Intense and extroverted energy comes out of this style. Such people are strong, bold and love fashion. They suit long and straight silhouettes. Styles are often bold and reveal various parts of the body. They show power and strength. Unusual shapes, the dominance of black, leather material or animal patterns are reminiscent of glamour or even rock style.
This essence of style is ideal for a party or a night out, while for everyday life it must be slightly toned down. It often draws inspiration from menswear, or has a very strong emphasis on femininity, sensuality and sexiness. It's an extraordinary style for any woman who wants to play a leading role every day.
Kitchener Essence Quiz
Now that you've learned all the styles, take our 7 Essence Quiz to find out which one suits you best. You can take inspiration from it to create new outfits. Get advice from a fashion expert and discover your style essence!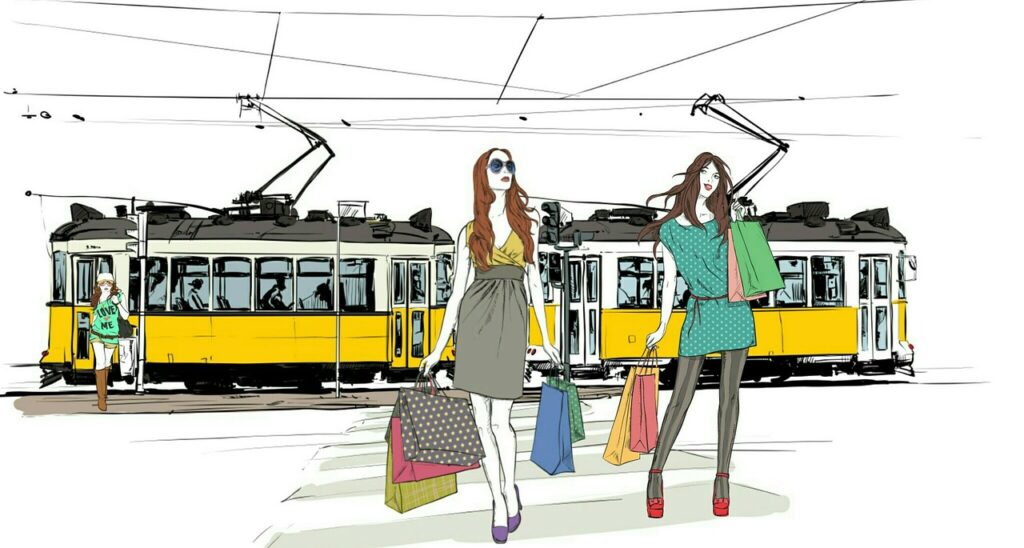 Do you want another quiz? Take the Daily Dress Me! The best outfit ideas for you!
How many questions does this quiz have?
The Kitchener Style Essences Quiz quiz has 20 questions.
What are the essences of style?
Angelic, Ingenue, Classic, Romantic, Natural, Gamine and Dramatic.
We are sorry that this post was not useful for you!
Let us improve this post!
Tell us how we can improve this post?