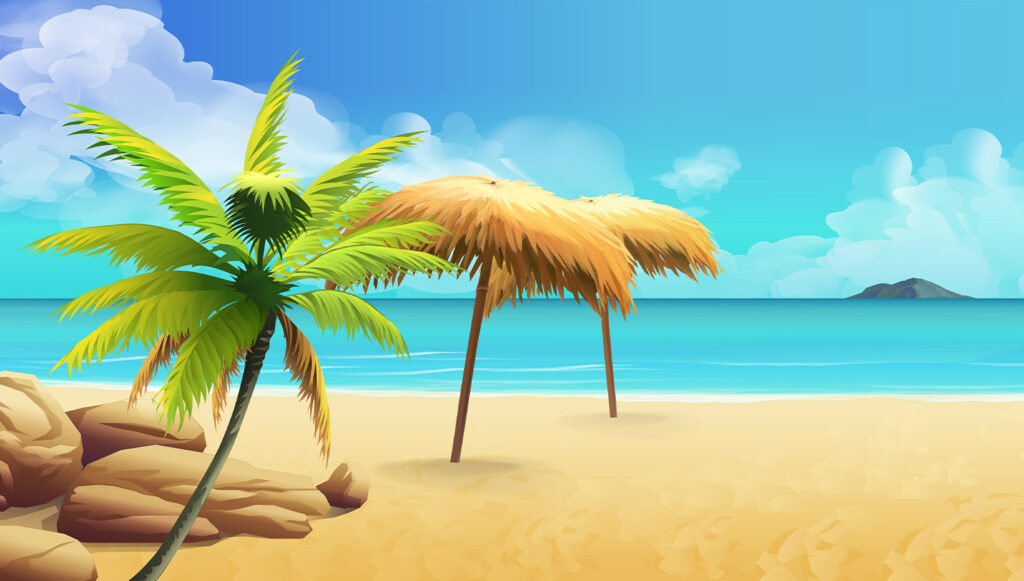 Advertisement
Advertisement

Are you dreaming of a perfect tropical vacation? Take a look at the quiz we prepared and find the ideal spot for you. Which tropical city is the best choice for you? Get down to the questions and find out!
Vibrant blue sea, dreamy beaches, and endless sunshine – this is the recipe for a perfect tropical destination. Yet, every place offers unique opportunities. Check out the guide below to find out more about some of the best tropical vacation spots.
The Bora Bora island is one of the most popular islands in The Islands of Tahiti. It is one of the nine islands within the Society Islands of French Polynesia. The Bora Bora was formed over seven million years ago by a volcano. Like most of the islands of French Polynesia, Bora Bora is surrounded by a ring of coral reef, also known as an atoll.
Whether you're looking to relax on the beach or to live through something exciting, Bora Bora has something for you. The motu, or small island, is famous for its white-sand beaches surrounded by coconut trees. The clear, azure waters of the South Pacific Ocean and the surrounding coral reef provide some memorable scuba diving opportunities, with tropical-colored fish and giant manta rays gliding at a relaxed pace through the coral gardens.
If you're looking to explore more than just sandy beaches, you can venture out onto the tallest point on the island, Mount Otemanu. You can also try fun water sports, kayak trips, scenic hiking trails, or even shark dives.
Riviera Maya in Mexico is known for its beautiful beaches, turquoise waters, and zesty cuisine. Riviera Maya is situated on the Yucatan Peninsula's Caribbean coastline. It includes the resort destinations of Cancún, Playa del Carmen, and the island of Cozumel. There are many activities there to explore: snorkeling, scuba diving, visiting the Mayan ruins, getting to know local towns and culture, or simply vegging out on the beach. It's worth noting that this location is quite affordable, as far as tropical destinations go. You don't have to stay in luxury resorts – consider smaller, intimate boutique hotels or yoga retreats.
The fourth-biggest Hawaiian island, Kauai, is a paradise for a nature lover. You will love its lush rainforests, waterfalls, jaw-dropping green coastal peaks, and dramatic lava-sculpted landscapes. You might encounter monk seals on the beach, and underwater, you will see turtles and tropical fish. There are plenty of activities to consider, like snorkeling, surfing, or hiking the smooth peaks of the Napali Coast. You might make this trip quite affordable if you decide to go there off-season.
The Indonesian island, Bali, is a fitting choice for anyone looking for a tropical vacation with a spiritual side. If you're interested in leisure for your mind as much as for your body, check out Bali's spa & wellness temples, yoga schools, massage places, and fitness scene. In Bali, you can enjoy a variety of beaches, world-class diving, stunning waterfalls, rice terraces, volcanoes, and lakes. Explore the cultural aspects of the island by visiting local museums and sacred temples. The lively beach scene and buzzing nightlife await those who are looking for a bit of excitement.
Negril is a town in western Jamaica perfect for both relaxation and adventure. There's plenty to do there. If you're interested in water activities, you can try snorkeling, scuba diving, fishing, or simply swimming and playing in the sea. There is also a waterpark for the youngest travelers. If that's not enough for you, how about cliff jumping, car racing, or zip-lining above YS Falls? If you are an adrenaline junkie, Negril has plenty of activities for you!
The Florida Keys are a coral cay archipelago located off the southern coast of Florida. They are the home to the only coral reef in the United States. Top Florida Keys attractions include both nature and culture. The John Pennekamp Coral Reef State Park and the Florida Keys National Marine Sanctuary off Key Largo provide excellent diving and snorkeling opportunities, while Bahia Honda State Park has some of the most beautiful beaches. Let's not forget about the famous Key West. Its free-spirited attitude complements the colorful Caribbean-style cottages and Hemingway's rich history. One of the most popular things to do in Key West is to visit the United States' southernmost point.
Sri Lanka is an island country in South Asia situated just 20 miles off India and yet another great vacation choice. Whether you want to scuba dive, explore ancient ruins, spot an elephant in a lush jungle, or see one of eight UNESCO World Heritage Sites, Sri Lanka is for you. The country's famous tea plantations are one of the best places to visit there. You can also tour the National Museum in the capital, Colombo.
Are you ready to pick your perfect sport for a tropical vacation or a long-term living situation? Take the quiz and discover which tropical city you should live in!
How many questions are in the quiz?
What options can you get?
San Pedro, George Town, Bocas Town, Kahului
We are sorry that this post was not useful for you!
Let us improve this post!
Tell us how we can improve this post?