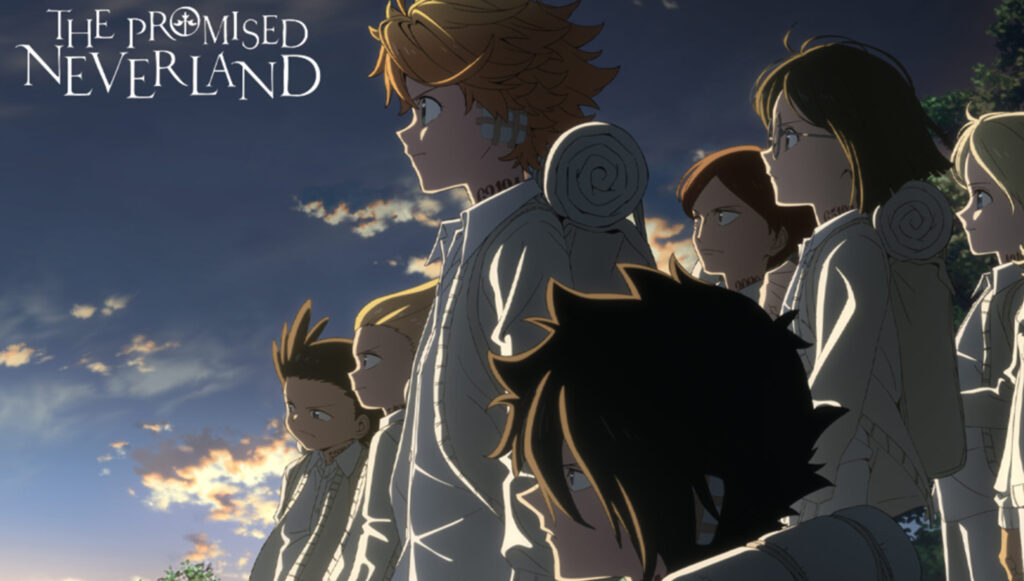 Advertisement
Advertisement
Hey everyone! Have you watched The Promised Neverland? Which character turned out to be your favorite? And which of them resemble you the most? Answer twenty questions in this quiz and see for yourself now!
The Promised Neverland is a Japanese manga series written by Kaiu Shirai and illustrated by Posuka Demizu. It was serialized in Shueisha's Weekly Shōnen Jump from August 2016 to June 2020, with its chapters collected in twenty tankōbon volumes. In North America, Viz Media licensed the manga for English release and serialized it in their digital Weekly Shonen Jump magazine. The series follows a group of orphaned children in their plan to escape from their orphanage, after learning the dark truth behind their existence and the purpose of the orphanage.
The Promised Neverland was adapted into an anime television series produced by CloverWorks and broadcast on Fuji TV's Noitamina programming block. The series' first season ran for 12 episodes from January to March 2019. A second season ran for 11 episodes from January to March 2021. A live-action film adaptation was released in December 2020. Amazon Studios is also developing an American live-action series.
In 2018, the manga won the 63rd Shogakukan Manga Award in the shōnen category. As of April 2021, The Promised Neverland had over 32 million copies in circulation, including digital versions, making it one of the best-selling manga series. The anime series' first season was well received by critics, being considered one of the best anime series of the 2010s. The second season, however, received a negative reception, mainly due to its rushed pacing and simplification of the original manga's plot.
It is the year 2045, and over 1000 years after an agreement called "The Promise" was made to end a long war between humans and demons. "The Promise" was an agreement where each would live in their own separate "worlds": the human world, free from the threat of demons; and the demon world, where human breeding farms were set up to provide food for the demons. By eating humans, demons take on their attributes which prevent them from degenerating into mindless monsters. In the demon world, a special breeding program was set up under the guise of orphanages; there, a human "Mother" would oversee the children and make sure they grew up as intelligent as possible. These children had identifying numbers tattooed on them and had no knowledge of the outside world. They believed that they were orphans and once they reached a certain age or intelligence, they would be taken out for adoption but were fed to high-ranking demons instead.
The bright and cheerful Emma is an 11-year-old orphan living in Grace Field House, a self-contained orphanage housing her and 37 other orphans. They lead an idyllic life, with plentiful food, plush beds, clean clothes, games, and the love of their "Mom", Isabella. Their education is seen as an important part of their development, and Emma with her two best friends Norman and Ray, always excel in the regular exams. The orphans are allowed complete freedom, except to venture beyond the perimeter wall or gate which separates the house from the outside world.
One night, a girl named Conny is sent away to be "adopted", but Emma and Norman follow with her favorite stuffed animal toy. At the gate, they find Conny dead and discover the truth about their existence in this idyllic orphanage – to be raised as meat for demons. Emma and Norman plan with Ray to escape from Grace Field House with the children, but Norman is taken off to be "adopted". Emma and Ray then decide to escape with some of their older siblings, leaving half of the younger children behind.
The escapees find life outside Grace Field House is filled with dangers, but under the leadership of Emma and Ray, they become determined to return to free their remaining siblings, along with children from the other Farms. They encounter demons of all descriptions, including Mujika and Sonju who aid them in their quest. Emma and Ray later meet up again with Norman and together with their allies, they fight a battle for freedom against the demon queen Legravalima and the human Peter Ratri who manages the Farms. Eventually, through her own determination, Emma secures the freedom of all the children and re-forges "The Promise", bringing all of them to the human world, but at the cost of her own memory.
An anime television series adaptation was announced in Weekly Shōnen Jump in May 2018. The series is animated by CloverWorks and directed by Mamoru Kanbe, with Toshiya Ono handling series composition, Kazuaki Shimada handling character designs, and Takahiro Obata composing the series' music. The series aired for 12 episodes from January 11 to March 29, 2019, on Fuji TV's late-night Noitamina anime programming block. It simulcasted on Amazon Video, but only in Japan, contrary to the contract giving Amazon exclusive streaming rights to shows that have aired on Noitamina since Spring 2016, as Wakanim has exclusive streaming rights in France. UVERworld performed the series' opening theme song "Touch Off", while Cö shu Nie performed the series' ending theme songs "Zettai Zetsumei" and "Lamp".
Which character from The Promised Neverland most closely resembles you in terms of personality? Answer the twenty questions we have prepared and see for yourself who is your alter ego in this universe! We hope you have fun!
How many questions are there?
What can you get as a result?
Emma, Norman, Ray, Don, Gilda
We are sorry that this post was not useful for you!
Let us improve this post!
Tell us how we can improve this post?