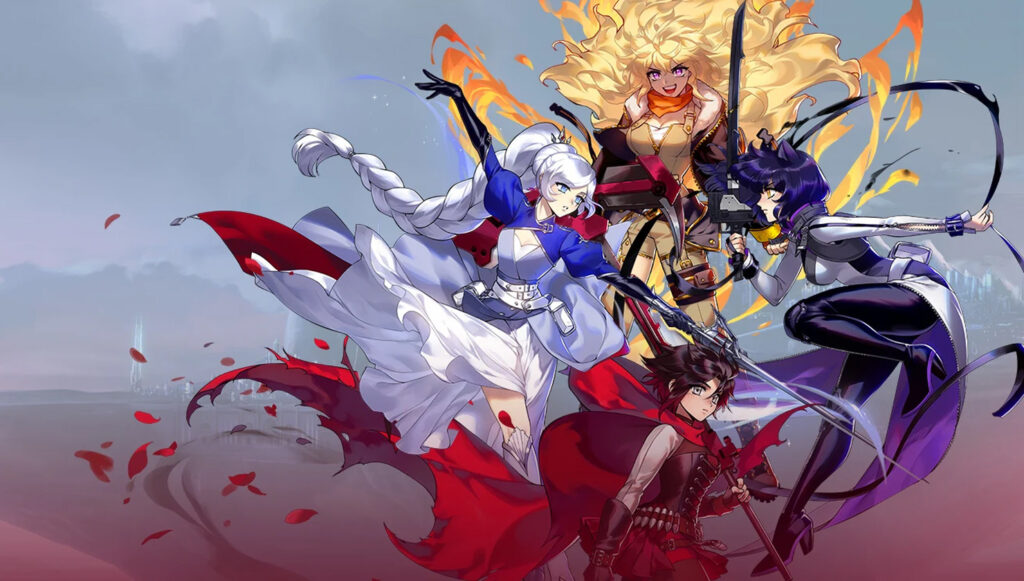 Advertisement
Advertisement
Hey everyone! Have you watched RWBY? Do you like this series? We hope you will because today's quiz will help you discover which character in the series most resembles you! All you have to do is answer twenty questions in this quiz.
RWBY (pronounced "Ruby") is an American adult computer-animated web series created by Monty Oum for Rooster Teeth. It is set in the fictional world of Remnant, where young people train to become warriors (called "Huntsmen" and "Huntresses") to protect their world from monsters called Grimm. The name RWBY is derived from the four main protagonists' forenames: Ruby, Weiss, Blake, and Yang, and their respective theme colors (red, white, black, and yellow).
Following several promotional trailers, the first episode was screened at the Rooster Teeth convention event RTX and then released on their website in July 2013. Subsequent episodes were released approximately weekly, first to Rooster Teeth's subscribers and then to YouTube a week later. The series became a viral hit, and a second season, subtitled Volume 2, was released in July 2014.
Oum died in 2015, during the production of the third season of the series. This resulted in a delay in the production, as well as an overall shift in the series production and release schedule. Despite the creator's death, the remaining crew members confirmed their intention to continue the series, and Volume 3 was released in 2015 as planned. Meanwhile, the first two seasons were released to home media and made available on streaming services such as Netflix and Crunchyroll, the latter of which would include releases of the current season in their simulcasts. In October 2016, the fourth season was released. The series has also been dubbed in Japanese and broadcast by Tokyo MX, in partnership with Warner Bros. Japan. Rooster Teeth released a video game called RWBY: Grimm Eclipse, as well as a spin-off series called RWBY Chibi in 2016.
As of March 2021, the website has aired eight volumes. Rooster Teeth announced volumes eight and nine on October 3, 2019. The eighth volume premiered on November 7, 2020. The ninth volume is currently in production and will begin airing in 2022.
RWBY had been a long-standing concept of Oum's for years before it began development. Towards the end of his work on the 10th season of Rooster Teeth's Red vs. Blue, he developed the color-coding approach to character names and design as a hook for the series. During production on Red vs. Blue season 10, Oum asked series creator Burnie Burns if they could produce RWBY following the conclusion of that season. Burns, worried about the production schedule, told Oum "If you finish Season 10, then you can do whatever you want." Production on RWBY began as intended, with the first trailer being finished within two weeks and premiering after the credits of the Red vs. Blue season 10 finale on November 5, 2012.
Oum designed the characters with assistance from artist Ein Lee, utilizing designs inspired by classic fairy tale characters. Each character has an associated color, and it is the first letters of the main character's colors, red, white, black, and yellow, that give the series its name. The series was originally written by Oum, along with fellow Rooster Teeth employees Miles Luna and Kerry Shawcross. Oum was initially concerned about a story focusing on female characters being developed by a primarily male crew but said they managed to do well developing the female characters. Regarding the design, Oum wanted to "present a two-dimensional, toon-shaded look, but with all of the depth and complexity of a 3D-animated production". Volumes 1 to 3 were animated by Rooster Teeth's internal animation team using Smith Micro's Poser software, out of assets built on Autodesk Maya; however, starting with Volume 4, the series' animators switched to using Maya entirely. The series' music is composed by Jeff Williams, who previously composed the soundtracks for Seasons 8–10 of Red vs. Blue, and features vocals by Williams' daughter, Casey Lee Williams.
RWBY has been adapted into a manga series written and illustrated by Shirow Miwa.] It has been published in Shueisha's monthly seinen magazine Ultra Jump. The first arc of the manga closely followed the storyline of the four trailers, while subsequent chapters explored original storylines.
The first chapter was released in the Ultra Jump December issue, on November 19, 2015. It had colored center and back pages, along with additional art from the manga.
Like the series, the RWBY manga follows the members of Team RWBY – Ruby Rose, Weiss Schnee, Blake Belladonna, and Yang Xiao Long – and their adventures as they train to become Huntresses at the prestigious Beacon Academy. The manga delves into the motivations and backstory of the four main characters, giving new insights and context. Many characters from the main series also make appearances. The manga also explains some concepts and elements of the setting, such as the Grimm and Dust. The remaining six chapters cover an original story chronologically set between Volumes 1 and 2 involving teams RWBY and JNPR fighting King Taijitu merged by a Grimm accidentally let loose as Torchwick investigated a possible entrance to Mountain Glenn.
Which character from the RWBY series would you be after moving to that universe? Answer the twenty questions we have prepared in this quiz and see for yourself now!
How many questions are there?
What can you get as a result?
Ruby Rose, Weiss Schnee, Blake Belladonna, Yang Xiao Long
We are sorry that this post was not useful for you!
Let us improve this post!
Tell us how we can improve this post?