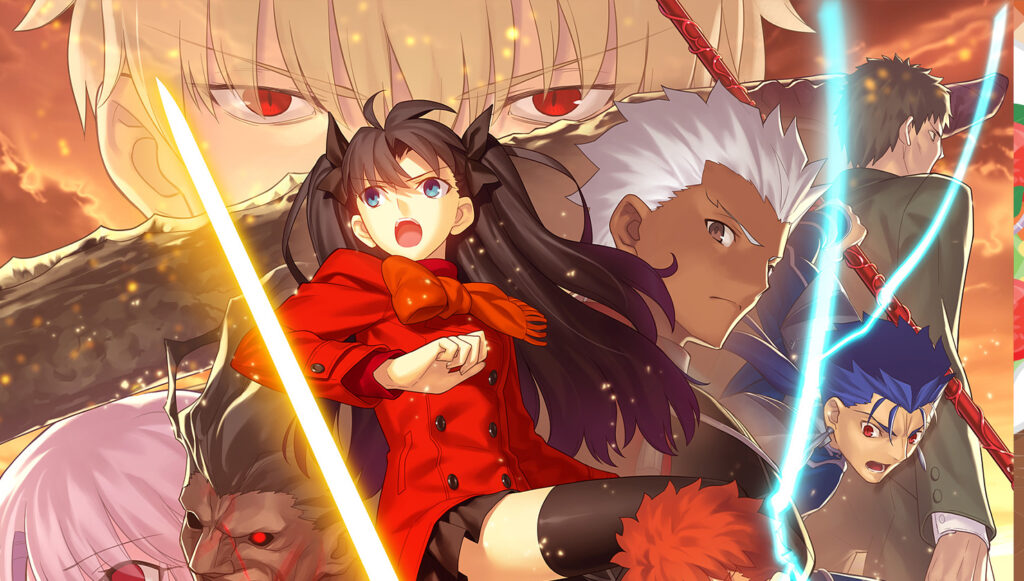 Advertisement
Advertisement
Hey everyone! Do you know the Fate series? We hope so because today we have prepared a quiz for you to help you figure out which character in this series you are! Answer twenty questions and see for yourself!
The Fate series is a TYPE-MOON media collective that follows various events called Holy Grail Wars that involve Masters, generally accomplished magi, summoning Servants and Heroic Spirits, and battling each other until the last remaining pair can claim the purported Holy Grail. It began with the visual novelWP, Fate/stay night, and has since gathered several prequels, sequels, spin-offs, and adaptations bearing the same "Fate" name.
Fate/stay night is a Japanese visual novel developed by Type-Moon and originally released as an adult game for Windows on January 30, 2004. A version of Fate/stay night rated for ages 15 and up titled Fate/stay night Réalta Nua (Irish for "new stars"), which features the Japanese voice actors from the anime series, was released in 2007 for the PlayStation 2 and later for download on Windows as a trilogy covering the three main storylines: Fate, Unlimited Blade Works, and Heaven's Feel. Réalta Nua was also ported to the PlayStation Vita, iOS, and Android. The plot focuses on a young mage named Shirou Emiya who becomes a warrior in a battle between "Servants" known as the Holy Grail War. Through each route, Shirou bonds with a heroine and confronts different mages who participate in the war.
A manga series adaptation by Datto Nishiwaki has serialized in Kadokawa Shoten's Shōnen Ace magazine between the February 2006 and December 2012 issues. A 24-episode anime series created by Studio Deen aired in Japan between January and June 2006. Both mainly follow the Fate route, but add events from other storylines. A film adaptation, Fate/stay night: Unlimited Blade Works, also by Studio Deen was released in Japanese theaters on January 23, 2010. A second anime television series, Fate/stay night: Unlimited Blade Works was produced by Ufotable and aired between October 2014 and June 2015, following the game's second route as opposed to the first. A second manga adaptation by Taskohna began in 2015 in Kadokawa Shoten's Young Ace, focusing solely on the third route. A film trilogy adapted Heaven's Feel route of the visual novel, with the first film, titled presage flower, released in 2017, the second film, titled lost butterfly, released in 2019, and the final film, titled spring song, released in 2020. A third manga adaptation by Daisuke Moriyama began in 2021 in ASCII Media Works's Dengeki Daioh, focusing solely on the second route.
Fate/stay night spawned the Fate media franchise, consisting of several adaptations and spin-offs in various media. On October 28, 2005, Type-Moon released a sequel to Fate/stay night, titled Fate/hollow ataraxia. Its plot is set half a year after the events of Fate/stay night. A light novel series titled Fate/Zero, set as a prequel to Fate/stay night, was published from 2006 to 2007, with an anime adaptation by Ufotable airing between October 2011 and June 2012. A spin-off magical girl manga series, Fate/kaleid liner Prisma Illya, began serialization in 2007 and has received multiple anime television series. Three fighting games have been released: Fate/unlimited codes for arcades and PlayStation 2, Fate/tiger colosseum, and its sequel Fate/tiger colosseum Upper for PSP. A PSP RPG titled Fate/Extra was released on July 22, 2010, and a sequel and companion game, Fate/Extra CCC, was released on March 28, 2013. An online RPG titled Fate/Grand Order was released on Android on July 29, 2015, followed by an August 12 release on iOS; an anime film adaptation by Lay-duce was released on December 31, 2016, with sequel adaptations by Production I.G., CloverWorks, and Signal.MD. As of July 2021, Fate/Grand Order grossed $5.6 billion worldwide, making it the eighth highest-grossing mobile game of all time.
Fate/stay night: Unlimited Blade Works is an anime series produced by Ufotable. It is based on the visual novel Fate/stay night produced by Type-Moon. The narrative is primarily based on the Unlimited Blade Works storyline in the visual novel and follows Shirou Emiya, a high school student and amateur magus living in Fuyuki City, Japan. Shirou is unexpectedly brought into the Fifth Holy Grail War, a secret magical tournament in which seven participants, known as "Masters", and their "Servants", reincarnated personifications of legendary historical heroes, fight in a battle royale for the Holy Grail, an omnipotent magical chalice that can fulfill any wish or desire for its victor. When Shirou and his Servant Saber are forced to team up with Rin Tohsaka, another Master in the Holy Grail War, Shirou finds himself earning the strong dislike of Rin's mysterious Servant Archer, whose motivations are unknown.
Which of the Fate characters is your favorite? And which of them resemble you the most? Answer twenty questions by clicking the start button and see for yourself!
How many questions are there?
What can you get as a result?
Shirou Emiya, Saber, Rin Tohsaka, Sakura Matou, Rider
We are sorry that this post was not useful for you!
Let us improve this post!
Tell us how we can improve this post?