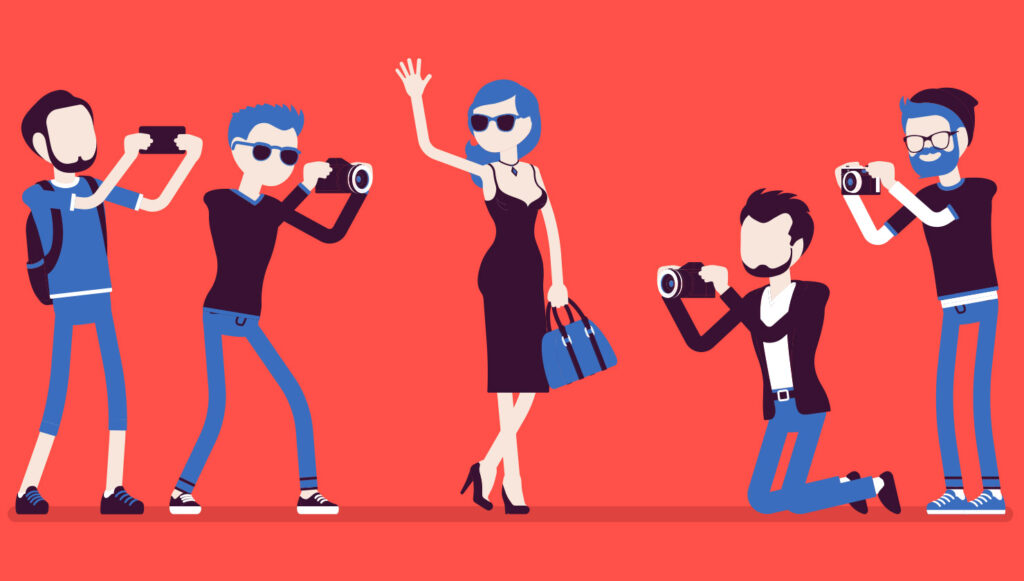 Advertisement
Advertisement
Hi there and welcome back to the quiz world! Have you ever wondered, which celebrity do you look like? After all, celebrities can have many talents – singing, acting, dancing – but it's their looks that seem the most important in the entertainment business. Some celebrities are known for their iconic skincare or makeup routines. Others have their signature hairstyles. Some are setting the trends, and others have unique faces. Many people get inspired by celebrities and their looks and wish to look like a famous actress or singer. Do you think you are similar to a certain celebrity? Before you take the quiz, refresh your knowledge on some celebrities and their iconic styles.
A young singer Billie Eilish is a phenomenon both when it comes to her music and her style. She first gained public attention in 2015 with her single "Ocean Eyes". Eilish's debut album "When We Fall Asleep, When Do We Go?" came out in 2019, with its single "Bad Guy" instantly becoming viral. The next year, she co-wrote and performed the theme song "No Time to Die" for the James Bond film of the same name.
Billie's signature look might seem jarring and, in her own words, "weird" at first – vastly oversized clothes, baggy pants, chunky shoes, and heavy accessories. Can't miss her attachment to the Gucci brand, as the name is all over the attire she puts on. She likes to go for bold, bright colors too. It's Billie's nonchalant confidence while wearing those things that make her style unique and truly hers. On top of her catchy music and fascinating fashion style, it's Billie's ever-colorful hair and distinctive dark eyebrows that made her an icon.
In 2021, Eilish surprised some of her fans with – seemingly permanent – changes to her style. That year she debuted Marylin Monroe style, platinum blonde hair, and posed for British Vogue Magazine, sporting an ultra-feminine look in lingerie and corsets. The singer claimed the photoshoot was not an indication of a new fashion era for her. After the magazine spread came out, Billie has stuck to her new "whatever works" approach to style as she's worn her signature loose clothing while experimenting with more feminine looks.
Zendaya is an actress, singer, dancer, and model. She first gained recognition for her role as Rocky Blue in the Disney Channel sitcom Shake It Up from 2010 to 2013. In 2017 Zendaya made her breakthrough in the film industry playing Michelle "MJ" Jones in "Spider-Man: Homecoming" and later in its sequels.
At 25, Zendaya has already made herself a fashion icon. Her sense of style, combined with her model body shape and extraordinary beauty, gives great results. Zendaya has a reputation for her daring and dauntless looks, and it's difficult to find something she can't pull off – whether it's streetwear, urban look, or a red-carpet style gown. She can sport all sorts of styles, from casual and modern, flirty and cute, to professional and high class. Though seemingly effortlessly fashionable, Zendaya said she isn't a slave to trends – she likes to wear what feels good.
The young star likes to experiment with different hairstyles – we've seen her in curls and waves, sleek ponytails, and textured bobs. She likes unusual hair colors too. Girls around the world are envious of her perfect complexion.
Ariana Grande is one of the most famous singers in the world. Over the years, her style evolved into something truly unique. Ariana's hair was always a part of her signature look. Back in the singer's Nickelodeon days, it was its bright red color, now its high ponytails. Cute oversized hoodies and high boots are another major part of Grande's style. Although she wears comfortable and sporty pieces in her daily life, Ariana likes to look like a princess on the red carpet. She knows how to make an impression at events. One of her most iconic looks was at the 2018 Met Gala. Ariana's dress was inspired by Michelangelo's iconic fresco The Last Judgement.
As for her makeup, a cat eye and a nude lip seem to be it for the young star. Reportedly, Ariana is a big fan of coconut oil as a personal care item, using it on her skin and hair regularly. It does seem to be working wonders for her.
Kristen Stewart is an actress who achieved global stardom after starring as Bella Swan in The Twilight Saga movie series. The actress has been consistent with the items she likes. She likes to rock white t-shirts, jeans, and leather jackets, and she's been wearing the same pendant necklace for years. Kristen's steady love for the classics doesn't mean that her fashion style is boring – quite the opposite. Her fashion choices are all about nonchalance and a lack of concern for what other people think of her. The star spent the last few years experimenting with vivid hair colors, unexpected designers, and mixing menswear into her repertoire. Kristen likes a bold eye in her makeup and focuses primarily on cleansing and moisturizing when it comes to skincare.
Are you ready to find out which celebrity do you look like? Answer the questions we prepared for you and discover which famous person could be your twin in looks and fashion! Take our quiz, then pass it on to your friends to find out about your iconic celebrity squad.
How many questions are there in the quiz?
There are 20 questions in the quiz.
Which celebrity can you be?
Billie Eilish, Zendaya Coleman, Ariana Grande or Kristen Stewart
We are sorry that this post was not useful for you!
Let us improve this post!
Tell us how we can improve this post?