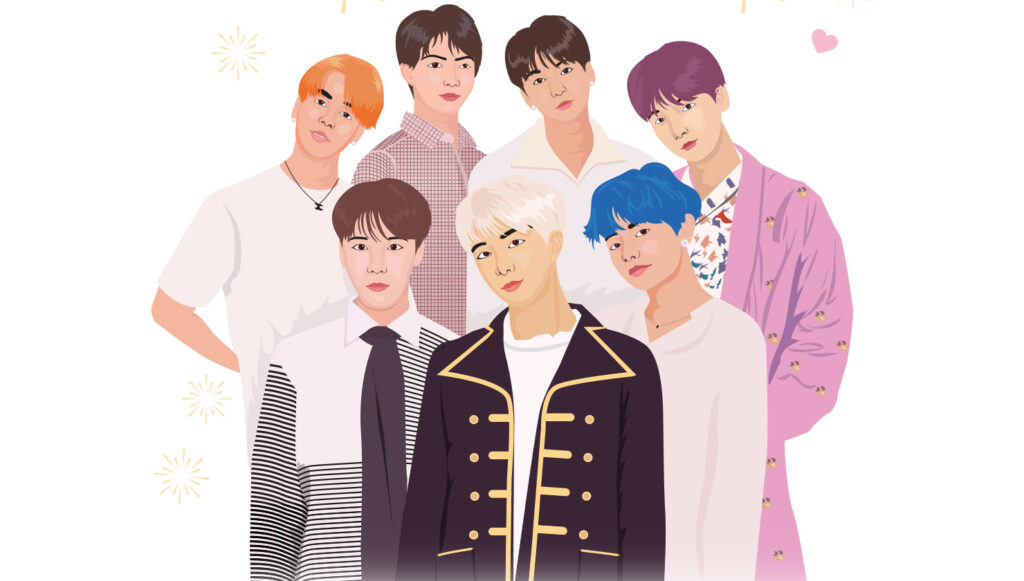 Advertisement
Advertisement
Hey everyone! Are you ARMY? Is BTS your favorite band? If so, who from this band looks like you the most? Answer twenty questions from our quiz and see for yourself today!
BTS, also known as the Bangtan Boys, is a South Korean boy band that was formed in 2010 and debuted in 2013 under Big Hit Entertainment The septet—consists of members Jin, Suga, J-Hope, RM, Jimin, V, and Jungkook—co-writes and co-produces much of their own output. Originally a hip-hop group, their musical style has since evolved to incorporate a wider range of genres. Their lyrics often contain personal and social commentary on the themes of mental health, troubles of school-age youth and coming of age, loss, the journey towards loving oneself, and individualism. Their work also frequently references literature and psychological concepts and includes an alternative universe storyline.
After debuting in 2013 with their single album 2 Cool 4 Skool, BTS released their first Korean-language studio album, Dark & Wild, and Japanese-language studio album, Wake Up, in 2014. The group's second Korean studio album, Wings (2016), was their first to sell one million copies in South Korea. By 2017, BTS crossed into the global music market, leading the Korean wave into the US and breaking numerous sales records. They became the first Korean group to receive a certification from the Recording Industry Association of America (RIAA) for their single "Mic Drop", as well as the first Korean act to top the US Billboard 200 with their studio album Love Yourself: Tear (2018). BTS became one of the few groups since the Beatles with four US number-one albums in less than two years, and Love Yourself: Answer (2018) was the first Korean album certified platinum by the RIAA.
In 2020, BTS became the first all-South Korean act to reach number one on the Billboard Global 200 and US Billboard Hot 100 with their Grammy-nominated single "Dynamite". Their follow-up releases "Savage Love", "Life Goes On", "Butter", and "Permission to Dance" made them the quickest act to earn four US number-one singles since Justin Timberlake. BTS is the best-selling artist in South Korean history, and their studio album Map of the Soul: 7 (2020) is the best-selling album in South Korea. They are the first non-English speaking and Asian act to sell out Wembley Stadium and the Rose Bowl (Love Yourself World Tour in 2019) and to be named the International Federation of the Phonographic Industry's (IFPI) Global Recording Artist of the Year (2020–2021).
Featured on Time's international cover as "Next Generation Leaders" and dubbed "Princes of Pop", BTS has also appeared on the magazine's lists of the 25 most influential people on the internet (2017–2019) and the 100 most influential people in the world (2019). The group's numerous accolades include nine American Music Awards, 12 Billboard Music Awards, 24 Golden Disk Awards, and nominations for two Grammy Awards and two Brit Awards. Outside of music, they partnered with UNICEF to establish the Love Myself anti-violence campaign, addressed three sessions of the United Nations General Assembly, and became the youngest ever recipients of the Order of Cultural Merit from the President of South Korea for their contributions to spreading Korean culture and language.
The group's name, BTS, stands for the Korean phrase Bangtan Sonyeondan, literally meaning "Bulletproof Boy Scouts". According to member J-Hope, the name signifies the group's desire "to block out stereotypes, criticisms, and expectations that aim on adolescents like bullets". In Japan, they are known as Bōdan Shōnendan, which translates similarly. In July 2017, BTS announced that their name would also stand for "Beyond the Scene" as part of their new brand identity. This extended their name to mean "growing youth BTS who is going beyond the realities they are facing, and going forward".
BTS have cited Seo Taiji and Boys, Nas, Eminem, Kanye West, Drake, Post Malone, Charlie Puth, and Danger as musical inspirations. They have also cited Queen as an influence, saying they "grew up watching videos of Live Aid".] During their concert at Wembley Stadium in London, Jin paid tribute to Queen by leading the crowd in a version of Freddie Mercury's "ay-oh "chant from the band's 2019 Live Aid concert.
BTS has also been influenced by many literary, psychological, artistic, and philosophical mediums. Their album Wings (2016) was inspired by Hermann Hesse's coming-of-age novel, Demian. Their song "Blood Sweat & Tears" (2016) quotes Friedrich Nietzsche's Thus Spoke Zarathustra, and its music video features visual references to Herbert James Draper's The Lament for Icarus, Pieter Bruegel's Landscape with the Fall of Icarus, and Pieter Bruegel's The Fall of the Rebel Angels. Their "Spring Day" (2017) music video contains lyrical and visual references to Ursula Le Guin's short story "The Ones Who Walk Away from Omelas". The Love Yourself series was primarily influenced by Erich Fromm's The Art of Loving, while their song "Magic Shop" from Love Yourself: Tear (2018) was inspired by James R. Doty's memoir Into the Magic Shop. Their 2019 album, Map of the Soul: Persona derived its name from Murray Stein's Jung's Map of the Soul: An Introduction.
Which of the members of BTS do you resemble the most? Which of them has a personality most similar to yours? Answer the twenty questions we have prepared and see for yourself!
How many questions are there?
What can you get as a result?
V, J-Hope, RM, Jungkook, Jimin, Jin, Suga
We are sorry that this post was not useful for you!
Let us improve this post!
Tell us how we can improve this post?