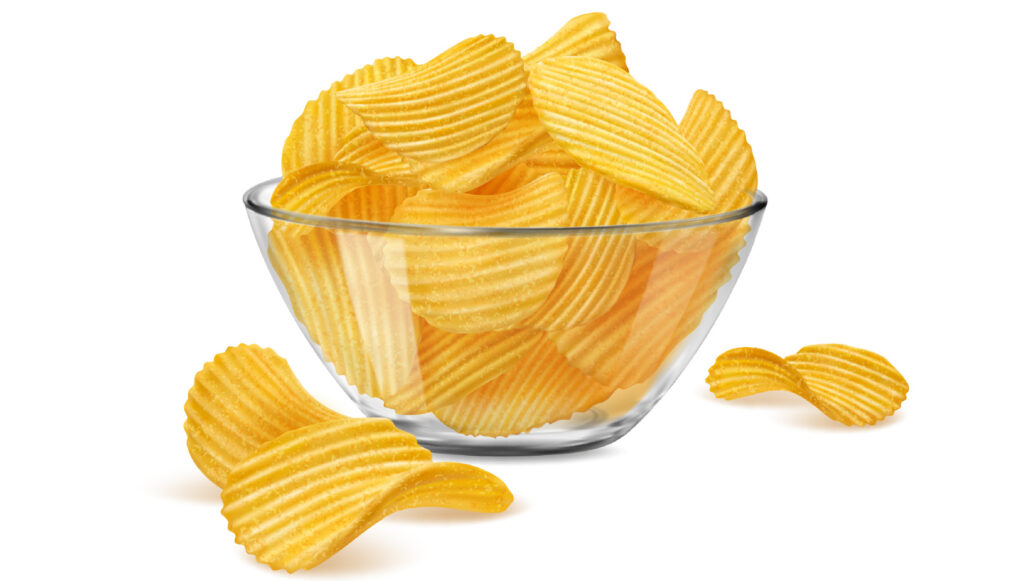 Advertisement
Advertisement
Hey everyone! Do you like eating potato chips? What are your favorites? And do you know what your taste would be if you were to turn into a packet of chips? Find out today. All you have to do is solve this quiz with twenty questions. And as we're talking about chips today, let's learn more about their history and origin.
A potato chip (often just chip, or crisp in British and Irish English) is a thin slice of potato that has been either deep-fried, baked, or air-fried until crunchy. They are commonly served as a snack, side dish, or appetizer. The basic chips are cooked and salted; additional varieties are manufactured using various flavorings and ingredients including herbs, spices, cheeses, other natural flavors, artificial flavors, and additives.
Potato chips form a large part of the snack food and convenience food market in Western countries. The global potato chip market generated total revenue of US $ 16.49 billion in 2005. This accounted for 35.5% of the total savory snacks market in that year ($ 46.1 billion).
The earliest known recipe for something similar to today's potato chips is in William Kitchiner's book The Cook's Oracle published in 1817, which was a bestseller in the United Kingdom and the United States. The 1822 edition's recipe for "Potatoes fried in Slices or Shavings" reads "peel large potatoes … cut them in shavings round and round, as you would peel a lemon; dry them well in a clean cloth, and fry them in lard or dripping ". An 1825 British book about French cookery calls them "Pommes de Terre Frites" (second recipe) and calls for thin slices of potato fried in "clarified butter or goose dripping", drained and sprinkled with salt. Early recipes for potato chips in the US are found in Mary Randolph's Virginia House-Wife (1824) and in N.K.M. Lee's Cook's Own Book (1832), both of which explicitly cite Kitchiner.
A legend associates the creation of potato chips with Saratoga Springs, New York, decades later than the first recorded recipe. By the late nineteenth century, a popular version of the story attributed the dish to George Crum, a cook at Moon's Lake House who was trying to appease an unhappy customer on August 24, 1853. The customer kept sending back his French-fried potatoes, complaining that they were too thick, too "soggy", or not salted enough. Frustrated, Crum sliced ​​several potatoes extremely thin, fried them to a crisp, and seasoned them with extra salt. To his surprise, the customer loved them. They soon came to be called "Saratoga Chips", a name that persisted into the mid-twentieth century. A version of this story was popularized in a 1973 national advertising campaign by St. Regis Paper Company which manufactured packaging for chips, claiming that Crum's customer was Cornelius Vanderbilt. Crum was already renowned as a chef at the time, and he owned a lakeside restaurant by 1860 which he called Crum's House. The "Saratoga Chips" brand name still exists today.
In the 20th century, potato chips spread beyond chef-cooked restaurant fare and began to be mass-produced for home consumption. The Dayton, Ohio-based Mikesell's Potato Chip Company, founded in 1910, identifies as the "oldest potato chip company in the United States". New Hampshire-based Granite State Potato Chip Factory, founded in 1905 and in operation until 2007, was one of America's first potato chip manufacturers.
In an idea originated by the Smiths Potato Crisps Company Ltd, formed in 1920, Frank Smith packaged a twist of salt with his chips in greaseproof paper bags, which were sold around London. The potato chip remained otherwise unseasoned until an important scientific development in the 1950s. After English biochemists Archer Martin and Richard Synge received a Nobel Prize for inventing partition chromatography in 1952, food scientists began to develop flavors via a gas chromatograph. After some trial and error, in 1954, Joe "Spud" Murphy, the owner of the Irish crisps company Tayto, and his employee Seamus Burke produced the world's first seasoned chips: Cheese & Onion. Companies worldwide sought to buy the rights to Tayto's technique. Walkers of Leicester, England produced Cheese & Onion the same year. Golden Wonder (Smith's main competitor at the time) would also produce Cheese & Onion, and Smith's countered with Salt & Vinegar (tested first by their north-east England subsidiary Tudor) which launched nationally in 1967, starting a two-decade-long flavor war.
The first flavored chips in the United States, barbecue flavor, were being manufactured and sold by 1954. In 1958, Herr's was the first company to introduce barbecue-flavored potato chips in Pennsylvania.
Chips sold in markets were usually sold in tins or scooped out of storefront glass bins and delivered by horse and wagon. Early potato chip bags were wax paper with the ends ironed or stapled together. At first, potato chips were packaged in barrels or tins, which left chips at the bottom stale and crumbled.
In the 1920s, Laura Scudder, an entrepreneur in Monterey Park, California, started having her workers take home sheets of wax paper to iron into the form of bags, which were filled with chips at her factory the next day. This pioneering method reduced crumbling and kept the chips fresh and crisp longer. This innovation, along with the invention of cellophane, allowed potato chips to become a mass-market product. Today, chips are packaged in plastic bags, with nitrogen gas blown in before sealing to lengthen shelf life and provide protection against crushing.
How many questions are there?
We are sorry that this post was not useful for you!
Let us improve this post!
Tell us how we can improve this post?