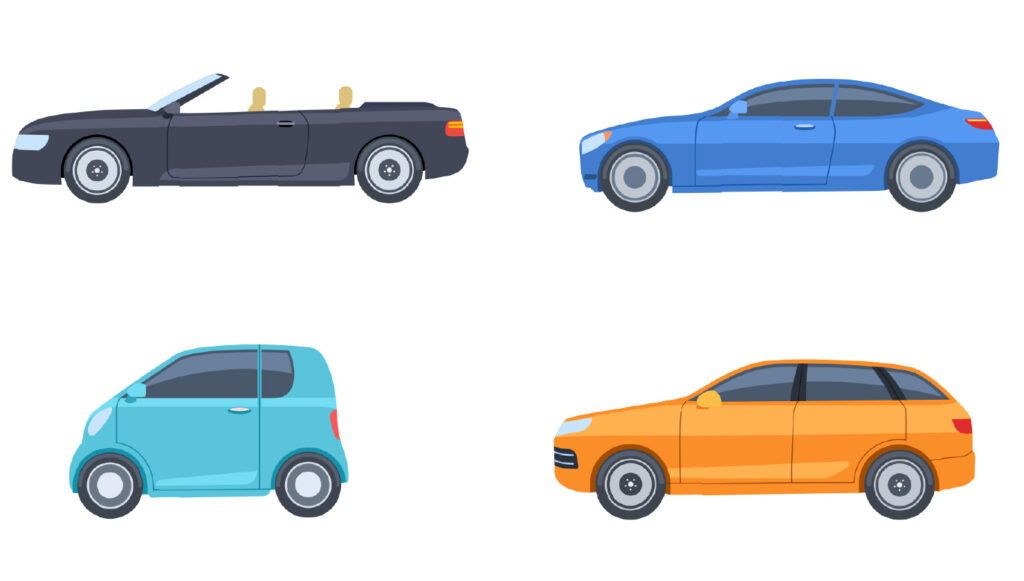 Advertisement
Advertisement
Hey everyone! Are you good at guessing car logos? If so, you will surely be able to get the maximum number of points in our quiz. If you think your chance has come today, don't wait and go straight to it! As part of today's topic, let's talk about what a car is, where it got its name from and what its history looked like.
A car is a wheeled motor vehicle used for transportation. Most definitions of cars say that they run primarily on roads, seat one to eight people, have four wheels, and mainly transport people rather than goods.
Cars came into global use during the 20th century, and developed economies depend on them. The year 1886 is regarded as the birth year of the car when German inventor Carl Benz patented his Benz Patent-Motorwagen. Cars became widely available in the early 20th century. One of the first cars accessible to the masses was the 1908 Model T, an American car manufactured by the Ford Motor Company. Cars were rapidly adopted in the US, where they replaced animal-drawn carriages and carts. In Europe and other parts of the world, demand for automobiles did not increase until after World War II.
Cars have controls for driving, parking, passenger comfort, and a variety of lights. Over the decades, additional features and controls have been added to vehicles, making them progressively more complex. These include rear-reversing cameras, air conditioning, navigation systems, and in-car entertainment. Most cars in use in the early 2020s are propelled by an internal combustion engine, fueled by the combustion of fossil fuels. Electric cars, which were invented early in the history of the car, became commercially available in the 2000s and are predicted to cost less to buy than gasoline cars before 2025. The transition from fossil fuels to electric cars features prominently in most climate change mitigation scenarios, such as Project Drawdown's 100 actionable solutions for climate change.
There are costs and benefits to car use. The costs to the individual include acquiring the vehicle, interest payments, repairs and maintenance, fuel, depreciation, driving time, parking fees, taxes, and insurance. The costs to society include maintaining roads, land use, road congestion, air pollution, public health, healthcare, and disposing of the vehicle at the end of its life. Traffic collisions are the largest cause of injury-related deaths worldwide.
Personal benefits include on-demand transportation, mobility, independence, and convenience. Societal benefits include economic benefits, such as job and wealth creation from the automotive industry, transportation provision, societal well-being from leisure and travel opportunities, and revenue generation from taxes. People's ability to move flexibly from place to place has far-reaching implications for the nature of societies. There are around 1 billion cars in use worldwide. Car usage is increasing rapidly, especially in China, India, and other newly industrialized countries.
The English word car is believed to originate from Latin carrus or carrum "wheeled vehicle" or Middle English carre "two-wheeled cart," both of which in turn derive from Gaulish Karros "chariot." It originally referred to any wheeled horse-drawn vehicle, such as a cart, carriage, or wagon.
The first working steam-powered vehicle was designed — and quite possibly built — by Ferdinand Verbiest, a Flemish member of a Jesuit mission in China around 1672. It was a 65-centimeter – long scale-model toy for the Kangxi Emperor that was unable to carry a driver or a passenger. It is not known with certainty if Verbiest's model was successfully built or run.
Nicolas-Joseph Cugnot is widely credited with building the first full-scale, self-propelled mechanical vehicle or car in about 1769; he created a steam-powered tricycle. He also constructed two steam tractors for the French Army, one of which is preserved in the French National Conservatory of Arts and Crafts. His inventions were, however, handicapped by problems with a water supply and maintaining steam pressure. In 1801, Richard Trevithick built and demonstrated his Puffing Devil road locomotive, believed by many to be the first demonstration of a steam-powered road vehicle. It was unable to maintain sufficient steam pressure for long periods and was of little practical use.
In November 1881, French inventor Gustave Trouvé demonstrated the first working (three-wheeled) car powered by electricity at the International Exposition of Electricity, Paris. Although several other German engineers (including Gottlieb Daimler, Wilhelm Maybach, and Siegfried Marcus) were working on the problem at about the same time. The year 1886 is regarded as the birth year of the car when the German Carl Benz patented his Benz Patent-Motorwagen. He is generally acknowledged as the inventor of the car. The original Benz Patent-Motorwagen was first built in 1885 and was awarded the patent for the concept. In 1879, Benz was granted a patent for his first engine, which had been designed in 1878. Many of his other inventions made the use of the internal combustion engine feasible for powering a vehicle.
Today's quiz contains twenty questions about car logo pictures. Answer all of them to see if you are a true champion!
How many questions does this quiz contain?
It contains 20 questions.
How many different results can you get?
According to the level of your knowledge, you may get 4 different results.
We are sorry that this post was not useful for you!
Let us improve this post!
Tell us how we can improve this post?