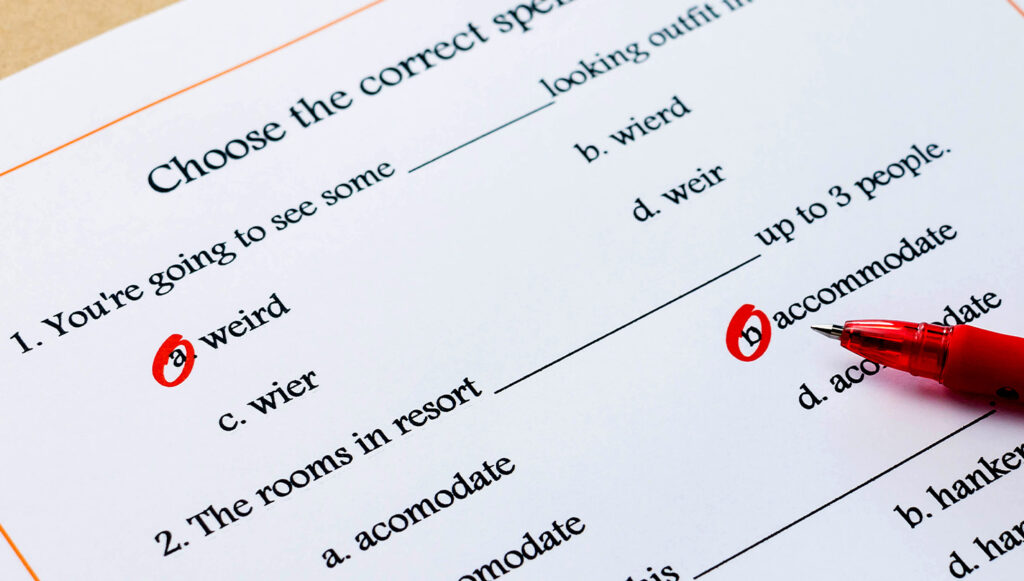 Advertisement
Advertisement
Hi and welcome back! Have you ever wondered about your English vocabulary size? The quiz we prepared will help you find out how many words in English do you know. Whether you are a native English speaker or not, you still might find it difficult…or perhaps it will be a piece of cake! Are you ready for that challenge?
The number of words in the English language is continually growing, giving you plenty of room to expand and improve your vocabulary. Learning how to increase your English vocabulary can help you in your personal, professional, and student life. A greater vocabulary will boost your ability to express yourself and better understand what other people have to say.
Improving your vocabulary can be very beneficial for your career. It can help you find jobs that are best suited for you by helping you understand technical job listings and ask good questions in interviews. You will better understand the instructions given to you in the office. Some industries have technical terms and abbreviations that change frequently, so it's important to stay up to date with this new vocabulary to advance your career.
A greater English vocabulary can help you write more vividly and precisely. While searching for a new job, this means you can describe your experience more accurately on your resume. You will also have a better understanding of the work memos, surveys, technical manuals, and all the other things that you can encounter in your job.
A large vocabulary can help you communicate more fluently with other professionals during interviews and conferences, as well as expand your network. Your vocabulary can help you communicate clearly about projects and challenges with your work peers and management in the office. Learning new vocabulary through popular media can help you start conversations and get to know your workmates.
If you are interested in writing in English – from fiction to journalism to essay writing to poetry – you will greatly benefit from expanding your vocabulary. As you broaden your range of vocabulary, you become better able to describe specific settings, emotions, and ideas. You also hone a skill that's known among writers as "painting with words."
What are some strategies for improving your English vocabulary? One of them is developing a reading habit. Remembering new words is easier when you see them in context. When you see a word in a book or a newspaper, it can be more helpful than seeing it in a dictionary. Not only do you gain exposure to unfamiliar words, but you also learn how they're used.
A good choice is to seek specialized sources. It can help you learn words commonly used in your geographic area, in your field of work, or in your social group. For example, if you're in a technical industry, you might check trade publications or look at the books recommended for continuing education courses. You could ask your friends or coworkers what are they reading to find something for yourself.
As you learn new words, it's important to know how to pronounce them. Listen to English sources often. Many online dictionaries include sound recordings to assist you with specific words. Podcasts can assist you in hearing words in context, and many podcast apps have speed settings that allow you to slow down the speech to hear each word more clearly. You can also learn by watching movies or YouTube videos; closed captions will show you the spelling as you are hearing the words.
When used correctly, online dictionaries and thesauruses are valuable resources. They can help you recall synonyms that would be better words in the context of what you're writing. A complete dictionary definition can also teach you about antonyms, root words, and related words, which is another way to expand your vocabulary.
Make it a habit to check your dictionary whenever you come across a new word to learn its definition and get its pronunciation right. Afterward, check your thesaurus to uncover similar words and phrases, as well as their opposites — and learn the nuances among the words.
Flashcards are a quick and easy way to expand your vocabulary. You can find plenty of apps that will help you organize and manage your flashcards. You should set up a reasonable daily goal – for example, one new word a day.
You should practice new words in conversation. There is no point in having a huge vocabulary, but not knowing how to use all these words! If you come across an interesting word while reading, make sure to use it in a conversation. Experimenting in low-stakes situations allows you to practice the art of word choice and, with some trial and error, hone in on the right word for a specific context.
Are you ready to test yourself? How big is your English vocabulary? Take the quiz we prepared for you and find out how many English words you know!
How many questions are in the quiz?
How many points can you get?
You can get up to 20 points.
We are sorry that this post was not useful for you!
Let us improve this post!
Tell us how we can improve this post?