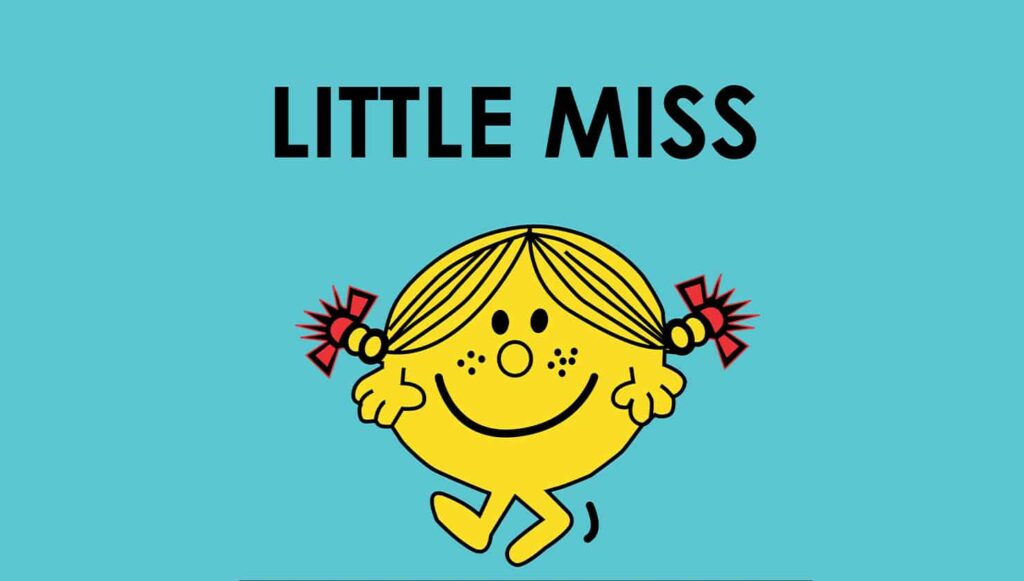 Advertisement
Advertisement
Hey everyone! Have you ever heard of Mr. Men? Do you know Little Misses? We hope so because today we have prepared a quiz on this topic for you. Which Little Miss are you? Answer twenty questions and see for yourself.
Mr. Men is a British series of children's books by English author Roger Hargreaves which began publication in August 1971. From 1981, an accompanying series of Little Miss books by the same author (but with female characters) was published. A similar series of animal characters known as Timbuctoo started in 1978. After Hargreaves's death in 1988, his son Adam Hargreaves began writing and illustrating new Mr. Men and Little Miss stories such as Mr. Cool, Mr. Rude, Mr. Good, Little Miss Scary, Little Miss Bad, Little Miss Whoops, Little Miss Princess, Little Miss Hug, and Little Miss Inventor.
Each book in the original Mr. Men and Little Miss series introduced a different title character and his/her single dominant personality trait to convey a simple moral lesson. The Mr. Men and Little Miss characters frequently reappeared in other characters' books. As of 2021, a total of 92 Mr. Men and Little Miss characters had been featured in the series. The books' simple stories, with brightly colored, boldly drawn illustrations, have sold over 100 million copies worldwide across 28 countries.
The first six Mr. Men books were published in the United Kingdom on 10 August 1971. Mr. Tickle was the first Mr. Men character created by Hargreaves, inspired by his son Adam, who had asked him what a tickle looked like. Hargreaves responded with a round, orange figure with long, bendy arms. The account of the first book's creation is currently being disputed. According to John Malam, who wrote Roger Hargreaves' entry in the Oxford Dictionary of National Biography, the inspiration for his initial creations came while doodling at work. Malam told Amelia Tait of the New Statesman in 2021 of the anecdote about his son's query: "It became too good to dispute and no doubt helped in the early marketing campaigns." Also, Adam's question was one of his most impossible questions as said in the documentary 50 Years of Mr. Men.
Throughout the 1970s, Roger Hargreaves produced 38 more Mr. Men in addition to Mr. Tickle, as well as producing several other Mr. Men books. In the 1980s, Roger Hargreaves began the Little Miss series with 'Little Miss Bossy', and he produced 21 characters and books. As well as this, two special Mr. Men stories were created in 1985 ('Mr. Nobody' and 'Mr. Christmas'). Both of these books have been rereleased in later years. Roger Hargreaves died in 1988, and his son Adam took over the franchise.
After his father's death, Adam Hargreaves took over the Mr. Men. He now draws the characters and writes new stories for them.
A competition was held in the British Sunday Times newspaper for children to submit their own Mr. Men character for inclusion in a limited edition celebrating the 30th anniversary of the series. Mr. Cheeky was selected as the winning entry, submitted by then eight-year-old Gemma Almond. Her creation led to a book featuring her character being published; it was sold only in W H Smith branches, with a portion of the proceeds going to a charity, supporting children with leukemia.
In 2003, Adam created three new Mr. Men characters and three new Little Miss characters. He also created 'Little Miss Christmas' to accompany 'Mr. Christmas' after this book was rereleased with new illustrations.
In April 2004, Hargreaves' widow Christine sold the rights to the Mr. Men and Little Miss characters to UK entertainment group Chorion for £28 million. They called their company THOIP. In 2006, to celebrate 35 years of Mr. Men and 25 years of Little Miss, Mr. Birthday and Little Miss Birthday were published. In October 2006, Adam Hargreaves created the first Little Miss character based on the real person Stella McCartney, who he named Little Miss Stella. This was published as a limited edition of 1,000 copies for use as fashion show invitations.
In February 2011, 20th Century Fox and 21 Laps Entertainment announced plans for an animated film.
In 2011, Sanrio, the Japanese design company best known as the creators of Hello Kitty, announced that they had reached an agreement to acquire the rights to the Mr. Men and Little Miss characters from Chorion after the company was forced into administration, so they used the THOIP company to take over. This marked the first time that Sanrio had licensed a third-party character since owning the rights to Osamu Tezuka's Unico character in the late 1970s and early 1980s, which was returned to Tezuka Productions after Tezuka's death in 1989. Sanrio had also acquired the license to produce Peanuts merchandise for the Japanese market. In 2016, four new characters were launched to celebrate the series' 45th anniversary: Mr. Marvelous, Mr. Adventure, Little Miss Fabulous, and Little Miss Sparkle. Little Miss Explorer, a special book for Heathrow was also launched. Little Miss Valentine was introduced to the US market in 2019 with Little Miss Inventor being the latest mainline character to receive a book. Adam Hargreaves has also created several commercial characters, such as Mr. Glug for Evian water, Little Miss Miracle beauty cream, Mr. and Little Miss Gap, and Mr. First for money transfer company World First. In 2017, Adam Hargreaves launched a new series of books featuring characters from the BBC science-fiction series Doctor Who, with each book focusing on a different incarnation of the show's titular character. These were followed by editions based on the Spice Girls in 2019.
On 10 August 2021 (the 50th anniversary of the first book), special editions were published and new characters were introduced as part of a public vote to select two who will join the main characters, Mr. Brilliant, Little Miss Kind, Little Miss Brave, Mr. Calm, and Little Miss Energy. The chosen Mr. Men for the competition were Mr. Calm and Little Miss Brave.
Which Little Miss is your favorite? And which of them resembles you the most? Answer twenty questions from our quiz that we have carefully prepared for you to find out now!
How many questions are there?
What can you get as a result?
Little Miss Sunshine, Little Miss Boss, Little Miss Shy, Little Miss Cinnamonroll, Little Miss Depressed Queen
We are sorry that this post was not useful for you!
Let us improve this post!
Tell us how we can improve this post?