Which kind of art do you like the most?
What kind of fantastic creature would you choose?
What is your favorite movie genre?
Which Web browser do you use?
Which of your senses is the most sensitive?
What is your favorite type of vehicle?
What is your favorite type of house?
What kind of element would you like to have?
What kind of animal would you like to have?
What kind of clothing do you wear?
What is your favourite flavor?
What would you be as a fruit?
What coffee do you drink the most often?
What is your favourite weather?
What's your favorite sport discipline?
What time are you usually active?
What kind of tea would you like to drink now?
What kind of music do you like?
What school subject do you like best?
What kind of drink do you enjoy drinking during the hot summer?
Your result
Ink Bendy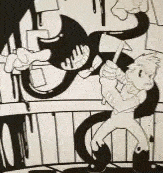 Ink Bendy is a vicious and deformed version of Bendy, the main character of the Bendy cartoons. He is known by the ink residents as the Ink Demon.
COOL QUIZ? SIGN UP TO GET NEW QUIZZES
Boris the Wolf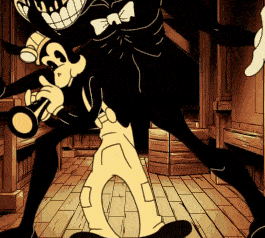 Boris the Wolf is a secondary character in the Bendy cartoons. In the game, a friendly version of him appears as Henry's companion, before he is transformed into Brute Boris by Alice. Additionally, multiple clones of Boris appear throughout the game as mutilated corpses.
COOL QUIZ? SIGN UP TO GET NEW QUIZZES
The Butcher Gang
The Butcher Gang are a trio from the Bendy cartoons, who are always at odds with Bendy. In the game, they appear as the Piper (Charley), the Fisher (Barley) and the Striker (Edgar).
COOL QUIZ? SIGN UP TO GET NEW QUIZZES
The Searchers
The Searchers are a group of humanoid ink creatures who attack Henry throughout the game.
COOL QUIZ? SIGN UP TO GET NEW QUIZZES
The Lost Ones
The Lost Ones are employees of Joey Drew Studios, who have been corrupted by the ink, and aren't hostile. A specific Lost One is voiced by Joe J. Thomas.
COOL QUIZ? SIGN UP TO GET NEW QUIZZES
Hey everyone! Do you like Bendy and the Ink Machine? If so, you've come to the right place! Today we have prepared a quiz for you about this series of games! We invite you to answer twenty questions to find out which character from Bendy and the Ink Machine you are!
Bendy and the Ink Machine is an episodic first-person survival horror video game developed and published by Kindly Beast under the name of the game's in-universe animation studio Joey Drew Studios Inc. It was initially released to Game Jolt on February 10, 2017, as the first of five chapters, with a full worldwide release on October 27, 2018. The game was also released for PlayStation 4, Xbox One and Nintendo Switch on November 20, 2018, being published by Rooster Teeth Games, and for IOS and Android on December 21, 2018.
Inspired by the BioShock game series, the game is set in the fictional Joey Drew Studios. The player controls Henry Stein, a retired animator who receives a letter inviting him back to his old workplace. Stein discovers a series of strange paranormal activities caused by the titular Ink Machine. In the game, players navigate through a first-person perspective and need to complete certain tasks to proceed, such as combat, collecting objects, or solving puzzles. Players can also find audio logs recorded by the studio's employees to understand the game's history.
Bendy and the Ink Machine was well-received upon its initial release. Praise centered on its vintage aesthetic and story, although its puzzles and combat mechanics were less popular. In the months following its release, the game quickly gained a large following from exposure on platforms like YouTube and Twitch, and eventually was approved through Steam Greenlight in mid-2017. Merchandise, as well as a mobile spin-off, was later introduced to further promote the game. Mike Mood, the game's programmer, and co-creator described the game as an "accidental success". Bendy and the Dark Revival, the next game in the series, is scheduled for release in 2022.
Bendy and the Ink Machine is a first-person survival that resembles several cartoons in the late 1930s to 1940s. The player plays Henry Stein, a retired animator who returns to his old workplace, Joey Drew Studios, and discovers that a machine has destroyed the entire studio and brought certain cartoon characters to life. The game mixes combat with puzzle mechanics. Players explore through a first-person view and have limited physical actions such as running and jumping. Different items can be collected, some of which are required to perform various tasks before proceeding. Cans of bacon soup can also be collected for achievements and to restore Henry's health if he is injured.
Combat is primarily focused on a variety of different melee-based weapons, such as an ax, pipe, plunger, wrench, or scythe. Additionally, there are long-range weapons such as a Tommy gun or bacon soup cans. In-game enemies have different strength levels and resilience to damage, forcing players to be tactical about keeping out of reach and striking when necessary. Failure to do so will result in death. Henry can retreat inside Little Miracle Stations whenever enemies are nearby to recover or remain out of sight. If he takes too much damage, he can escape from the ink that consumes him and respawn at one of the numerous statues of Bendy that act as checkpoints. The player can save their progress by interacting with time card stations.
In addition, players can find numerous audio logs throughout the studio that give more details about the game's story, particularly concerning the fate of the studio and its employees, similar to the systems used in games such as BioShock. Some of these logs can be missed and require further exploration to uncover the secret areas they often reside In. In the final chapter, players unlock the Seeing Tool, which is a device used to view secret hidden messages that would be invisible without it. After completing it, players can also use it in the previous four chapters.
The idea for Bendy and the Ink Machine came from theMeatly pondering the idea of a world that resembled a cartoon sketch. As he started developing the idea, he realized that it felt "creepy" and needed a monster that inhabited it. Bendy was created to be that monster but did not have a name. When the character finally received a 3D model, the name was chosen from a typo while saving it in a 3D modeling program, Blender. theMeatly was not a programmer and thus Mike Mood joined the production as he saw potential in the game. Bendy and the Ink Machine was inspired by the BioShock series.
Which character from Bendy and The Ink Machine caught your eye? And which of them resemble you the most? Answer twenty questions and see for yourself now!